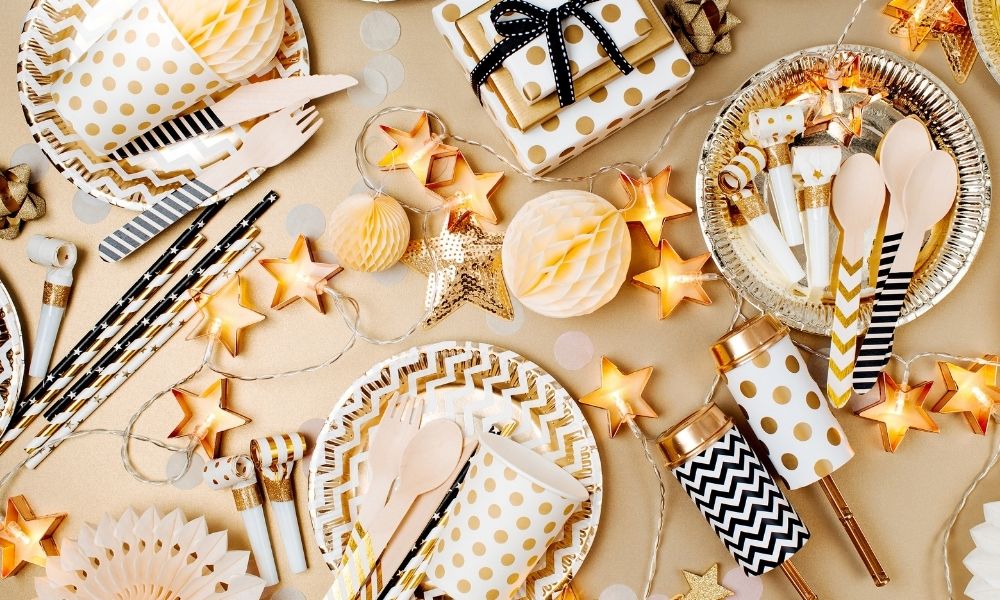 Tips for Throwing an Elegant and Sustainable Party
The chosen topic for today is related to outdoor parties. As we gather outdoors, we're looking to take our parties to the next level by coming up with the perfect themes. Under blue skies on green grass, the perfect party this summer is a sustainable one. 
You may wonder what exactly is meant by sustainability. Being sustainable is being mindful of consumption, taking what is necessary, and not more than that. This idea applies to every aspect of our lives. In addition, being sustainable aids in protecting the environment for future generations. 
There are a few common misunderstandings about eco-friendly parties and sustainable parties. People think throwing a sustainable party is expensive, boring, and lowers the standard. But being environmentally conscious and using only the required resources doesn't mean celebrating without style or spending an arm and a leg to achieve that goal. Read some of our top tips for throwing an elegant and sustainable party.
We all know how important invitations are for an event. The invitation usually gives your guests information regarding when they are expected, what they are supposed to wear, for what purpose they are attending the event, the venue, etc. An invitation also confirms the guest's attendance because we always add an RSVP at the end of the invitation, to which they respond whether they'll or will not be attending your party. But when you think about it, paper invitations might raise some concerns. That's when paperless invitations come into play.
Paperless Invites
As we discussed in our entry on throwing a party on a small budget, putting your graphic design and mass-emailing skills to the test is a terrific first step to cutting unnecessary waste. Plus, you'll save money on stationery and postage. Whether paper invites make it to the recycling bin or go straight to the garbage after guests have gotten the info, you can bypass the waste process altogether with stylish and attractive digital invitations. Plus, digital invitations make staying up to date with trends easier. 
The next element of a party comes when the invitations are dealt with: food. Now, of course, you don't have to necessarily stop eating meat or other food items you are worried you will have to stop consuming. As we said before, Sustainability doesn't mean giving up. But you can always try to have plant-based food on your menu. 
Plant-Based Menu
Last month, Epicurious, the famous recipe clearinghouse and destination for all things gustatory, made serious waves in the food world. Why? Because they announced that owing to sustainability concerns, no new recipes they feature would include beef products. Of course, we've all resolved to cut down on our red meat occasionally, but this editorial decree from such a significant publication got the whole world talking about a world with less beef. To keep your party sustainable, you can opt for a meatless menu featuring the most delicate plant-based dishes. Your decision may rankle the traditionalists who believe it's not a summer cookout without burgers or steaks, but the planet will thank you. Or you can include a variety of plant-based food and only a few foods that contain red meat. Small steps are what matter. 
If you have issues with serving plant-based food, you can instead try to serve food with seasonal or locally sourced ingredients. 
Our next point is also related to food. Smarties, have you noticed that most of the time, the waste from a party is made mainly from food? More specifically, people throw away their leftovers, resulting in unnecessary food waste. Here's our advice for you, 
Don't Waste the Leftovers
It can prove challenging to plan the meal for a party. Expected guests can't make it at the last minute, or unexpected guests show up. To be safe, you make more food than you need for the event. Even if you don't spring for the all-vegetarian menu, you can keep things sustainable by ensuring no food goes to waste. Send your guests home happy with some leftovers, and set some aside for yourself and next week's lunches. You can also donate your uneaten or edible food to food banks or the homeless. This is a win-win situation. You won't be contributing to food waste. And it's always a satisfying feeling when you succeed in helping someone in need. 
Now that you have decided on the menu, next comes the question regarding the containers you will use. Are you going to rent or buy porcelain? But that's expensive. So, you turn it into disposable dinnerware, which is budget-friendly and easy to handle and clean. But, then again, when you think about it, some disposables are not precisely eco-friendly or sustainable. Alternatives for plastic disposables come into play in this instance. Try using biodegradable dinnerware sets. They are made sustainably to give back to the environment. 
Palm Leaf Tableware
Seeking sustainability tips is easy, but coming across tips for throwing an elegant and sustainable party is harder. Smarty Had a Party makes it easy by offering lines of elegant disposable party supplies that look beautiful while preserving our natural resources. Palm leaf plates and utensils feature lovely wood grain patterns to complement an organic and Earth-minded party theme. Better yet, they're made from sustainable and biodegradable plant materials that are renewable. So you'll rest easy knowing you aren't contributing to the mountains of garbage that never seem to go away. 
Does Smarty Had a Party only offer palm-leaf tableware? Yes, we have sustainable and biodegradable tableware you can use at parties. Palm leaf dinnerware, which decomposes in less than 8 weeks, partyware made with birchwood, which decomposes in about 80 days, and bagasse tableware are some options you need to look through. 
Here Are More Ways You Can Make Your Party Waste Free
We have noticed that making the water and food available so the guests can fill their containers when they want to reduce water and food waste. So instead of filling the glasses with the beverages, you can have them served in carafes or have a station. The same method can be implemented for food items. Try to use LED lights for decoration. Garlands, plants, and candles are items you can use as decorations for a sustainable party.