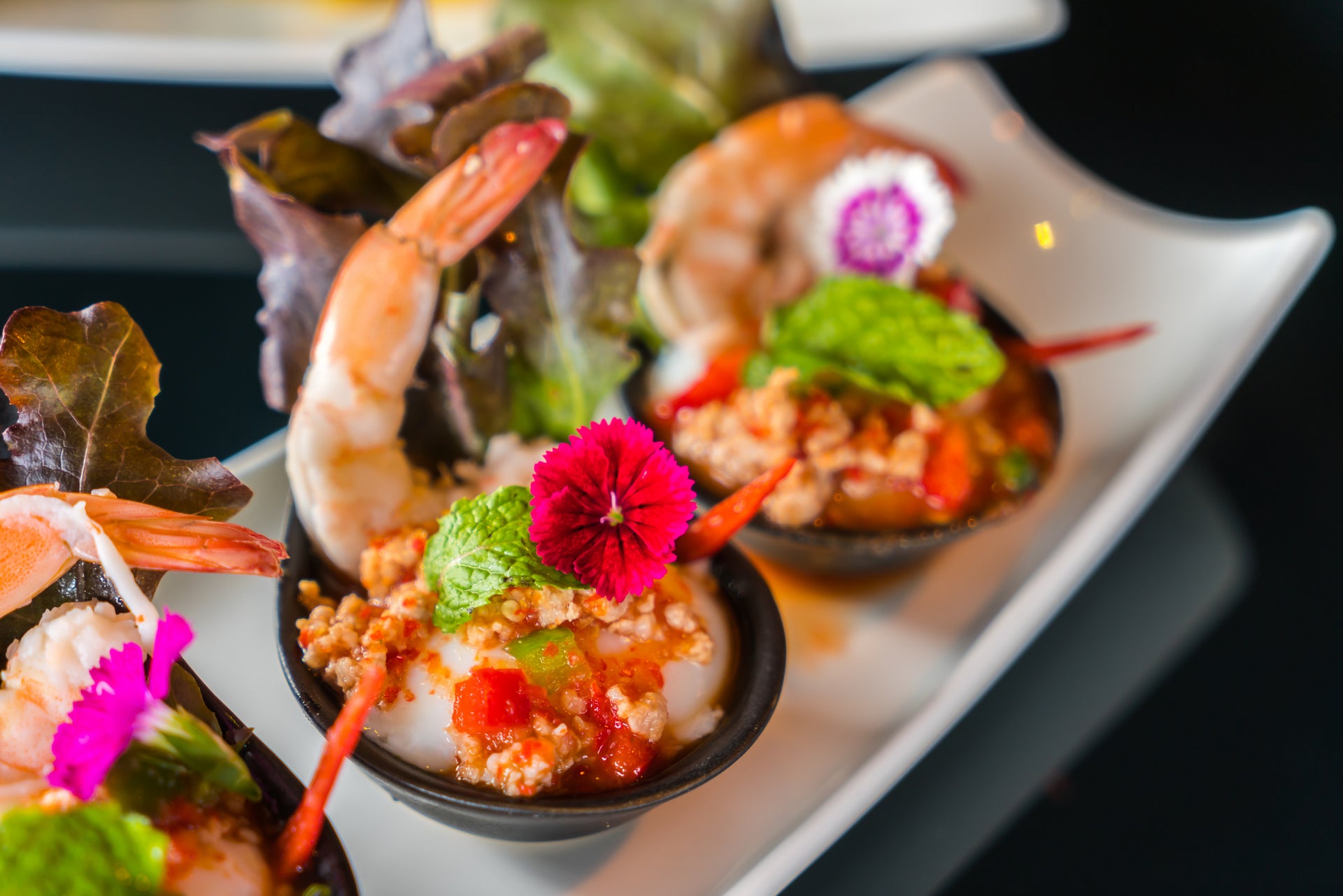 Tips for Setting a Picture-Perfect Seafood Buffet Table
Picture-perfect seafood buffet tables are a feast for the taste buds and a visual delight that elevates the dining experience. Whether hosting a casual backyard gathering or a lavish seafood soirée, presenting your seafood buffet can make all the difference. 
In this blog post, we'll share valuable tips and insights on setting a picture-perfect seafood buffet table that will leave your guests in awe. So, whether you're a seasoned host looking to up your seafood buffet game or a first-time entertainer seeking inspiration, join us as we uncover the secrets to setting a captivating seafood spread. 
Setting the Stage for a Seafood Feast
Choosing the Right Location for the Buffet Table
Accessibility:

 Choose an easily accessible location for your event to avoid congestion and cramped areas.

Indoors or outdoors:

 Determine whether you want to host your seafood buffet indoors or enjoy pleasant weather by arranging it outdoors. Each setting offers a unique ambiance, so choose the one that suits your event and preferences.

Space and layout: 

Assess the space and guest count before the event setup. Ensure enough room for buffet, chairs, and guest movement.

Proximity to the kitchen: 

Place the buffet table near the kitchen for easy refills and last-minute preparations.
Decorating the Table with Nautical-themed Accents and Colors
Tablecloth and linens:

 Use a white 

plastic tablecloth

 

and add blue, aqua, or sand-colored runners or placemats for a seaside vibe.

Centerpiece: 

Try a glass bowl with seashells or a seafood platter with shellfish and garnishes for a seafood-themed centerpiece.

Nautical accents:

 Add seaside elements like anchors, rope, and fish nets to your table decor. Scatter seashells, coral, or driftwood for extra effect.

Lighting:

 For a romantic atmosphere, use soft lightings like string lights, lanterns, or candles to create a cozy glow.
Disposable Serving Ware for Seafood Buffets
Here's why disposable serving ware is a must-have for your seafood feast:
Convenience: 

Disposable serving ware saves time and effort by eliminating dishwashing and storage. Cleanup is stress-free as you can simply dispose of used items after the event.

Hygiene:

 Seafood is a delicate and perishable food category. Using disposable serving ware helps maintain cleanliness and prevents cross-contamination.
Plastic Bowls for Serving Individual Portions of Seafood Dishes
Here's why disposable plastic bowls are a practical option for your seafood buffet table:
Versatility:

 Plastic bowls come in various sizes and depths, allowing you to serve a range of seafood items, from soups and chowders to seafood salads and pasta dishes. Opt for clear bowls to showcase the vibrant colors and textures of the seafood.

Portion control: 

Individual serving bowls help control portion sizes, ensuring that each guest receives an appropriate amount of each dish. This is especially useful for seafood buffets where guests may want to sample multiple items.
Plastic Trays for Displaying an Assortment of Seafood Delicacies
Consider the following benefits of using plastic trays for your seafood buffet table:
Variety and arrangement:

 Plastic trays come in different shapes and sizes, allowing you to showcase various seafood dishes. Use rectangular or oval trays to arrange seafood platters, or choose divided trays to separate various seafood items.

Visual appeal: 

The transparent design of plastic trays enhances the visual appeal of your seafood display. Guests can easily see the variety of options available and make their selections.
The Usefulness of Disposable PET Lids for Keeping Food Fresh and Preventing Contamination
Disposable PET lids are a valuable addition to your seafood buffet table, ensuring the freshness and safety of your dishes. 
Food preservation: 

PET lids keep seafood fresh by sealing in flavors, textures, and aromas while protecting it from external contaminants. Perfect for events.

Stackability: 

Stacking PET lids on trays and bowls saves space and makes it easier for guests to access their food.

Transportation: 

Use PET lids to prevent spills and keep dishes intact when transporting seafood buffet off-site or from the kitchen to the serving area.
Disposable Serving Flatware for Seafood Buffets
The Importance of Having Appropriate Serving Utensils for Various Seafood Dishes
When serving seafood dishes, having the proper utensils is crucial. Here's why you should consider using disposable serving flatware:
Versatility: 

For seafood, use serving forks for grilled shrimp skewers or paella and serving spoons for seafood salads, pasta, or mixed dishes.

Easy serving and portion control:

 Disposable serving utensils help control portion sizes and ensure guests get a fair share of seafood dishes.
Plastic Tongs - A Must-have Addition to Buffet Table
Plastic tongs are essential for any seafood buffet, offering practicality and convenience when serving various seafood items.
Precise grabbing:

 Seafood can be delicate, and plastic tongs provide a gentle yet firm grip on items like crab legs, lobster tails, or grilled fish fillets. This ensures the seafood remains intact and doesn't fall apart during serving.

Easy handling: 

Plastic tongs are lightweight and easy to handle, making them a user-friendly option for guests. They allow individuals to select their preferred pieces of seafood without the need for direct contact, promoting hygiene and preventing cross-contamination.
Organizing the Seafood Display
Tips for Arranging Seafood Items in an Appealing and Organized Manner
Categorize by type

: Group similar seafood items together to make it easier for guests to navigate the buffet. Arrange shellfish, such as shrimp, crab legs, and clams, in one section while placing fish fillets and seafood skewers in another.

Create visual interest:

 Get creative with your seafood display using different presentation styles and plating techniques. Try arranging shrimp cocktails in a tiered tower, serving ceviche in martini glasses, or placing oysters on a bed of crushed ice. Play with heights, textures, and colors to make it visually appealing.

Garnish and decorate: 

Sprinkle herbs or add lemon wedges and flowers to make your seafood dishes more attractive and inviting.

Consider the flow: 

Arrange seafood in a buffet from appetizers to main dishes to sides for easy guest access.
The Importance of Labeling Dishes for Guests with Dietary Restrictions or Allergies
Allergen awareness: 

Label dishes with potential seafood allergens to prevent serious or fatal reactions.

Dietary preferences:

 Labeling dishes for dietary preferences is essential to ensure guests enjoy the seafood buffet worry-free.

Ingredient transparency:

 Labeling provides transparency regarding the ingredients used in each dish. Guests can quickly identify common allergens, such as dairy, gluten, or nuts, and make informed decisions based on their dietary needs.

Guest guidance: 

Labeling dishes helps guests identify flavors and cuisine types, making choosing and exploring seafood options easier.
Enhancing the Seafood Buffet Table
Complementary Side Dishes
Grains and starches: 

Serve dishes like lemon-infused rice, garlic butter pasta, or herb-roasted potatoes. These sides provide a satisfying base for the seafood and complement its flavors.

Fresh salads: 

Offer crisp and refreshing salads incorporating seasonal vegetables, such as a citrusy arugula and fennel salad or a tangy cucumber and tomato salad. These salads provide a contrast in textures and flavors, balancing the richness of the seafood.

Grilled vegetables:

 Grilled vegetables like asparagus, zucchini, or bell peppers add a delightful char and smoky flavor. They serve as a healthy and vibrant addition to the seafood buffet.
Condiments and Sauces
Seafood sauces:

 Offer classic sauces like tartar, cocktail, or remoulade. These tangy and creamy accompaniments enhance the seafood flavors and allow guests to customize their dishes.

Citrus wedges: 

Provide lemon wedges for guests to squeeze over their seafood. The bright acidity of lemon enhances the seafood's natural flavors, adding a refreshing touch.

Spicy options:

 Consider offering hot sauce, chili garlic sauce, or a seafood seasoning blend for guests who enjoy a bit of heat. These additions can elevate the flavor profile of the seafood and cater to varying spice preferences.
Garnishes
Fresh herbs:

 Sprinkle chopped herbs like parsley, cilantro, or dill over seafood dishes to add color and freshness.

Edible flowers: 

Add edible flowers, such as nasturtiums or pansies, as a delicate and visually appealing garnish. They can add a whimsical and elegant touch to the seafood buffet.

Citrus zest: 

Use citrus zest, such as lemon or lime zest, to add vibrant color and a fragrant aroma to the seafood dishes.
Setting a picture-perfect seafood buffet table requires careful consideration and attention to detail. Following the tips discussed in this guide can create a visually stunning and memorable dining experience for your guests.
So go ahead, unleash your creativity, and set the stage for a seafood extravaganza that will impress and satisfy your guests. Cheers to a picture-perfect seafood buffet table that will make waves at your next gathering!