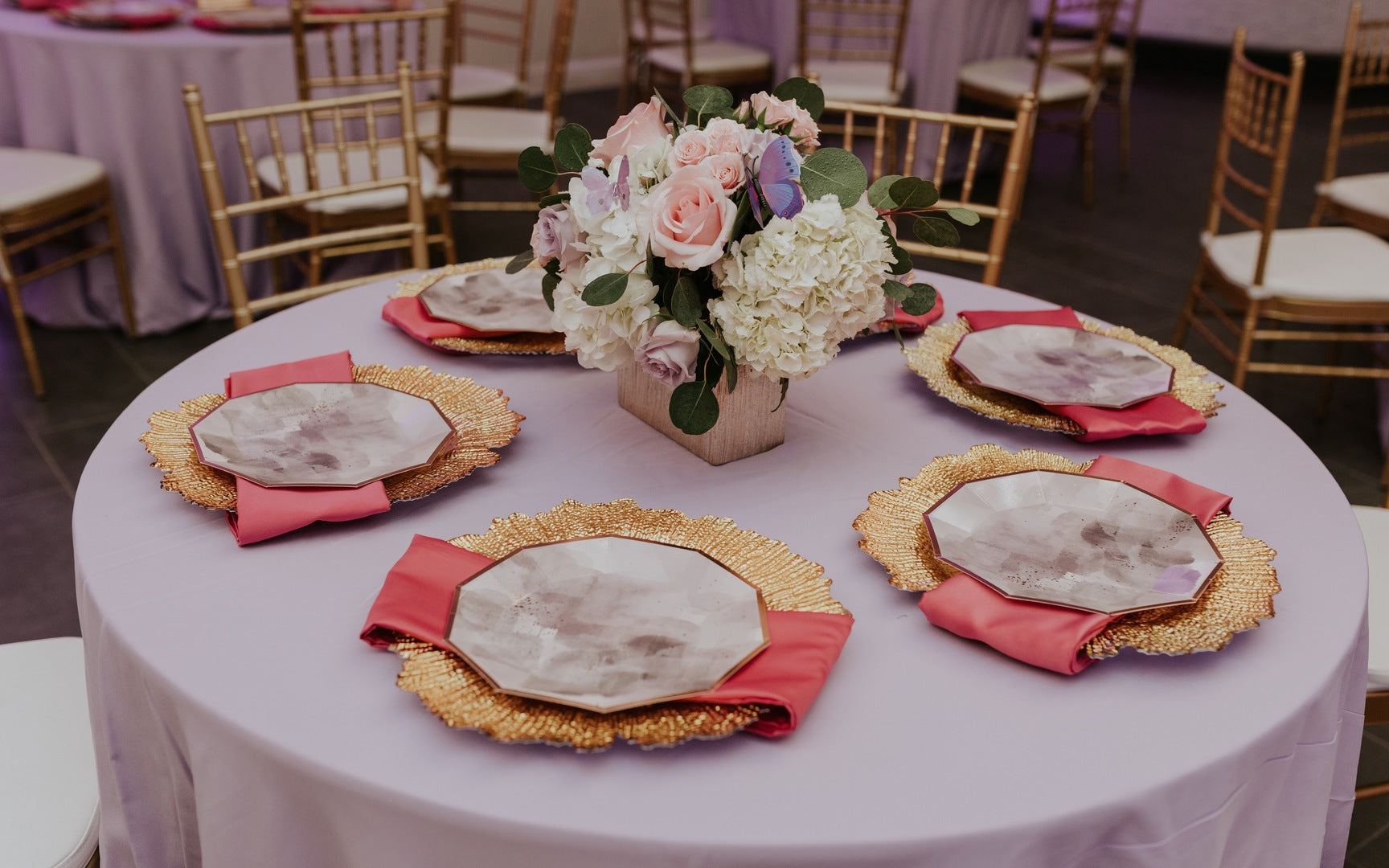 Tips for Decorating Round Banquet Tables
Reception tables catch the attention of the guests more than anything else. So to make your party look gorgeous, the tables must be well set and nicely decorated. However, they don't have to be overly decorated or extremely under-decorated. So give your party tables the proper treatment with these tips, and let them slay your event. But first, let us tell you why choosing round tables would be wise for all your occasions.
They are easier to fit in any space since they don't have corners that take up much space. They will also add more elegance to your wedding venue because, unlike typical rectangular tables, they stand on one leg only, which looks royal. They are warm and friendly and look perfect in any type of event.
Choose Textured Linen
Remember earlier we talked about warm, friendly, and simple party tables? Well, we got something for you that can transform your ordinary, basic table into a velvety-soft table. Get your hands on the correct type of tablecloth, and there will not be much left for you to do then. We have a complete range of disposable party tablecloths and linen-like tablecloths ideal for a banquet table.
Our fancy disposable tablecloths are a must-to-have for your banquet tables because they efficiently protect them from getting any scratches and add charm to the tables. The most significant advantage of having them is their disposable design, which means they will save you a lot of time that you would spend in laundry otherwise. Also, they fall within your budget and have a considerable amount of money saved to spend on tableware and statement centerpieces for your round banquet tables.
Add a Pop of Color or Keep it Simple
Visuals are immensely important no matter what type of event you are organizing. Especially for a banquet table, you must know how to balance colors and create a look that amazes the guests in one go. Gladly, we offer a complete range of colors in all our party supplies and suggest some trendy combos to choose from. If you choose a classic, plain-white tablecloth, we recommend you use more vibrant tableware and centerpieces.
You can achieve this visual balance either by decorating or by choosing just the right kind of tableware. At Smarty, you get to choose from a wide variety of dinnerware to match any type of decor.
Add a Statement Centerpiece
Centerpieces play an essential role in adding value to your banquet tables. Use them to create height on the table to make them more attractive. You can DIY a centerpiece out of flowers and candles to add that aroma to the tables, and candles will give them a traditional look. Or even better, add extra-large centerpieces to wow your guests with the decor.
The glamorous and romantic centerpiece in white orchids and green leaves
Here is a sophisticated and romantic central place in the abundance of white orchids and lush greenery. This arrangement is particularly appealing because the bouquet's colors match perfectly with the white tablecloth, fabric napkins, and even water glasses with green stained glass.
The simple but chic centerpiece in gerberas, roses, and lavender 
In this way, even a simplified design with an imaginary palette can significantly impact the aesthetic. In this example, we used colors with more or less close positions on the chromatic circle. As a result, purple, lavender, lilac, purple and pink are all similar and form a uniform canvas that, combined with white, looks chic and festive.
Tips & Tricks
If you think that round tables in the interior are entirely out of fashion and that such items are not in trend, know that you are wrong. Exquisitely designed round tables can be a sophisticated detail of any party. Rustic or timeless round tables can make your banquet memorable and elegant.
The center of the table should be in line with the theme of the overall decoration. It should not be too conspicuous. The most classic variant is a vase with flowers and candles. 
Tip plus:
If you have chosen round tables, the center of the table should also be round or oval. You can place a large round bowl in which to arrange the flowers. Tie an organdy ribbon or a miniature flower arrangement around each chair. Simple and effective! 
Colors: 
You should not have more than three colors on the table. It would be best to avoid colorful napkins with stripes or striking motifs. Red or yellow napkins will surely distract attention - gentle and natural tones are a better solution. 
Mistakes to avoid: 
- Don't use too fragrant flowers.  
- Be careful not to place strips of plain paper in the center of the table as they could easily tear. 
- No more than three colors should be represented on the table. 
- Choose simple and natural elements for decoration. There are no mistakes with them.
Table runner:
The misconception is that the table runner accessory is reserved for a rectangular or square decoration for a wedding table. However, you can use it successfully at a round table by following a few simple but very effective golden rules. 
First, cover the table with a white tablecloth and choose a contrasting color or pattern table runner. Then match its color with napkins, covers or ribbons, and chair bows or other decorative elements for your banquet. 
Decorating tip: sprinkle metallic confetti here and there on the tablecloth to reflect candlelight. Scattered rose petals, pearls, rhinestones, or artificial gemstones would add more romance to the tables and add a touch of glamor to your table.
Finally, the decoration of your table does not have to be full of decorations, unique colors, and unnecessary details. On the contrary, simplified compositions are often the most successful from an aesthetic point of view.