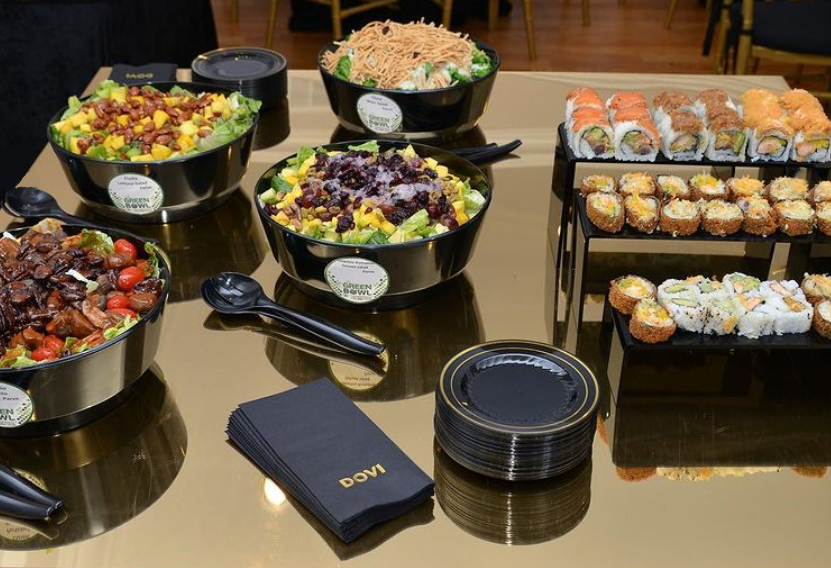 Essential Party Supplies for Your Next Party
What is a prerequisite for a well-organized party?
The first and essential prerequisite for a well-organized party is to consider all the circumstances that may affect your party.
In particular, to guarantee yourself and the people you invite to your party a good and quality time, try to prevent in advance everything wrong that could happen and spoil the party and make sure that the conditions in which people will spend are conducive to that. That is, to enable people to have a good time.
If you have ever had the chance to host an event by yourself, you might know that it takes a lot of effort to pull everything together. Mostly, you have to start working on it a month before the event day, but at times, you have to pull everything together in very little time. That's where the challenge starts - it becomes difficult to manage the decor, tableware, food, and drinks all at the same time.
That is the time when you feel the need for pre-planning more than ever. It is always better to have a thing or two prepared at your place to use them whenever you want to arrange a party but have no time. Especially during the winter season, when there are so many holidays and events going on, you might want to have a little celebration at your home with your loved ones. 
To make up for these last-minute events, here is a list of supplies you should get your hands on.
Budget - Plan How Much You Can Spend
First of all, you need to calculate how much money you can spend on what - how much goes to space, how much to drink, and how much on food. Then, once you're sure how much you can set aside for each of these items, you can throw yourself into planning the rest.
Invitations
To ensure a good time at your party, first of all, take care of when or what kind of people you invite to your party.
If you have friends prone to conflict behavior and changeable mood when they make reckless actions, there is a great chance they will ruin your party.
Therefore, for the guests at your party, choose decent and measured people who keep and do not exceed the measure of general decency and culture even when having fun and when they are maximally relaxed.
In addition to choosing guests for your party, pay attention to the fact that the noise level produced in your space during the party does not endanger and violate the tolerance of your neighbors.
Handwritten invitation cards seem outdated these days since everything has gone online. But it is always nice to have printed or handwritten invitation cards to send to your loved ones because they evoke an emotion of love. They will make them feel valued, and you have put the effort in for them.
Fancy Plastic Flatware
Be ready to neatly remove all traces of fun and entertainment after the party and clean your space. If you find this thought disgusting, choose canned drinks and use disposable glasses and cutlery when buying drinks and food. This way, you will eliminate a large part of the obligation that involves tidying up, and you will save your labor and time.
Cutlery at your party tables has to be durable and compact. It is a small item but plays a significant role in making the image of your party tables. If you spent a reasonable amount of time searching for the right quality of plastic cutlery for your event, at Smarty, we help you in all ways possible. That is why we have a complete range of fancy disposable cutlery sets available in different colors and materials, so everything is just one click away.
Our plastic serving flatware is a must to have in your next event to add an element of gorgeousness to your tables. Our fancy plastic flatware looks ravishing on all party tables when paired with other disposable tableware.
Dinnerware Sets
It is impossible to have a party without the dinnerware sets. We suggest you get the disposable ones to save yourself from doing dishes. Also, our premium quality disposable plastic dinnerware sets give a mesmerizing look to your party tables, elevating the whole look of your event.
The Food
You don't want to make and store the food items a month before the event cause it won't be the best idea to think of. But it would be better to keep some food items a week before to have some time saved.
Cocktails 
They are fun and unusual, do not give the impression that they are too strong, and you can drink more than one glass without getting drunk. Note, there are a couple of ice cubes in each!
If you do not want to get completely drunk but remain able to think soberly, whether it is a reception, party, catered event, or celebration, those with good intentions will recommend a mild wine or beer. What are the less mild variants of the drink? Any light, light beer will come in handy to invigorate you after a hard day during the summer heat. Light beers are believed to be the best to spoil, with up to 3 percent alcohol.
Tablecloths and Napkins
Tablecloths and napkins are yet another essential element on a party table. The main reason for getting them earlier is that it will help you have enough time to mix and match the colors and textures of the tableware with them. You can find beautiful disposable, and linen-like napkins at Smarty Had A Party online store.
Forget about fancy coasters. It's time to take the forgotten tablecloths out of the back of the drawer. If you have a headache at the thought of ironing, don't worry because, in 2022, crumpled tablecloths are okay. Chic and practical at the same time.