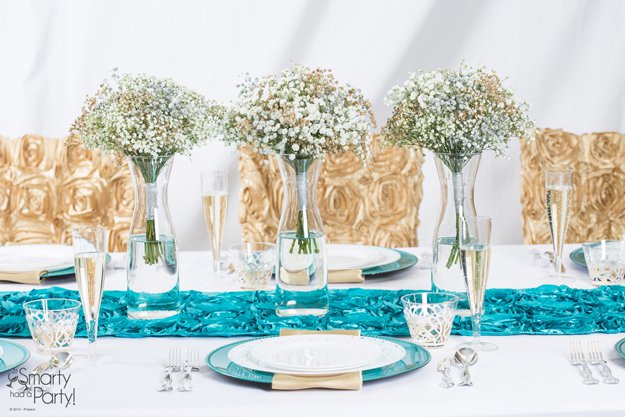 Tips and Tricks for Having an Elegant Winter Celebration
If you want to add a touch of elegance to your home this winter season, look no further - because we have the top tips and tricks to transition your home from fall to winter in no time!
Winter doesn't have to be boring; make it entertaining by decorating it for the holidays. We'll provide seven helpful tips and tricks to help create a cozy and elegant winter atmosphere that you and your family will love.
1. Candles
Candles are a great way to bring the warmth of winter into your home. You can use candles to add extra light and ambiance to your space while providing a cozy glow to any room. Whether you prefer classic white or festive-scented ones, there is no wrong way to use candles in your decor. 
Place them in groupings on shelves, mantles, or coffee tables for a beautiful display. Opt for unscented varieties for a more neutral effect when purchasing candles for your winter decor. If you want something more festive, choose scented varieties in cinnamon, pine, and peppermint to give your home a holiday feel.
2. Cozy Textiles
Using cozy textiles is one of the most important elements of transitioning your home from fall to winter with elegance. These can include thick throws, rugs, pillows, and more. Thick, woolen fabrics in warm colors, such as red, burgundy, and deep purple, are perfect for creating a snug, cozy atmosphere in your home.
Add fur pillows or blankets for a touch of luxury for an even more inviting look. Additionally, opt for velvet upholstery on furniture or a fabric wall hanging for a softer touch. These simple additions will make a world of difference in making your home a warm, inviting retreat during the winter months.
3. Warm Colors
Adding warm colors is a great way to create a cozy atmosphere when transitioning from fall to winter. Choose deep, rich hues like burgundy, mustard yellow, and burnt orange to make your home feel inviting and inviting. 
You can incorporate these shades into your home with throw pillows, blankets, rugs, art prints, or wall paint. Incorporating these colors into your space will bring warmth and coziness while making the transition to winter easier. Make sure to combine warm colors with neutral shades such as beige or white to keep your home looking elegant.
4. Metallic Accents
When transitioning your home from fall to winter, metallic accents play a pivotal role and bring a sense of elegance and sophistication. In addition, you can add a touch of glamor to your decor with pieces such as lamps, candle holders, mirrors, vases, and more. 
Consider using silver and gold tones for your metal accents to give your home an air of luxuriousness. You could get creative with your metal accents and try different shapes and sizes to add interest. 
Try mixing and matching different metal tones or pairing them with natural elements such as wood or greenery to create a beautiful visual contrast. Whether you go for something subtle or bold, metallic accents can help you to achieve an elegant winter look.
5. Natural Elements
We can't think of elegant winter decor without natural elements. They can be a great way to bring warmth and texture. Try adding a few branches of holly or pine cones, which can be abundant during winter. You can also use dried wheat stalks, corn husks, and other seasonal foliage to decorate your space. A bouquet of winter flowers, such as white poinsettias, can also add a touch of sophistication.
6. Fireplaces
Fireplaces can be a great way to warm your home when the weather turns more relaxed and the days get shorter. Not only do they provide a cozy atmosphere, but they also create a beautiful focal point in any room. Consider adding a fireplace to create an elegant winter atmosphere in your home.
If you already have a fireplace, update it with decorative accents such as tile or mantel with festive decorations. Candles can help create a cozy atmosphere. If you don't have a fireplace, you can opt for an electric fireplace insert. This is an excellent option for those wanting the warmth and ambiance of a fireplace without the mess and maintenance of a traditional fireplace.
No matter what kind of fireplace you choose, adding one to your home can help to create an elegant winter atmosphere that will keep you warm and cozy all season long.
7. Holiday Decor
Adding holiday decor is a great way to bring winter into your home with elegance. Choose decorations that complement the colors and themes you've established in your set. Whether you want to create a festive atmosphere or add a hint of winter whimsy, there are plenty of options.
If you're looking for something traditional, opt for classic holiday decorations like twinkling lights, garlands, and ornaments. You can hang these on the walls, door frames, or Christmas trees. Then, add subtle touches of holiday cheer with red and green pillows or a festive wreath.
No matter what type of holiday decor you choose, it should reflect your style and fit in with the rest of your home. Remember, the goal is to create an elegant winter atmosphere, not a cluttered one. So have fun mixing and matching colors and decorations to get the perfect look for your home.
If you want some affordable plasticware for your party, check out amazing collections of Smarty Had a Party. Right now is the best time to shop as they are having their sale, so check it out right now and get the best products for yourself!
Let's get real, people. If plasticware sets were banned, the world would be beyond destruction. Think about a party with all those plasticware products in their kitchen blown away. We could not predict anything but chaos without the plasticware.
You might reach for that kitchen cabinet to find out that you have nothing to hold your drinks and avoid spills fest, making it hard to level up your social status by nighttime with friends. That's why it's essential to have the right disposable plasticware for parties, and luckily plasticware is made exclusively for just that.