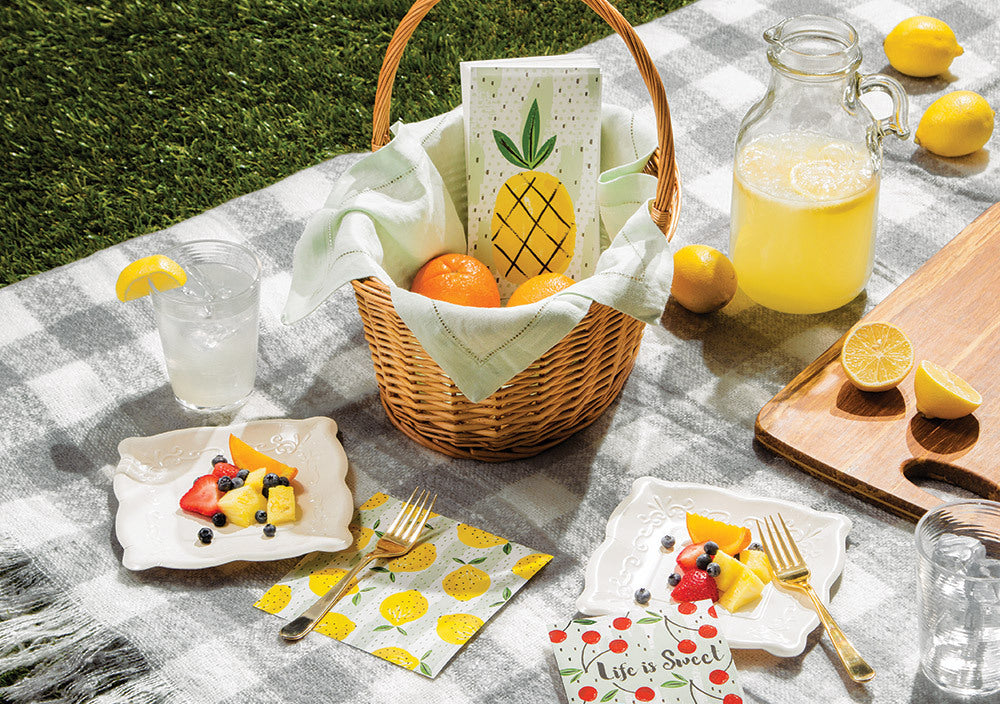 The Ultimate Guide to Planning the Perfect Summer Picnic
Summer is here, and what better way to embrace the warm weather than by planning a delightful outdoor adventure? A summer picnic is the perfect opportunity to soak up the sun, enjoy good company, and indulge in delicious food. Whether you're gathering with friends, family, or that special someone, a well-planned picnic can create cherished memories that last a lifetime.
How to Plan the Perfect Picnic?
This ultimate guide will take you on a journey to plan the perfect summer picnic. Whether you're a seasoned picnic enthusiast or planning your first outdoor feast, this guide will equip you with the knowledge and inspiration to create a memorable and flawless summer picnic. So, let's embark on this picnic adventure together and unlock the secrets to planning the ultimate summer escape!
Choosing the Perfect Picnic Location
The location you choose for your summer picnic sets the stage for a memorable experience. Here are some key factors to consider when choosing a picnic location:
Proximity and Accessibility: 

Pick a picnic spot that's easy to get to, with nearby parking and no need for permits or reservations.

Scenic Beauty: 

Choose a beautiful location for a better picnic experience - stunning views, foliage, water, or gardens. A picturesque setting adds to the charm.

Amenities and Facilities: 

Choose a picnic spot with amenities like tables, grills, and restrooms for added comfort and enjoyment.

Shade and Shelter:

 Ensure enough shade for outdoor activities to protect you from the sun. Bring umbrellas, sunshades, or a portable canopy if there's limited shade.

Privacy:

 Choose a secluded spot for your picnic based on your group size and the event type. Consider lesser-known parks or quieter corners of popular outdoor spaces.
Popular Picnic Locations Known for Their Unique Features
Beachside Bliss:

 Love the beach? Try a beach picnic! Enjoy the waves or a serene lake. Relax and dip your toes in the water.

Park Perfection:

 Discover the best picnic spots in the city at local parks and green spaces, offering a mix of natural beauty and convenient amenities for your outdoor enjoyment.

Mountain Escapes: 

For a thrilling picnic, head to the mountains. There are designated spots along trails or at viewpoints surrounded by majestic trees, waterfalls, or alpine meadows.

Picturesque Picnic Areas:

 Choose a beautiful spot for a picnic, like a national park or historic garden. Check for any rules before going, like restrictions on noise or open flames. Researching beforehand will ensure a great summer picnic.
Essential Picnic Equipment and Supplies
Convenience:

 Disposable picnic supplies are convenient for outdoor gatherings, allowing you to focus on enjoying your picnic without worrying about cleanup.

Lightweight and Portable: 

Disposable supplies are great for outdoor picnics because they're lightweight, compact, and easy to transport. Plus, they don't occupy much space in your picnic basket or cooler.

Safety and Hygiene: 

Disposable supplies for outdoor dining offer a hygienic and worry-free experience, eliminating concerns about cleaning and cross-contamination.
Plastic tumblers are lightweight, durable, and shatterproof, making them ideal for outdoor use. They are less likely to break compared to glassware, reducing the risk of accidents during transportation or in crowded picnic areas. Plastic tumblers are also available in various colors and designs, adding a touch of fun and vibrancy to your picnic setup.
Plastic plates are lightweight, durable, and resistant to breakage, making them suitable for outdoor dining. They are easy to clean, require no additional care, and can be stacked and transported without worrying about damage. Plastic plates also come in various sizes and designs, allowing for versatility in serving different types of picnic fare.
Plastic pitchers are often favored for serving drinks during picnics due to their practicality and ease of use. They are lightweight, durable, and typically have a handle and a lid for easy pouring and transportation. They are less prone to breakage than glass pitchers, making them safer for outdoor settings. Plastic pitchers also come in various sizes and styles, allowing you to serve refreshing beverages to your picnic companions.
Plastic flatware is popular for picnics due to its convenience and portability. Plastic utensils, such as forks, knives, and spoons, are lightweight, disposable, and easy to transport. They eliminate the need for washing and can be easily discarded after use, saving time and effort. Plastic flatware is also a practical option for picnics where carrying reusable utensils may not be feasible.
Menu Planning for the Perfect Summer Picnic
Choosing Picnic-Friendly Foods
Foods that are easy to pack and transport: 

Choose non-perishable and easy-to-prepare foods like sandwiches, salads, wraps, skewers, mini quiches, or fruit kabobs when packing for convenience.

Ideas for delicious and refreshing picnic meals:

 For a great picnic, have appetizers like fruit, veggies with dip, cheese, and crackers. Try kebabs, pasta salad, or gourmet sandwiches for the main course. To finish, bring cookies, brownies, or fruit tarts.
Beverages for a Refreshing Picnic Experience
Popular drink options for picnics: 

Bring lots of water for hydration and popular drinks like lemonade or iced tea. For fizzy options, pack sparkling water or soda. If you want alcohol, choose portable options like canned beer or pre-mixed cocktails.

Try creative and refreshing drink recipes: 

Spice up your picnic drinks with new recipes. Try lemonade with mint, sangria with seasonal fruits and wine, or a mocktail with fruit juice and sparkling water. Keep them cold in a cooler or insulated container.
Organizing and Packing for the Picnic
Picnic Basket Essentials
Utensils and Tableware: 

Bring enough plates, cups, and cutlery for everyone at the picnic. Use disposables or bring a container for dirty utensils if using reusables.

Food Storage Containers: 

To keep food fresh and prevent spills, use airtight containers for transport.

Napkins and Paper Towels: 

Pack ample

 

paper napkins

 or paper towels for cleaning hands, wiping spills, and general cleanup. They come in handy for keeping your picnic area tidy and ensuring everyone stays comfortable.

Picnic Blanket or Tablecloth: 

For a comfy and clean meal outdoors, get a waterproof picnic blanket or 

plastic tablecloth

 to protect against dampness.

Cooler or Insulated Bag:

 Bring a cooler or insulated bag with ice packs or ice to keep your food and drinks cold during the picnic.

Trash Bags:

 Bring enough trash bags to clean and tidy your picnic area. Dispose of all waste properly to show respect for the environment and other visitors.
Additional Items to Consider
Blankets, Cushions, and Seating Arrangements:

 Bring extra blankets and cushions to make your picnic more comfortable. Consider bringing portable seating options for longer gatherings.

Entertainment and Activities for a Memorable Picnic: 

Spruce up your picnic with activities like Frisbee, cards, music, or outdoor games like badminton or catch. Even a book can make for some relaxing reading.
Tips for Efficient Packing and Organizing
Plan your menu in advance and pack food items in the order they will be consumed to make access easier.

Place heavier or fragile items at the bottom of your picnic basket to provide stability.

Use containers with tight-fitting lids to prevent leaks and spills.

Roll or fold blankets and tablecloths tightly to save space.

Utilize compartments or smaller containers within the picnic basket to keep items organized and prevent shifting during transportation.

Remember to bring essentials such as sunscreen, insect repellent, and a first aid kit for any unforeseen circumstances.
Frequently Asked Questions (FAQ)
1. How can I keep my food and drinks cold during a summer picnic?
Use a cooler or insulated bag with ice packs or ice to keep your food and drinks cold. Pack perishable items in airtight containers, and keep them in the cooler until serving time. It's also helpful to store beverages in insulated containers or wrap them in a wet towel to stay cool.
2. Are there any vegetarian or vegan picnic-friendly food options?
Absolutely! There are plenty of delicious vegetarian and vegan options for picnics. Consider packing vegetable skewers, hummus and veggie wraps, quinoa salads, fresh fruits, plant-based sandwiches, or vegan desserts. The possibilities are endless, and you can customize your menu to cater to different dietary preferences.
3. Can I have a picnic in a public park or beach?
Yes, public parks and beaches are popular picnic locations. However, it's important to check local regulations and specific rules for the area you plan to visit. Some parks or beaches may require permits or have restrictions on open flames, alcohol consumption, or playing music at high volumes.
4. How far in advance should I start planning and packing for a picnic?
It's a good idea to start planning and packing for a picnic at least a day or two in advance. This allows you to make a shopping list, gather all the necessary supplies, and prepare any food items that can be made beforehand. It's helpful to have everything ready so you can enjoy the picnic on the day of the outing.
So, grab your picnic basket, bask in the sun's warmth, and let the summer breeze carry your worries away. Create memories, embrace nature's beauty, and experience the joy of the perfect summer picnic. Cheers to picnicking at its finest!