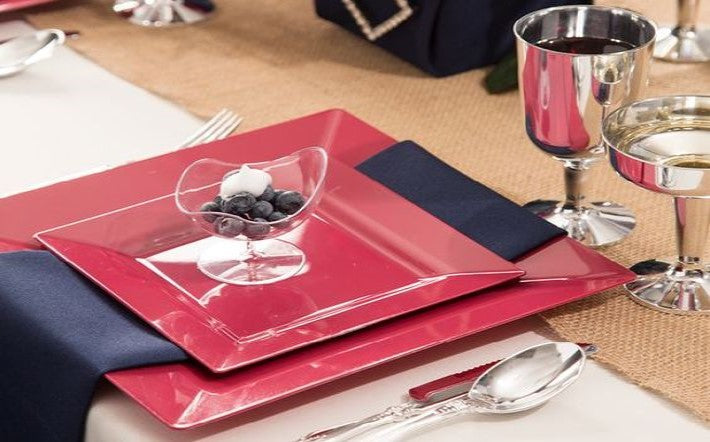 The Secret to Hosting in Style: A Complete Guide to Table Setting for Parties
Hosting a party or event is an art form. From the delectable menu to the carefully selected décor, every detail is vital in creating an unforgettable experience for your guests. One aspect that often sets the stage for an extraordinary event is the table setting. How you arrange your dinnerware, glassware, linens, and serving ware can transform an ordinary gathering into a stylish and sophisticated affair.
The Art of Stylish Tablescapes: A Complete Guide
In this comprehensive guide, we will unveil the secrets to hosting in style through the art of table setting. Whether you're planning an intimate dinner party, a celebratory soirée, or a grand banquet, our expert tips and insights will help you master the art of creating an impressive table setting that reflects your personal style and elevates the overall ambiance of your event. So, let's dive into the world of table setting and discover the secrets that will elevate your parties to a whole new level.
Traditional Table Setting Basics
The Essential Elements
Hosting a stylish party no longer requires compromising on convenience and ease of cleanup. The rise of disposable tableware has revolutionized the world of table settings, offering many elegant and practical options. 
Fancy Plastic Dinnerware: Achieving a Sophisticated Look Without Sacrificing Convenience
Dinnerware sets the foundation for your table setting. It typically includes dinner plates, salad plates, soup bowls, and bread and butter plates. Disposable dinnerware comes in a wide range of styles, designs, and colors, allowing you to choose options that match your event's theme or aesthetic. Whether you're hosting a formal dinner party or a casual outdoor gathering, disposable options are available to suit every occasion. Consider the dinnerware's shape, color, and design to create a visually appealing table.
Elegant Plastic Drinkware: Choosing Stylish and Durable Options
Drinkware is essential to any table setting, as it serves both a functional and decorative purpose. Include water glasses, wine glasses, and champagne flutes, depending on the beverages you'll be serving. Choose stylish and durable plastic drinkware that surpasses traditional disposable options. Elegant plastic alternatives resemble glass and elevate your beverage experience. Opt for sturdy construction, sleek design, weighted bases, textured finishes, and crystal-like appearance. Your guests will enjoy the elegance without realizing it's disposable.
Disposable Silverware: Selecting Sturdy and Stylish Options
Flatware, including forks, knives, and spoons, is integral to any table setting. Place the utensils in the order they will be used, from the outside in. Upgrade your disposable silverware with high-quality and stylish options that mimic real silverware. Choose sturdy utensils made from plastic or biodegradable materials for a perfect blend of elegance and convenience. Look for metallic finishes and intricate details to elevate your table setting. Ensure the utensils feel solid and substantial to withstand your meal. With disposable silverware, you can offer a fine dining experience without post-party washing.
Disposable Linens: Convenient and Visually Appealing Additions to Your Table Setting
Linens, such as tablecloths, napkins, and placemats, add texture, color, and sophistication to your table setting. Opt for visually appealing and convenient disposable tablecloths and paper napkins. Find options in classic white or vibrant colors and patterns to match your theme. Select high-quality materials with luxurious textures and consider features like water resistance or spill-proof coatings for durability. Disposable linens add elegance to your table without the hassle of stains or extensive cleanup, making them a cost-effective choice.
Plastic Serving Ware: Elegant and Practical Options for Showcasing Food
Elevate your culinary presentation with elegant and practical disposable plastic serving ware. These options simplify the serving process while adding style, from platters and bowls to trays and utensils. Look for stylish designs and sturdy construction. Choose unique shapes or finishes that enhance the presentation of your dishes. Disposable plastic serving ware enhances the visual appeal of your food and creates an impressive table setting.
The Traditional Placement and Arrangement of Each Item
Dinnerware Placement: 

Start by positioning the dinner plate in the center of the place setting. Place the salad plate on the dinner plate and the soup bowl on the right side. The bread and butter plate should be placed above the forks on the left side of the setting.

Glassware Placement: 

Arrange the water glass directly above the dinner knife, and place wine glasses and champagne flutes to the right of the water glass. Position the glasses in a diagonal line for a formal setting, starting with the water glass at the bottom left and the wine glasses moving up and to the right.

Flatware Placement: 

Place the forks to the left of the dinner plate, with the salad fork on the outside and the dinner fork closest to the plate. Position the knives to the right of the plate, with the blade facing inward. The spoons can be placed to the right of the knives or above the plate.

Linen Placement: 

Ensure the tablecloth hangs evenly on all sides, with the edges reaching just above the diners' laps. Fold napkins neatly and place them on the dinner plate or to the left of the forks.

Serving Ware Placement:

 Arrange serving ware strategically around the table, ensuring they are easily accessible to guests. Place larger serving platters or bowls in the center of the table and smaller ones within reach of each guest.
Tips for Creating a Cohesive Table Setting
Ensuring Adequate Space Between Place Settings for Comfort and Functionality
To ensure comfort and functionality during dining, leave at least 24 inches of space between each place setting, with the dinner plate centered in front of each chair.
Selecting a Theme or Color Scheme to Guide Your Table Setting Choices
Choose a theme or color scheme for your event's table setting. Consider the occasion, season, or any inspiration you may have. This will help guide your selection of elements and create a cohesive look.
Coordinating Dinnerware, Drinkware, and Flatware to Complement the Theme
Match your dinnerware, drinkware, and flatware to your event's theme or color scheme for a visually pleasing presentation. Coordinated elements create a cohesive and polished appearance.
Enhancing the Look with Stylish Napkin Folds and Napkin Rings
Napkins can enhance your table setting with different folding techniques and decorative rings, adding sophistication to your aesthetic. Online tutorials offer plenty of options for classic to intricate designs.
Choosing Tablecloths and Runners That Add Texture and Visual Interest
Tablecloths and runners are essential for a beautiful table. Pick ones that match your theme and add texture. Try different fabrics and patterns until you find the perfect balance.
Incorporating Centerpieces and Decor That Elevate the Overall Table Setting
Add centerpieces and table decor for a visually appealing and themed table. Use fresh flowers, candles, or themed items, but keep the height appropriate for easy conversation.
Frequently Asked Questions (FAQ)
1. Can disposable dinnerware and plastic table settings really look elegant?
Absolutely! Disposable dinnerware and plastic table settings have greatly improved in design and technology, offering elegant and stylish options that can blend in with any upscale event or stylish table setting.
2. Are disposable tablecloths and napkins durable enough for parties?
Disposable tablecloths and napkins are now more durable and resistant to tearing and staining. They come with spill-proof coatings and water resistance, making them great for hosting events without sacrificing style or function.
3. How can I ensure a cohesive and visually appealing table setting with disposable dinnerware?
When using disposable dinnerware, choose a theme or color scheme to guide your choices for dinnerware, drinkware, and flatware. Add visual interest with stylish napkin folds, matching napkin rings, and tablecloths or runners. Incorporate centerpieces and decor elements for an overall stunning look.
4. Is it appropriate to use disposable tableware for formal events?
For formal events, high-quality disposable tableware can convey sophistication and elegance. Choose fancy plastic plates, elegant drinkware, and disposable silverware that looks real. Finish the look with disposable tablecloths and napkins for easy cleanup without sacrificing style.
Whether hosting an intimate gathering or a grand celebration, your attention to detail, creativity, and personal touch is the secret to hosting in style. So, unleash your imagination, experiment with different styles, and have fun as you transform your table into a stunning centerpiece that will leave a lasting impression on your guests.
Now that you're equipped with the complete guide to table setting for parties, it's time to embrace your inner host and create memorable moments that will be cherished for years. Cheers to hosting in style!