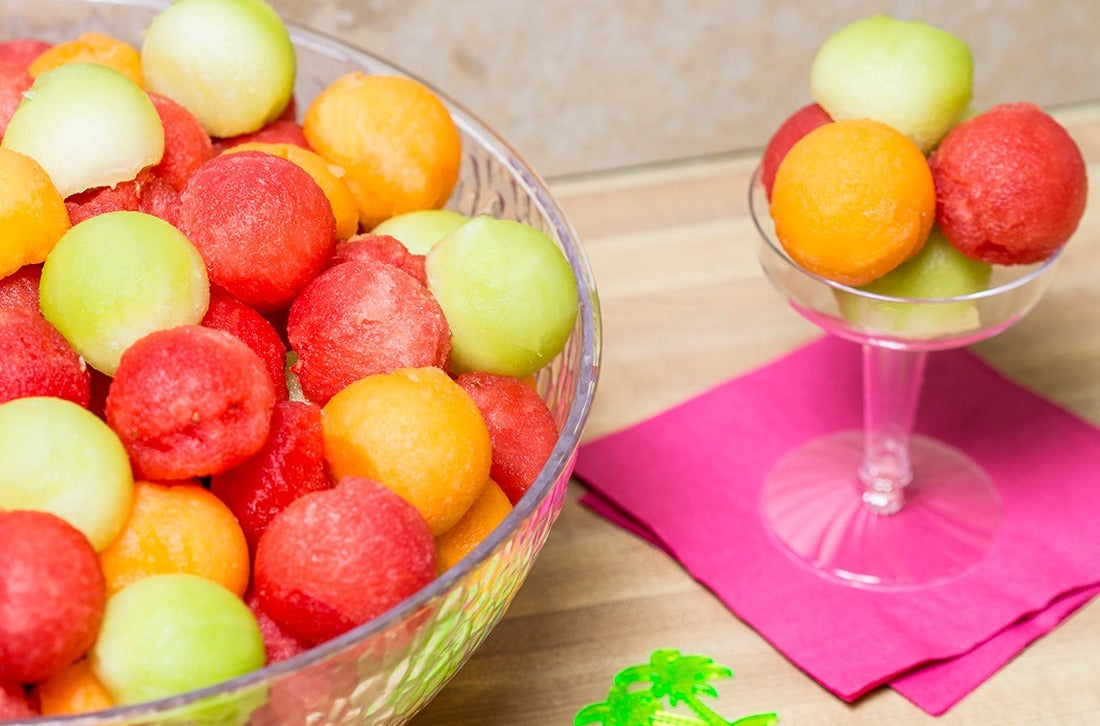 Savor the Party: Drunken Melon Balls for the Ultimate Summer Soiree
Summer is in full swing, and what better way to celebrate the season than by hosting an unforgettable summer soiree? Whether you're planning a backyard gathering, poolside party, or rooftop get-together, one treat guaranteed to steal the show and make your guests go wild with delight: Drunken Melon Balls. These delicious alcohol-infused fruit bites bring vibrant flavors that perfectly complement sunny days and warm evenings.
Drunken Melon Balls Recipe
In this blog post, we'll dive into the world of Drunken Melon Balls and share everything you need to know to create this mouthwatering treat for your ultimate summer soiree. So, get ready to be the season's star as we embark on this culinary journey together. For the ultimate summer soiree, let's savor the party with Drunken Melon Balls.
Preparing the Drunken Melon Balls
Selecting and Preparing the Melons
The first step is to select the right melons when creating the perfect Drunken Melon Balls. Opt for ripe and juicy watermelon, cantaloupe, and honeydew to ensure a burst of sweet and refreshing flavors in every bite. Here are some tips to guide you through the selection and preparation process:
Choose ripe and juicy melons: 

Look for melons with a firm texture and a sweet aroma. They should feel heavy for their size and have a vibrant, unblemished rind.

Cutting into uniform balls or scoops:

 To create visually appealing melon balls, use a melon baller or a small ice cream scoop. Cut the melons in half, then scoop uniform balls from the flesh. Alternatively, you can cut the melons into cubes or use a knife to create intricate shapes. Get creative and experiment with different presentations to add a touch of artistry to your Drunken Melon Balls.
The Marinating Process
Marinating is the secret to infusing melon balls with delightful flavors. Here's how to do it:
Gather your ingredients: 

In a large bowl, combine equal parts tequila, pineapple juice, vodka, and peach schnapps. The tequila adds a hint of depth, while the pineapple juice brings a tropical twist. Vodka provides a neutral base, allowing the melon flavors to shine, and peach schnapps lend a touch of sweetness.

Marinating the melon balls: 

Carefully place them into the marinade bowl, submerging them fully. The longer you let them marinate, the more the flavors melt together. For optimal taste, refrigerate the melon balls in the marinade for a few hours or overnight, allowing them to absorb the intoxicating flavors.
Note: If you prefer non-alcoholic versions, you can create a flavorful marinade by substituting the alcoholic beverages with a combination of fruit juices like pineapple juice, orange juice, and lemonade. The result will still be a refreshing treat perfect for your summer soiree.
Presentation and Serving
When it comes to hosting a memorable summer soiree, presentation is key. How you present your food and drinks can elevate the overall experience for your guests. It's all about creating an inviting and visually appealing setup that adds to the festive atmosphere. Let's explore some fantastic ideas for serving your delectable Drunken Melon Balls.
Fancy Plastic Martini Glasses
One surefire way to impress your guests is by serving your Drunken Melon Balls in fancy plastic martini glasses. These elegant and eye-catching vessels elevate the presentation and add a touch of sophistication to your summer soiree. The transparent plastic material mimics the look of glass, making them a perfect choice for serving fruity drinks or treats. You can find these plastic martini glasses at the Smarty Had A Party party supply online store, and the best part is they are affordable, so you can stock up without breaking the bank.
Disposable Cocktail Napkins
Don't forget to provide disposable cocktail napkins to complete the picture-perfect presentation. These napkins serve both a functional and decorative purpose. They come in handy for your guests to hold their Drunken Melon Balls while enjoying the festivities, and they also add a pop of color and style to your serving area. Opt for colorful or patterned napkins that complement the theme of your summer soiree. Whether you choose vibrant tropical prints or subtle pastel shades, these napkins will enhance the overall aesthetic and create a festive ambiance.
Big Clear Plastic Bowls
Clear plastic bowls are your secret weapon when displaying and serving your Drunken Melon Balls. These bowls offer practicality and style in one package. Their large size lets you showcase the abundance of melon balls, enticing your guests to indulge in their refreshing flavors. The transparent plastic material makes it easy for guests to see the vibrant colors of the melons but also adds a modern and sleek touch to your presentation. These bowls' durability ensures they can withstand the outdoor elements of your summer soiree.
The Summer Soiree Experience
Creating the Ambiance and Mood
Relaxed Atmosphere: 

Offering comfortable seating options like lounge chairs, hammocks, or sofas can create a relaxing and inviting atmosphere for your guests to enjoy the summer season.

Festive Decorations: 

Brighten your space with colorful decorations like lanterns and string lights for a summery vibe. Add tropical-themed items such as palm leaves and seashells to create a playful atmosphere.

Background Music:

 Curate a lively playlist for your summer gathering with upbeat tunes like acoustic melodies or tropical beats. The right music will elevate the experience and keep the vibe lively.

Lighting: Use soft ambient lighting and subtle spotlights to make your outdoor space cozy at night. Add candlelit lanterns, fairy lights, or torches for extra enchantment.
Savoring the Drunken Melon Balls at the Party
Refreshing Taste: 

Savor the taste of ripe melons infused with tequila, pineapple juice, vodka, and peach schnapps for a refreshing summer treat.

Guest Favorite:

 Alcoholic melon balls are a tasty crowd-pleaser for any occasion.

Personal Anecdotes: 

Drunken Melon Balls are a hit at summer parties, creating joyful memories for guests.
Frequently Asked Questions (FAQ)
1. Can I make Drunken Melon Balls without alcohol?
Absolutely! If you prefer non-alcoholic versions, you can omit the alcohol and marinate the melon balls in a combination of fruit juices like pineapple, orange, and lemonade for a refreshing twist.
2. How far in advance can I prepare the Drunken Melon Balls?
Marinating the melon balls for at least a few hours or overnight is recommended to allow the flavors to meld together. However, marinating them for 1-2 hours should still yield delicious results if you're short on time.
3. Can I use different types of alcohol for the marinade?
Absolutely! The recipe suggests using tequila, vodka, and peach schnapps, but feel free to experiment with different spirits based on your preferences. For instance, try rum, gin, or a flavored liqueur to create unique flavor combinations.
4. Are there any alternative fruits I can use instead of melons?
Yes! While melons work wonderfully in this recipe, you can experiment with other fruits. Pineapple chunks, strawberries, grapes, and even citrus slices can be marinated and served alongside or in place of melons for various flavors and textures.
It's time to seize the moment, gather your friends and loved ones, and embrace the season's spirit. Host the ultimate summer soiree, where laughter flows freely, the ambiance is enchanting, and the show's star is undoubtedly the sensational Drunken Melon Balls. We can't wait to hear about your summer soiree experiences and the memories you create while savoring the party.
Cheers to a summer filled with unforgettable moments and the joy of indulging in the simple pleasures that make life extraordinary!