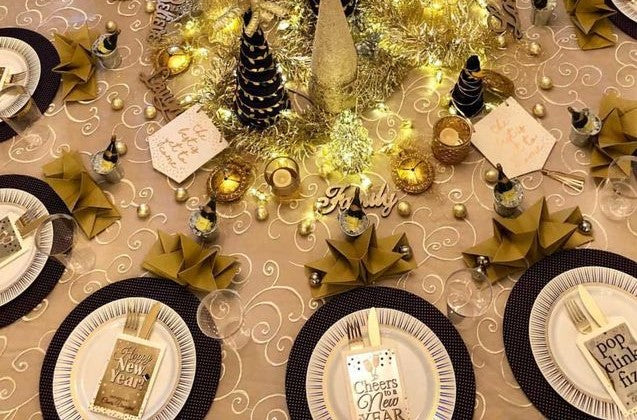 The Ultimate Guide on How to Organize a New Year's Eve Party
After the busy days of Christmas, everybody starts thinking about the new year's event and how they will spend their time in the evening. Of course, the best way to farewell the year is to throw an epic party and celebration ring into the new year.
Every year new trends are driven, making it difficult for you to organize a modern New Year's Eve Party. Lucky you are as we have put together all the details you need to take care of at the party. 
Set Party Goals
First things first, start the preparation by setting the party goals. That will determine what kind of party you are looking forward to throwing. Such determination will help you accomplish other cooperative arrangements for the party.
You might want to spend the whole night with your party mates or go out to enjoy the outside atmosphere with your favorite people.
Identify the Attendees
Once you have set your goals, figure out the guests you will expect at the party. Make party arrangements according to the age group you have invited.
If you invite younger party mates, hire a Dj to keep the party mode on for everyone.
Proper lighting and the dance floor will be the hit at your party to keep your attendees engaged. 
Include a friend who will help you out at the party to make arrangements. Don't include people you think would mesh with each other at the party.
Create Atmosphere
Create an atmosphere that would appeal to your guests and allow them to enjoy themselves fully. Lightning can give you an edge to add aesthetic vibes at the party. Play with different lights to set your guest's mood as proper lighting affects the brain to delight the person's mood. 
Invite your friend who knows about music, or hire a Dj to keep the audience engaged and delighted with spirit music. Test your speaker days ago if they are working correctly or not. Doing so will prevent you from any embarrassment. 
Determine the Budget
Determining the party budget will help you avoid trouble regarding your month's budget. Plan how much you will spend on party supplies, decor, food, and drinks.
If you are on a budget, you don't need to buy everything new. You can mix and match everything you have and bring the best out of it. Spend money on fancy disposable plates as they are the most affordable option out there.
If you are looking for elegant plastic dinner plates for your next party, we have covered you with our disposable party plates that will help you serve your guests with style.
Our plastic plates for parties aren't fragile like other options out there. These are the best and high-end quality stuff, just like the china and ceramics. Look around to get beautiful dinner plates for your next party at a fraction of the cost.
Moreover, our dinnerware is robust, ultra-durable, water-impenetrable, shape-stable, cut-resistant, and more stable than ordinary paper dinnerware, making it suitable for greasy and sauces-containing food.
Choose a Perfect Place
The first step is to decide on the best place to celebrate the New Year. Before that, you need to define what kind of party it is, how many people will come, who are mainly your guests, and who is financing the party. Depending on that, it is possible to organize a welcome at home (in the apartment, house, or cottage of the organizer or one of the friends), rent a cafe, or a beautiful place in nature. It should be borne in mind that holiday homes in the New Year period are booked a few months in advance, so do not wait until the last minute because you will find yourself in trouble when you realize that you no longer have a choice.
Assemble the Menu
If you are preparing a calmer celebration with fewer people or pairs, dedicate yourself to choosing food. At such celebrations, more people sit and eat, so preparing delicious meals and desserts is advisable to delight your guests. If you organize a party with many young people, prepare finger food that is eaten "from the feet" and can be easily carried as the guests will be more on the move. Tiny sandwiches, snacks, and desserts served in small disposable bowls that you can throw away later will look compelling, and you won't have any problems washing dishes later.
When choosing a drink, ask your guests who will drink what to make it easier to estimate how many drinks you need. Also, ensure you get enough minerals, fruit juices, and champagne to open at midnight. Colorful cocktails that you can prepare quickly are also a great idea, and if you have a friend who is good at preparing cocktails, hire him as a bartender. As for the quantity, it is always better to buy a little more food and drink - it is better to have a surplus that you can share with your friends after the celebration than to run out of drinks in the middle of the night, for example. In addition, unannounced guests can always come to you, especially if you are at a large party, so it is better to provide larger supplies.
Tips & Tricks
If a lot of people are involved in the preparations, it can only make the decision-making process and its implementation more difficult. So choose a few close people to help you organize the celebration's details. With their help, make a final guest list to determine how much money, food, and drink you need. Then, if you have decided to share the costs of the celebration evenly with friends, calculate approximately how much money you need for food, drinks, props, and decorations, add the cost of renting space if you have decided on such an option and inform guests how much money they should give you and by what date.
We wish you a Happy New Year Smarties!