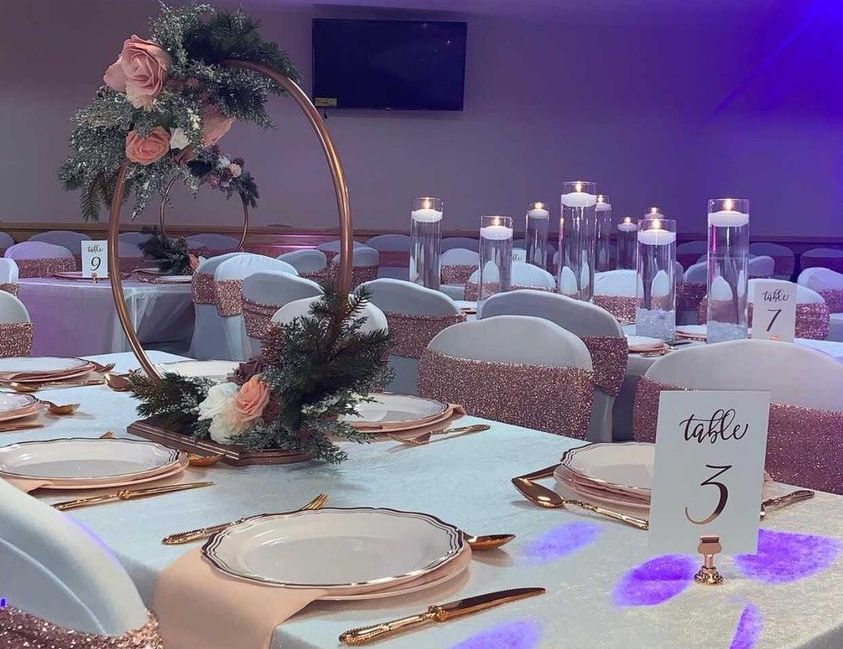 Creative Ways to Set Your Wedding Reception Tables
When everything in your wedding venue is oh-so-amazing, why compromise on the reception tables? It is a dream of every bride and groom to start and end their big day with a beautiful smile and loads of happiness. This is only possible when everything is well-managed and taken care of. Speaking of that, wedding tables catch the eyes of the guests first, and hence, they have to look ravishing.
If your wedding day is coming up or decorating someone else's venue, you have come to the right place. This fantastic blog will find some brilliant ideas and tips to creatively set a wedding reception table.
Hire a Professional
You might think it's unnecessary to call in a professional, but it is essential to have someone to look after the nitty-gritty of everything. It's more of an investment and less of an expense because you will be able to enjoy your wedding party without having to worry about anything. Also, it's not that you have to spend thousands on hiring a professional. Look for someone that falls within your budget.
Have Everything Ready Beforehand
To avoid that last moment of hurry and worry, it would be wise of you to purchase the necessary items at least three weeks before your wedding. Get fresh flowers and foliage right before you start decorating.
Get premium quality disposable plastic tableware from Smarty Had A Party, where you can find the most elegant paper charger plates, disposable wedding charger plates, and everything else you may need to set up a gorgeous wedding party table. All you need to do is place an order, and you will have all the products at your doorstep.
Hanging String Lights
Your wedding party event deserves a little magic. With some hanging string lights, you can add that element of enthralling to your wedding venue. Hang them right above your reception tables and let everyone fall in love with their beauty and attractiveness.
Table Runners
Table runners and disposable paper napkins have to be bought and arranged with care for an event like a wedding reception. We offer linen-like and disposable tablecloths and napkins to help you set your wedding reception tables exceptionally.
An Exquisite Tableware
Tableware is yet another eye-catching element on a table. Especially for a wedding reception table, it should be adorned with premium quality, elegant high-end tableware. You can get just that here at Smarty Had A Party. Our fancy charger plates for weddings will make your wedding reception tables stand out. Your party guests will love to eat from our stylish disposable chargers and plates.
DIY Flower Vase
Nothing beats the charm of flowers accompanied by some green foliage. This deadly combination is perfect for any event, let alone your wedding reception. You can make a flower vase centerpiece by putting your favorite flowers in a gorgeous vase. Then, pair it with eucalyptus foliage to add that X-factor to your reception tables.
Furthermore, if you add a luxury candle set along with the vase, your wedding reception tables will be off to slay.
Magic Peony
We present you with a peony flower, which looks so enchanting that its presence will turn your wedding into a fairy tale. This flower is also characterized by a luxurious aroma, which will fill the entire space for your wedding.
Peonies are simply perfect for creating unique decorations in the middle of tables for wedding guests and on the bridal table. Regardless of their colors and how you will use them, peonies create striking displays that attract attention. There are many colors of this beautiful flower at your disposal, from gorgeous pink, through burgundy to white, which you can turn into an elegant decoration for the middle of the table with greenery. Also, peonies are not "selfish" in accepting other flowers because they allow you to highlight some beautiful roses, kale, or wildflowers. In addition, whether it is a summer or autumn wedding, with this fantastic flower, you can use a wider range of fruits and vegetables and create unique decorations.
Peony Wedding Onion
Gorgeous flower bows have become a necessary detail of every wedding party. If you choose peonies to make your bow or "paradise gate," as these bows are popularly called, you will create a very picturesque background for the act of your wedding party. When creating onions, you can use different types of greenery near the peony and dried flowers that will give the whole impression of a classy note. And the most beautiful of all is that this unique flower can find its meaning in all wedding styles.
Flower Arrangements as an Unavoidable Table Decoration
The youth table is the center of the restaurant where the wedding takes place, so it should be decorated. Namely, in addition to the table for newlyweds, all tables require additional decoration. For example, flower arrangements are usually placed on the central part of the party table not to take up too much space during lunch.
Classic bouquets in the wedding party's colors will contribute to making the whole ambiance look different, but what will be discussed after the wedding are special flower arrangements underwater. They represent one of the newest trends in table decoration.
These arrangements are primarily in transparent vases of all shapes and sizes overflowing with water. According to the colors of the wedding, there are numerous flowers available that smell phenomenal. Choose those that do not have a lot of pollen so that the water does not become cloudy, and be sure to pour distilled water over them so that the whole arrangement stays fresh.
These submerged flower arrangements are elegant and simple, and what is very important when organizing the whole wedding party, they are not overly expensive as different ways of arranging tables. One attractive flower or just a few simple flowers is enough to enchant guests with this perfect decoration when decorating underwater.