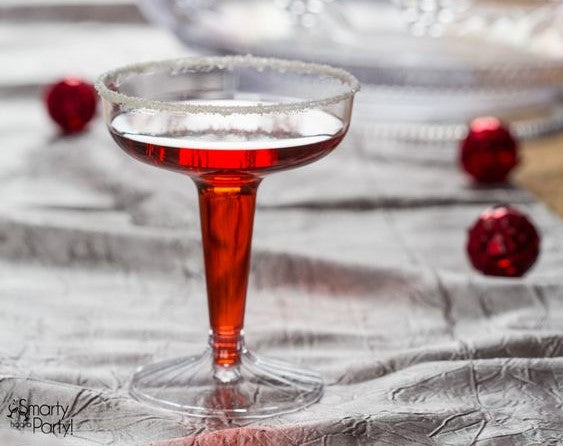 New Year Eve's Cocktail Recipes
On special occasions, such as New Year's Eve, alcoholic cocktails are often made based on gin, vodka, rum, tequila, whiskey, vermouth, and champagne. The bartenders make a special effort to decorate the cocktail, they do it with colorful straws and decorations, and they pay special attention to the rim of the glass.
We cannot imagine a perfect New Year's night without sipping our favorite drinks. So make these delicious cocktails this New Year's Eve and give your friends reasons to celebrate. You can also set up your cocktail bar at home, which is already explained on our website, and you'll be ready to amaze your guests with your skills.
Virgin Mojito
This mocktail doesn't need a particular season to be made. You can drink it on any occasion, and it will refresh everyone.
You will need:
Sugar syrup: 1 tablespoon

Mint leaves: 5 to 6

Lime juice: of 3 limes

Soda drink: 1 can (250 ml)

Ice cubes: As much as you want
For an elegant serving, you will need some premium plastic wine tumblers. 
Preparation:
Begin by mixing sugar syrup, lime juice, ice, and mint in a blender. Pour this mixture into our premium plastic wine tumblers and add soda water to it. Stir and serve this refreshing drink to your guests.
Peach Punch
The next drink on the list is the sparkling peach punch. This drink is equally popular among kids and adults.
To make this recipe, you will need:
Mango juice: 1 bottle (250 ml)

Peaches (peeled): 3

Lemon juice: 1 tablespoon

Sugar: 2 tablespoons

Ice cubes: as per desire
Preparation: 
Add all the ingredients to a shaker or a blender and give it a nice blend. Then, pour it into fancy plastic glasses, and you're good to go.
Gluten-Free Pina Colada
While throwing a party at your home, you've got to care for everyone. This gluten-free pina colada is not only delicious but is perfect for all the vegans out there. Serve this gluten-free, non-alcoholic pina colada to your guests. 
Following are the ingredients you'll need:
Coconut milk: 1 cup

Pineapple juice: ½ cup

Frozen pineapple cubes: ½ cup
Preparation:
Blend all the ingredients in a blender. You don't need to add ice to this recipe as we have added frozen pineapple cubes. However, ice will dilute the drink and won't taste as good.
Serve this amazingly delicious pina colada in our elegant plastic drinkware, whose premium quality will make your servings extra gorgeous.
Cranberry and Pomegranate Punch
The heavenly taste of cranberry is better when you mix it with pomegranate juice. This drink will taste amazing on New Year's Eve.
You will need:
Ginger ale: ½ cup

Pomegranate juice: ½ cup

Cranberry juice: ½ cup

Orange juice: ½ cup

Soda water: 1 can of 250 ml

Sugar syrup: 2 tablespoons

Ice cubes: As per your desire
Preparation:
Add all the ingredients to a pitcher and give a nice stir. Then, pour this delicious, tangy-flavored drink into our disposable champagne flutes. Their shape and quality are what make them everyone's top choice.
Shirley Temple
Make the most delicious Shirley temple using the following ingredients:
Maraschino cherries: for garnishing

Lemon juice: 2 tablespoons

Lime juice: 2 tablespoons

Grenadine: 4 tablespoons

Club Soda: ½ cup

Ice cubes: As per your requirement
Preparation:
Mix all the ingredients and garnish with maraschino cherries.
A Must-Have Champagne Cocktails to Welcome the Craziest Night
Is there a more ideal opportunity to pour champagne, forget about the past and boldly step into new possibilities and victories on New Year's Eve?
A night in which all people look forward to new beginnings, expecting only the best for themselves and their loved ones, is the perfect moment to sip an excellent sparkling drink that combines well with other alcoholic beverages, desserts, and hugs.
Many call it the "drink of happiness" because it is supposedly enough to drink just a few sips of this drink so that you feel euphoric and satisfied.
The selection of these three cocktails goes perfectly in combination with champagne, just for the New Year's magic.
1. Classic Champagne Cocktail
You will need:
1 sugar cube

3 drops of Angostura bitter

Chilled Gross champagne or dry sparkling wine

Lemon garnish
Preparation:
Add sugar to tall champagne glasses. Pour Angostura bitters over it, then pour champagne onto the top of your elegant glass. Garnish with lemon slices and serve immediately. You can also use some other bitters if you want to experiment.
2. Lavender Cocktail 
It may sound unbelievable or even risky, but this kind of alchemist recommends lavender sprigs in combination with champagne to mix drinks. So here's a suggestion:
You will need:
Ice cubes

4 sprigs of lavender

90 ml of gin

30 or 45 ml of lavender syrup

Chilled Prosecco
Preparation: 
Mix gin and 2 sprigs of lavender with lavender syrup in a shaker. Pour the ice cubes to fill half the shaker, close, and shake. Then, pour an equal amount of drink into two champagne glasses, add chilled Prosecco and garnish with the remaining sprigs of lavender. You can make the homemade lavender syrup by mixing cups of chopped lavender with 2 cups of sugar and one and a half cups of water. Put everything together on medium heat until it boils. It is necessary to stir constantly. When it boils, it is essential to reduce the temperature and continue mixing the syrup for another 5 minutes. Remove from heat and cool. If you are tired of making this syrup, you can use La Rosette or 15 ml of St. John's wort as an alternative. German liqueur.
3. Punch Cardinal 
This is kind of a punch for the curious. It contains two types of liqueur and two types of sparkling wine. An unusual combination of sweet vermouth, orange, and pineapple gives this cocktail an exotic that everyone needs on New Year's Eve. The explosion of colors simply makes this drink magical. All in all, your friends will be delighted. 
You will need:
360 ml brandy

360 ml dark rum

480 ml Merlot or Cabernet red wine

360 ml Simply syrup

120 ml sweet vermouth

Crushed ice

1 whole orange cut into pieces

5- rolls of chopped pineapple

1-2 liters of soda

750 ml sparkling brut wine.
Preparation:
Pour brandy, rum, red wine, Simply syrup, and vermouth into one wide punch bowl. Mix everything slowly with one long spoon. Add the broken ice to half fill the container in which you poured all the above drinks. Then add slices of orange peel and chopped pineapple, and slowly pour in the baking soda. Stir once more, but not vigorously. Finally, slowly add the sparkling wine and stir again slowly. You can serve it in wine glasses or special punch glasses.
We wish you a Happy New Year Smarties!