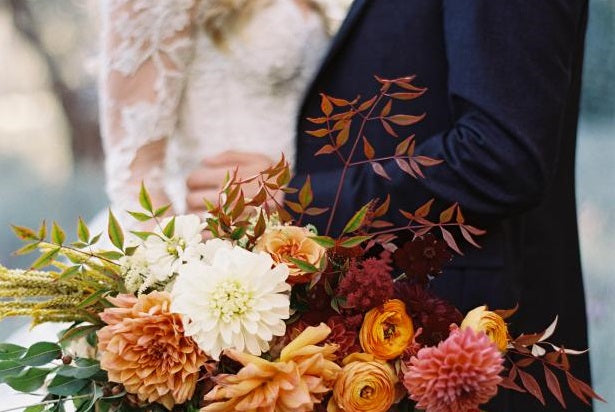 The Most Precious Moment At Dusk Of The Year
Autumn Wedding
Many consider fall the most romantic among all of the seasons. As the nights start to last longer, the weather becomes more fresh and cool, the trees start to change their color and the leaves start falling, all of us are looking forward to enjoy this lovely period of peace and rest, sitting quietly, enjoying the landscape all around and waiting for the holidays.
It gives you the wonderful sense of the wedding at dusk…
Colors that inspire
Besides the other facts that I was talking about before, first and foremost, autumn colors are the ones that bring the romance and serenity into whatever you take a look at, around you. Nature is, and will always be the best creator and an artist there is, so when you find these carefully picked shades of yellow, orange, red, purple, brown you will, immediately, be sure that this is your time, and understand why many choose to place their big day right after the crazy, hot and vibrant summer.
Speaking of nature, it gives many exciting ideas on the details, which is also marked "Important" in a wedding planning book. There are numerous of different colored and shaped flowers you could use for the bride's bouquet, centerpieces, boutonniere and many more.
Feel free to try some autumn colored jewelry for the bride, it may really make you stand out and bring that style and glamour to your look. (No wonder why the best fashion collections come out in fall, right?)
Each place tells a story
Don't underestimate the importance of the venue. Make sure you take time and care when picking out a location for your ceremony. Give it your best to find the amazing park, meadow, or a garden with a lot of lavish trees to fulfill the impression.
These colors are useful to be implemented anywhere. Even some foods can have the autumn vibe. Have a chat with your caterer and see if they can add some pies, pretzels, donuts and similar to the dishes planned for serving, and also, make sure your dinnerware fits the lovely fall decor (www.smartyhadaparty.com).
Memories last forever
When all of the other things taken care of, get a good photographer. The one that will, for sure, be able to catch those fireworks in the newlyweds kiss. With the most amazing autumn surrounding, wonderful couture gown, the dose of happiness takes a great professional to capture everything to fit the frame that will stay in your home forever.
Your day will be perfect…
Your day will be unique…
And I wish you both a lifetime of happiness…
~Uros