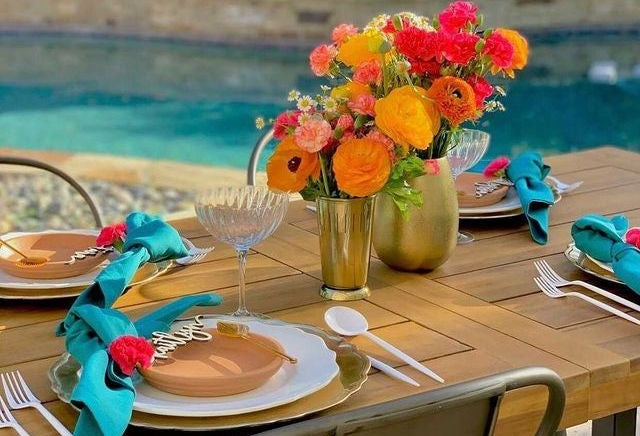 The Best Spring Outdoor Party Ideas for Children
After the pandemic hit the world, everything got affected, including social lives, jobs, and everything else. Similarly, throwing parties outdoors, going to fancy restaurants, and watching movies with kids seemed impossible because of covid restrictions. 
However, with the spring coming and the flowers starting blossoming, everything is getting normal back on its track. Spring is a perfect time to throw tons of parties and have the freedom to enjoy sunny days. 
To help you throw a perfect outdoor party for your kids, we did extensive research - we asked a few of the parents and educators who had excellent experience arranging and throwing parties. Let's dig into outdoor party ideas and find out how you can make your kids' party an epic one.
Beach Party Ideas
What else could be the better way to enjoy freedom than throwing a beach party that springs after the long wintry nights. Beach is a perfect place to welcome the spring season and get yourself and your kids ready for the sunny days coming ahead of the spring.
Throw a beach party for your kids and have them ultimate fun throughout the day. There are plenty of things that can be done at the beach to enjoy the party. For instance, girls can create sand art at the beach or do cooking. Meanwhile, boys can play different games such as football and volleyball. 
Before kids play football, have one of the parents dressed up as a referee for the football match to make it even more enjoyable for the kids. 
Bring Beach to your Backyard
If taking your kids to the beach seems a daunting task, what about bringing the beach to your home? It can be even more fun and a great party idea to have your kids enjoy the party while the parents can grab a cup of coffee without the hassle of leaving your home. 
Get all the pool party accessories and set them up in your backyard to shape it like a beach. Grab some sand and dedicate a portion of your backyard for it to provide a feel of the beach.
Also, if you have enough space in your backyard, think about having inflated trees set up in the surroundings. With such accessories, you can transform your backyard into an artificial beach for your kids. 
Delight your Kids with Food
While your kids are enjoying the vibe of spring in the backyard, delight them with sweet treats or delicious food items of their choice. In the spring, it's hot outside in the afternoon, so having a heavy meal isn't favorable even for adults. 
So, look for other light food options that can boost the energy level and set their mood at the party. For instance, have plenty of adorable pancakes, donuts, pastries, candies, and chocolates for them. 
Also, make sure to serve in plastic serving ware, so your expensive dinnerware isn't vulnerable while kids are eating and having fun at the same time. We offer mini plastic cups, mini dinner sets, and mini dinner sets that are disposable and don't require any clean-up hassle. 
Party Games for Kids
Meanwhile, when kids are having fun at the beach, arranging different games competitions will take the party to the next level for them. Also, it's a great moment to make them learn the true spirit of sportsmanship under your nose. Apart from bringing them toys, make them indulge in physical games. 
Such as creating a treasure at the party space and leaving little clues for kids to find the hidden treasure. The first team that collects the hidden treasure will get a reward. Make the reward a special one, so kids have the motivation to play for it. 
There are plenty of party games ideas for kids that you can find online to make the party an epic one for the kids. 
Giveaway Gifts
At the end of the party, distribute gifts among all the kids for coming over and taking the party to the next level. One of the best ways to win their hearts is providing them adorable gifts, and believe us, it works. 
If getting kids gifts feels scary for your wallet, look for them at the dollar store. They always have a party gifts collection, especially for kids, or can you also avail yourself the opportunity of buying the cheapest gifts from online stores.
Plan Starry Movie Night
We all know being a parent isn't a piece of cake and throwing a kids' party in the daytime seems an impossible thing if you have a hectic routine. Well, what about planning a movie night in your backyard? It can be an exquisite night for the kids and parents to have quality time spent together. 
Set up a screen in your backyard as the sunsets, grab blankets if it gets cozy, and lots of drinks and food. Once the movie has been played, set up ambient lighting at the party place to make the moving watching experience immersive.
For movie ideas, there is an endless list of movies for kids you can find online.
Decorations for Movie Night
Treat the little stars as celebrities and provide them the full protocol by dressing in your backyard. Spread out the red carpet, set up a spotlight, and welcome them with confetti to make the rainbow fall on them, so they feel like celebrities. 
You can also ask parents to have their kids dressed up like they are actually going to a red carpet exposure. Try to add little details to the party decorations to make the kids feel like they are on an actual red carpet.
Set Up a Table
Have plenty of popcorn, candies, cupcakes, drinks, and everything that you think would help you transform your party space into a theater. Having a lot of sweet treats for the kids will make them love you even more, and this is what you want the most as a parent.