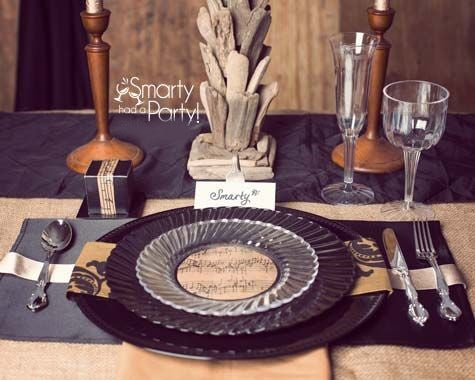 The Best Rustic Place Setting Ideas
For the hosts who love to keep the pace up with the industry, it's another excuse to practice their skills to decorate their tables. Whether you are having a family dinner or an upscale party, decorating your table with rustic settings will transform your place into something where your guests would be happy to spend time around. 
Vintage White Mesh Table Cloth
No doubt, the tablecloth is usually covered with partyware, and it's usually not noticed by the guests. But for a host, it does make a difference, and you will notice a huge change when you bring a perfect table cloth for your table settings.
Spread out the vintage white mesh table cloth on the table - it will enhance the decor of your table and pop the color scheme of the partyware. Use the brown runner or brown butcher paper to create a rustic contrast with the vintage white mesh table cloth. 
Add Settings to your Table
Use greenery to set the tone of your table settings. Bring some beautiful greenery and place them on a runner along with the centerpiece to add a rustic feel to your table. The rustic design also means you don't need to have everything matchy. 
For the centerpiece, use elegant glass vases to hold flowers or any other greenery that you want to add to your table decor. Glass vase with flowers and a vintage white mesh cotton tablecloth will be an epic table decor for the table settings. 
Moreover, forget to use the different lanterns, ornaments, and candles to create an ambiance on the table. Candles will set a mood for your guests to enjoy their meal around the perfectly organized and decorated table. 
Rustic Servingware
A perfect serving ware will be the essential part of your rustic table settings. It will add aesthetics to your tablespace. Moreover, to add the festive and formal touch, you should opt for stylish dinnerware sets like rustic, eco-friendly dinnerware from "smarty had a party".
They have the best, and a wide variety of elegant dinnerware sets to help you elevate your table's decor for the rustic look. Use fancy palm leaf plates with a brown hessian cloth under the plates to create a true rustic table setting.
Moreover, the industry is more inclined towards eco-friendly partyware and dinnerware sets. Our biodegradable dinnerware sets are eco-friendly and completely made up of biodegradable material. The wooden texture of palm leaves will enhance the rustic profile of your table settings. 
Set the Scene for the Rustic Vibes
For the rustic table settings, set your table somewhere around the greenery and nature where you and your guests will enjoy having a mea on the table. 
Surroundings play an essential role while setting a table, so consider a spot around greenery to enjoy the nature around and let nature spread out its magic to your table settings. 
You don't need to drag your table to the downtown park. If you have a garden or a backyard with green scenery, allow it to set the rustic and refreshing atmosphere for you and your guests.