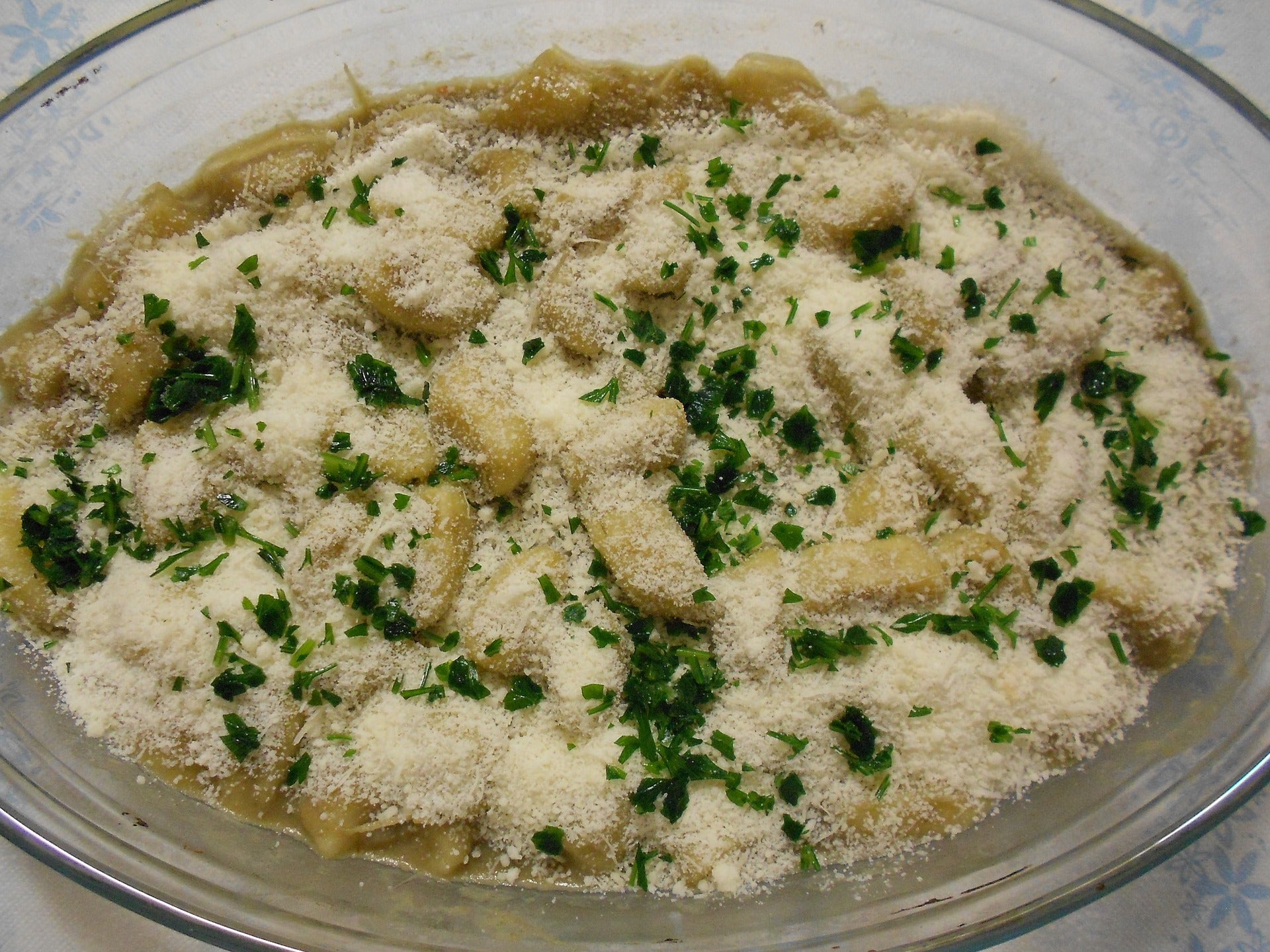 The Best Potato Gnocchi Ravioli Recipe
Ravioli pasta is one of the options for pasta and belongs to the traditional cuisine of Italy, the land of spaghetti and pizza. They are prepared from a thick, finely rolled dough and the most unusual filling.
The classic filler is spinach with Parmesan and ricotta (an Italian dairy product). In addition, fish, seafood (anchovies, shrimp), parsley with chicken eggs, mushrooms, cottage, pork breast with lentils, pumpkin, and nutmeg, and less often twisted poultry or beef. Also, they can easily be turned into a dessert and food in the form of a delicious dessert, with honey, chocolate, fruit, or berries inside.
All kinds of product combinations give new flavors, which undoubtedly attract the attention of gourmets.
Hand-made ravioli usually cut out molds or knives specifically intended for dough. As a result, products can be obtained - rounded, square, triangular, semicircular, cooked in water.
They appear as a separate dish and are always used with sauces famous in Italy. Spicy engraving, based on tomatoes or cream - their great possibilities!
But salted or ravioli fried in vegetable oil can be added directly to the soup or eaten.
Ravioli are the "relatives" of our dumplings and dumplings, which differ in the sophistication inherent in Italian dishes. Make them at home. It is possible!
The main thing in this dish is still its base: the dough. However, here we decided to talk about potato gnocchi ravioli!
Potato Gnocchi Ravioli Recipe
This ravioli recipe takes a little skill but is well worth the effort.
Ingredients:
- Swiss chard filling:
2 pounds Swiss chard or fresh spinach, stemmed
1 pound whole-milk ricotta, such as Bellwether Farms, drained for 30 minutes in a cheesecloth-lined colander
1/2 teaspoon freshly grated nutmeg
1/2 teaspoon sea salt, preferably gray salt, or kosher salt
1/4 teaspoon freshly ground black pepper
2 egg yolks
- Gnocchi dough for ravioli:
1 pound large unpeeled russet potatoes, preferably from Idaho
3 egg yolks, plus 1 extra if needed
1/2 cup freshly grated Parmesan
1 cup all-purpose flour, plus extra for dusting work surfaces
6 egg yolks
1 egg beaten with 2 tablespoons water
-

Sage brown butter:
2 tablespoons unsalted butter
3 tablespoons finely shredded fresh sage
Sea salt, preferably gray salt, or kosher salt
Freshly ground black pepper
4 to 5 tablespoons freshly grated Parmesan for sprinkling
Directions:
The filling:
1. Set up an ice bath. In a large pot of salted boiling water, blanch the chard for 3 minutes. Drain, then plunge it into the ice bath; drain again and squeeze out as much water as possible. Coarsely chop the chard and transfer it to a food processor.
2. Using the back of a large spoon, press the ricotta through a fine-mesh sieve into a bowl. Add the sieved ricotta to the food processor with the chard. Pulse a few times, and then add the nutmeg, salt, pepper, and 2 egg yolks. Taste the filling and make sure it's well seasoned with salt and pepper, then spoon it into a pastry bag fitted with a 1/2-inch round tip and refrigerate while you make the dough.
The dough:
1. Preheat the oven to 375ºF. Pierce the potatoes and bake until tender when pierced with a knife, about 70 minutes. Remove from the oven and let cool just enough to handle; the interior should still be hot.
2. Cut each potato in half, scoop out the flesh, and put it through a food mill into a bowl. (If you don't have a food mill, push the warm potatoes through a coarse-mesh sieve or a ricer.) You should have about 2 cups. Make a mound of the potatoes on a lightly floured board or work surface. Push a wall into the center of the pile with a spoon. Add the 3 egg yolks and the Parmesan to the well and mix until smooth. Add the flour, 1⁄2 cup at a time, and gently knead until the dough becomes a cohesive mound, about 3 minutes. If the dough seems too dry, add another yolk or 2 teaspoons of water. The dough should feel firm but yielding. To test, pinch off a piece of dough and roll it on a floured surface into a rope about 1⁄2-inch in diameter. If the string holds together, the dough is perfect. If not, add more flour, knead, and test again. Cover the finished dough with a cloth and let it rest for 30 minutes.
3. On a floured surface, roll the dough until it forms an oval about 1⁄4 inch thick; with a 5-inch round pasta cutter, or a small bowl about 5 inches across, cut 12 rounds from the dough. If you need to, push together the dough scraps and reroll until smooth. Sprinkle a baking sheet with flour.
4. On 6 of the dough rounds, pipe a ring of the chard filling about 1⁄2 inch from the edge. Leave the center without filling; that's where the egg yolk will fit. Place a whole egg yolk in the center of each dough round with your fingers. Brush the egg-water mixture around the edges of each dough round. Top with another dough round and, with your fingers, seal it all the way around gently so you don't break the yolk inside. Transfer the ravioli to the floured sheet and refrigerate for at least 30 minutes or 2 hours.
The butter:
1. Heat a small saucepan over medium heat, add the butter, and cook until it just begins to brown about 2 minutes. Add the sage and season with salt and pepper; remove from the heat and set aside.
2. Gently add the ravioli to a large pot of salted boiling water (see Note, page 93) and cook for 3 minutes, or until they float to the surface. Don't overcook these. Using a large slotted spoon or a wire skimmer, transfer the cooked ravioli to individual warmed plates. Spoon on the sage brown butter and finish with a sprinkle of Parmesan.