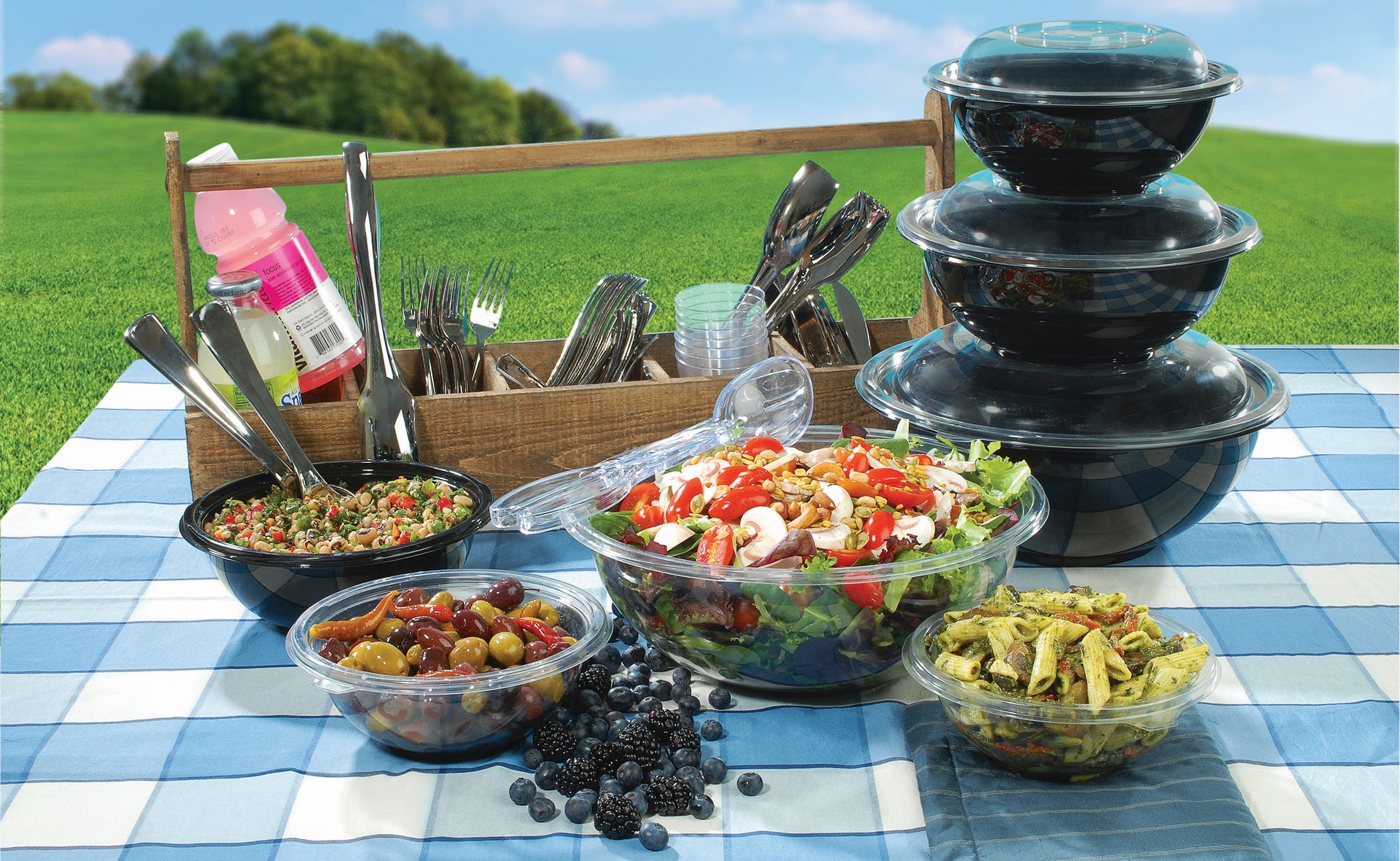 The Best Picnic Partyware to Make Outdoor Dining Special
Quality food and beverages are a big part of having a memorable party, and your kitchen and tableware play an essential role. Multi-functional partyware, including serving party supplies and disposable serving utensils, are more purposefully gorgeous and trendy in today's world.
What's the best way to keep the party surroundings organized and clean? Have perfect partyware! Kitchenware helps you in cooking, chopping, and cleaning. You can also keep or preserve food while it is being prepared, with the help of some beautiful partyware.
You can start storing anything from the classiest flatware to some mixing bowls and a flawless griddle in a wide range of colors.
Are you getting ready for an outdoor party and unsure what kind of party supplies you'll need? And striving to get rid of an oversupply of gadgets? Check out our tips and suggestions on what to bring to an outdoor gathering.
1.
 Luxury Plastic Serving Trays
Make your serving easier with the elegant plastic serving trays. At an outdoor party, it becomes hectic and sometimes problematic to serve food to all your guests, so it's better to keep serving trays with you. 
Ensure that the serving trays you take to the party are as attractive as your party theme and the rest of the decor. Smarty Had A Party has the most gorgeous serving trays for every event, whether it's a lavish party dinner or a small rehearsal dinner.  
The high and sturdy corners on our rectangular serving trays help keep the food in position when it's water-based and heavy and include other food items like pastries or desserts.
2.
 Fancy and Modish Party Bowls
The popularity of party bowls is due to the variations in eating trends, people's behavior, and culture.
Eating patterns have changed in recent years and are no more confined to the dining table. So, in our opinion, disposable bowls allow people to eat in a more casual and relaxed environment.
With bowls in their hands, guests can roam around and socialize while still enjoying the delicious meal. We have multi-shaped disposable bowls that keep your food from splashing all over the place.
The significant square edge of our party bowls flattens back to a tiny square bottom, allowing the guests to view what's within the bowl when they come to the table for a meal.
3.
 Vibrant and Sharp Kitchen Knives
Three kinds of knives are used frequently:
The chef's knife

The serrated knife

The paring knife.
The knives mentioned above are essential for every kitchen. Cutting with a sharp knife is always fun if you work with caution. Having a knife with you at an outdoor party is beneficial as you may need to cut slices of sandwiches or other food items.
When you cut with a sharp knife, you have more control and almost no sliding, which results in more uniform slices. A knife that has a high quantity of stainless steel is always preferable. Smarty Had A Party has several disposable plastic knives for you. The solid and durable handle is comfortable to hold, and sharp borders make serving a pleasure.
Since they are very strong, they can be used again after washing or recycled. In addition, their sturdy structure doesn't allow them to break apart easily.
4.
 The Mandatory Spatulas
A high-quality, robust metal spatula is needed for flipping, twisting, and presenting different foods. For example, puffy pancakes, roasted veggies, baked dishes, and many other foods need a spatula to get served well.
If you don't get a spatula, there's no point in having trays and plates at an outdoor party. 
5.
 Food Safety Shall Be Your Priority
More food leads to more leftovers, which demands more storage capacity for the food. Some disposable silicone bowls function best for storing all kinds of foods. 
Storing the food helps preserve the freshness and nutrition of the food items while minimizing spoilage. 
Moreover, appropriate food storage can help prevent hazardous germs from causing foodborne diseases.
Raw foods should always be kept in covered packaging, jars, or containers. Glass lock containers are the finest for food storing since the caps on these locking containers won't leak and are very easy to close and open. 
6.
 The Essential Utensils You Must Have at an Outdoor Party
Many other partywares are essential to have. These include disposable plasticware, plastic plates, disposable plates, serving spoons, forks, tongs, spatulas, non-stick skillet, saucepans, mini bowls, plastic cutter, and a cutting board.
Disposable partyware is excellent for outdoor parties because it's a quick and low-cost way to serve your guests.
Not only can you save a lot of money by using disposable partyware, but it also saves you a lot of water, energy, and other cleaning agents. It also protects food from spoiling and is incredibly easy to use.
Your guests would also love to eat with throw-away utensils as hygiene is one of the most critical factors that make people prioritize using disposable packing, primarily because of the recent pandemic dilemmas.
Some Inventive Kitchen Tips For a Perfect Outdoor Party
Follow these recommendations if you're planning an outdoor party or searching for ways to improve an outdoor kitchen.
Your outdoor kitchen must have the right spots for prepping, cooking, serving, and cleaning the food and dishes. This way, it will be much easier for you to do all the chores outside. 

Your outdoor kitchen should be your central focus. Use beautiful and subtle colors, architecture, and materials for this purpose. This will encourage guests to join you in the kitchen while preparing food.

In that way, the food will stay fresh, and your guests will be well-fed, thanks to the careful positioning and location of the kitchen. 

Serve drinks in a separate area to avoid blockage or spills on the table or food platters. Serve drinks with ice and other garnishes.