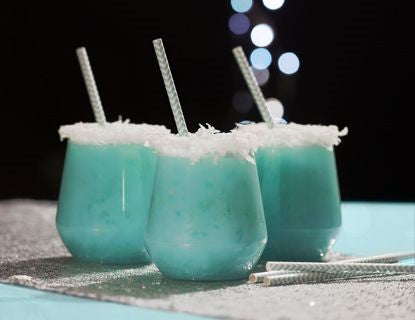 Blue Hawaiian Cocktail Recipe
Oh, to be sitting on a Hawaiian beach, soaking up the sun in perfect weather with a glass of bubbly, sparkling, blue Hawaiian cocktail - sounds like an ideal dream! Even the thought of Hawaii makes us think about pineapples, coconut, cocktails, and oh-so-beautiful sunny weather.
But if you haven't planned for Hawaii, you can make this drink at your next get-together. Of course, your friends would love the drink and wouldn't be able to stop themselves from posting its pictures on their Instagram. We can't blame them; the captivating blue color of the drink makes us all want to try this recipe.
Before we begin with the recipe, we think it's important to tell you the significance of this drink and how it is different from other cocktails you have tried.
Why is this Drink Unique?
What makes this drink unique, obviously, is its enticing blue color of it. In addition, it has the perfect balance of coconut cream and pineapple juice, the only things required to get a Hawaiian beach experience anytime, anywhere.
It would be necessary to mention that this drink is not the same as a 'Blue Hawaii Cocktail,' which is more of a sweet and sour mix. A Blue Hawaiian Cocktail is more precious because of the coconut cream that goes in it.
Earlier, a drink called 'Blue Hawaii' was invented by a Hawaiian bartender named Harry Yee in 1957 - thanks to him for giving us such a fantastic cocktail recipe. However, it was different from how a Blue Hawaii is made nowadays. And then 'Blue Hawaiian Cocktail' was invented in the US, which was similar to the Blue Hawaii that we just mentioned, but with a slightly different taste and ingredients.
What Makes a Blue Hawaiian Cocktail Blue?
You must be wondering what gives the Blue Hawaiian Cocktail its unique and beautiful color. Well, it's not blue food color but blue curacao syrup. Curacao syrup is made by drying the rind of orange Varaha, a bitter fruit widely grown on the Curacao island in the Southern Caribbean Sea, hence the name curacao.
Initially, the dried orange Varaha peels were colorless. Still, they are dyed in blue color, so the syrup can be used in different drinks to add color without affecting their taste which usually happens when you add food color.
Equipment You Need:
You only need a few pieces of equipment to prepare this drink. For example, if you are making a mocktail at home, you only need a blender and a few plastic drinking glasses. But if you plan to set a mini bar for a professional bartending experience, you might need a few things. 
Here's a list of the equipment you must have for a mini bar:
Shaker

Jagger

Strainer

Highball glass
In addition to that, having lots of ice is a must. You will have to put the ice in the shaker before shaking it and in the glass before serving. For final touches, you must have colorful straws and cocktail umbrellas.
Ingredients Required
You can't mess with the ingredients if you want to make a perfect Blue Hawaiian Cocktail. Only add a rightly measured quantity of everything. So here is what's gonna go in your Blue Hawaiian Cocktail:
Pineapple juice (2 oz or 60 ml)

Lime juice (2 oz or 60 ml)

Coconut cream (1 oz)

Curacao syrup (1 0z)

Ice cubes
Procedure:
In a blender, pour all the ingredients. Add ice cubes and blend. Once everything is combined, serve in long glassware. For garnishing, take a slice of pineapple, cut it in half and stick it on the rim of the glassware. Also, put a cocktail umbrella over the pineapple for a perfect Hawaiian serving.
Now, if you are making it in a bar, you'll need the same ingredients, only the procedure will be slightly different. In a smaller shaker, pour pineapple juice, curacao syrup, lime juice, and coconut cream. In the other shaker, put ice cubes. Shake everything up in the shaker for about 30 seconds so that everything infuses well. Then, in a highball glass, put 2-3 cubes of fresh ice and pour the shaken drink onto it. Finish it by decorating it with a cherry or a pineapple slice and an umbrella cocktail.
Tips to Keep in Mind
As mentioned earlier, you cannot mess with the ingredients. If you increase or decrease even a tiny bit of an ingredient, it's not gonna taste the same. For instance, if you are using curacao liqueur, you gotta be careful with how much you add it since it heavily influences the taste of your drink.
The coconut cream is lovely. However, if you are someone who does not want their drinks to be delightful, you can add coconut milk and sugar syrup. Here, you will benefit from adding as much or as little sugar syrup as you want.
Serve Like a Pro!
A good host knows how to serve the food and drinks properly. If you can, set up a mini bar at your home with the ingredients, plastic drinking glasses, and a few pieces of equipment; it makes your drinks get served the way they deserve to be served. However, there is no compulsion in that. If you don't feel like setting up a full-fledged bar, then don't. Other ways to serve your Blue Hawaiian cocktail are equally stunning.
Set up a beautiful table with elegant disposable cocktail glasses over a statement tablecloth. You need drinkware glasses that are both elegant and sturdy to enhance your drinking experience. That brings us to giving you a suggestion as to where you can find the most exquisite plastic drinkware.
Smarty Had A Party, with expertise in making your parties elegant, has to be your go-to for all your party needs. You will always find appropriate party supplies on Smarty's website, no matter what theme you have set. So if you were thinking about serving your drinks with elegance, now you know what to do.