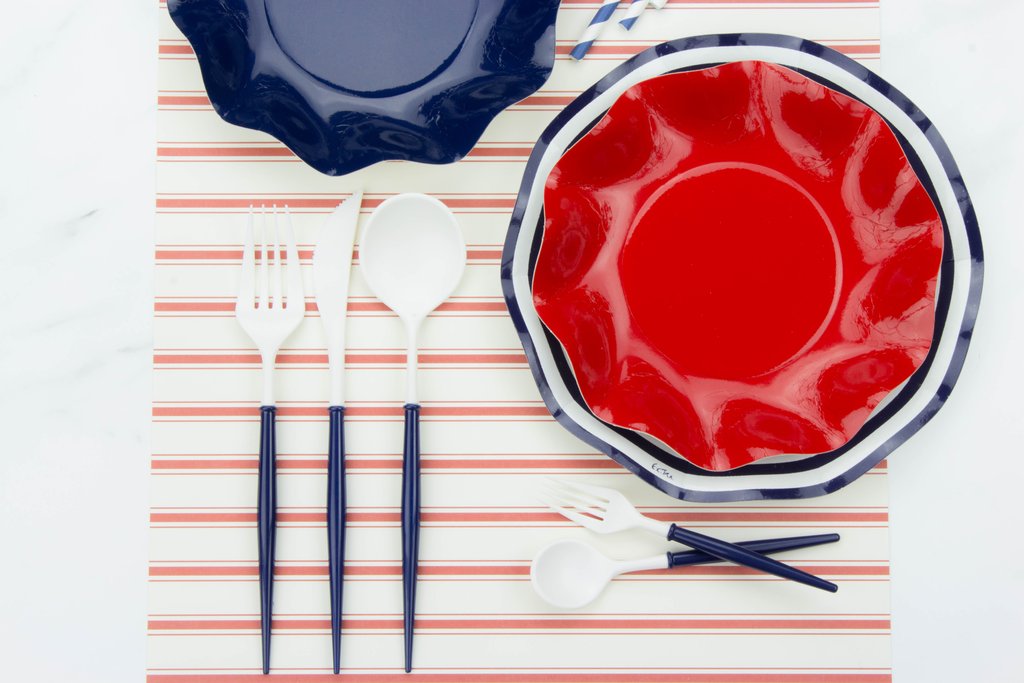 The Best Memorial Day Table Decor Ideas
'It is both silly and immoral to blame the people who fought and lost their lives. Rather, we should be grateful that such men exist", says George                  
Memorial Day is dated 30th May, which is the day for those who had sacrificed their lives for our peace and well-being. 
It is also the moment when we spend time with our families and friends, celebrating with plastic wine glasses and food.
As holidays are coming closer, it's the moment where you believe in having particular enjoyments in your life and preparing for a family gathering. Repurpose every change of your standard decorations into a new set of decorations. The best place to start setting up your food and drinks.
Start With The Minimal Yet Elegant Decor
This is the perfect time to utilize your backyard and start decorating them with meaningful designs. You can do that by setting up
This would be your own lifetime, colorful, and especially loved project to be remembered.
The Best Memorial Day Decor Ideas: Things you didn't know
Keep reading to know how you can condemn the soldiers on Memorial Day in style.
There are ways and tricks to celebrate and show our love for the people we loved and lost. But, there are some impotant steps  to follow for that to happen. There is always a dim light ready to open our hearts with patriotism for the country and believing where there is darkness.
Top Ten Ideas for decoration on a Memorial Day in 5 minutes!
Below are some effortless yet unique DIY ideas for a pretty décor. 
1. Setting up Flags at any spot of every size to show the spirit.
A beautiful view with flags around and napkins of the same color would look appealing, so start the day most simply. Setting up banners around the corners or hanging them at the doors would also give a patriotic feel. Choose colors of your own choice but considering red and white would be more appropriate and classic. 
2. Napkin Holders to be tied with ropes
Putting napkin holders and the cutlery is an excellent idea because this way, the napkins won't fly away from the wind, but remember that they should be tied to make them look good. The rope could tie it up in a way we tie our shoes with laces but in a more excellent way.
3. Couches with the same color or chair bows.
As guests arrive, they need chairs, but why not just set up beautiful couches representing your nation's flag. This will make the guest happier to stay for a more extended period. You can also use chair bows that would be easy to carry anywhere to sit near the backyard and enjoy the sunset.
4. Attach the beautiful paper chains to your fences and rooftop
It gets easier as you proceed further. Attaching paper chains to your fences will create a perfect look for the event paper chains would make a beautiful scenery from the top when others look at your roof.
5. Law stars painted on your grass
Start painting your grass with erasable oil paint and cover the grass with stars to have an epic look. As stars are part of the flags, they would give you an iconic look when guests, friends, and family enter your backyard. This technique is seemingly attractive for making grass have green and white colors.
6. Mason jar luminaries with colors of blue, red, and white to dive in
This would look awesome near the entrance of your backyard. It would light up the night with the nation's colors in the evening. Paper lanterns would also look beautiful at night when switched on to show patriotism.
Using disposable stemware glasses or plastic drinkware and decorating or personalizing them to look like beautiful jars would also give vintage and aesthetic feels. 
7. Blue drinkware glasses and Plastic stemware glasses
Having the right drinkware sets will solve all the major problems. Unique drinkware glasses would attract guests. Patriotic fruit cups would bring a lot of enjoyment as small snacks could be fitted in them. 
We have the perfect plastic stemware glasses, including crystal cut and champagne glasses of sleek and unique designs that would help your guests, friends, and families to choose glasses of their own choice, depending on their grip. Painted glassware would be excellent containers for your juices.
8. Let your food be your presentation
Start being creative with your food and present them in style. For example, create a masterpiece of eating with blueberries, red berries, and tomatoes that look like, 'you could eat buffet.' You could also set up cupcake toppers with the American flag.
9. Planting flowers in a pot that resembles the national flag
You could start planting flowers of red and blue color to represent the flag colors giving it an outstanding presentation on the table.
10. Poppers, fireworks, and paper pinwheels
One of the best moments since you were a child, is when you have always dreamt of seeing fireworks over and over again. Moreover, party poppers bring a smile to your face. Every child has gone through these memories and wants to do it even again after reaching adulthood. Paper pinwheels can rotate with the speed and wind and show shining effects that mesmerize the guest.
You can add your own creativity to the ideas for Memorial Day, and showing your patriotism will be one of the most memorable moments of your 2022 party.
You won't have to brainstorm much to find ideas for your party. You can quickly get some ideas from the list which we just mentioned. These are pretty simple ideas that you can quickly execute!
Enjoy the best of the best ways to celebrate like never before!