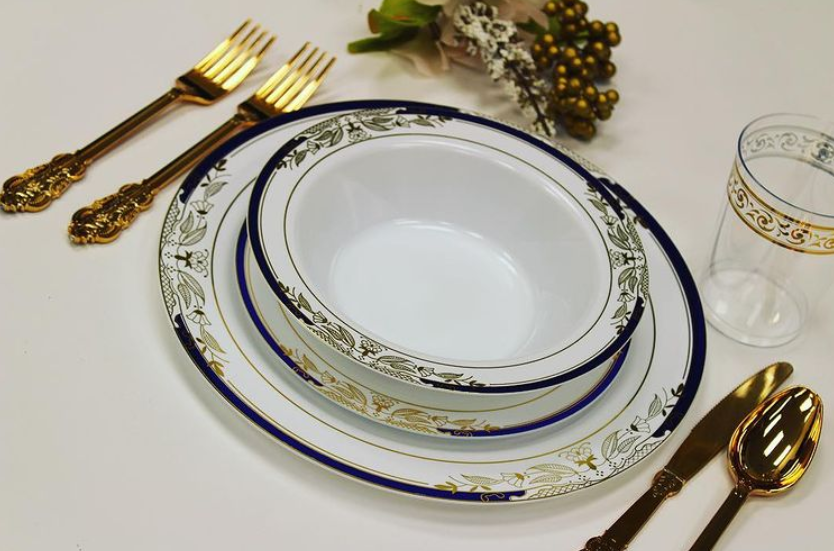 Are There Disposable Plastic Bowls that look Real?
If you've ever been a party host or in charge of serving food at home, you know how time-consuming the clean-up can be. That is why you must have a supply of premium disposable plastic bowls in your cupboard to make things easier for yourself. When you are feeding a crowd, plastic plates, paper plates, plastic cutlery, disposable drinkware, and disposable bowls will all be helpful.
Do you enjoy entertaining people? Or perhaps you want to be ready for unexpected guests? Lightweight bowls are ideal for serving appetizers before dinner or other informal gatherings.
Although disposable tableware is easy to use and discard, some people are reluctant to use it for formal occasions like an elite party or business dinner meeting.
But don't worry, we have prepared you a few things to keep in mind if you want to buy plastic bowls that look like real bowls to impress all your party guests.
Disposable Plastic Bowls That Look Real? Prove It!
A set of disposable plastic bowls that look real is a must-have in any kitchen or foodservice establishment. You will find yourself reaching for your mixing bowls, whether for stirring ingredients, marinating things for the barbecue, preserving leftovers, arranging measured ingredients when going on a challenging recipe, or even serving a salad or another dish.
As the world has progressed, disposable plastic bowls compete with porcelain bowls. Now we have the bowls that look real but are plastic (reusable ones, such as porcelain and ceramics), but they are meant to be thrown away to make clean-up easier.
For decades, dishes, kitchen utensils, and food packaging have been made of foam and solid plastics. However, these conventional materials have shown to be highly adaptable, allowing them to be transformed into products that may be used in practically any food application. Everything from plates to foam containers falls in this category.
They are available in various styles, from everyday plates to more formal ones for special events, parties, and celebrations. The most widely utilized material on the planet is plastic. Polystyrene, plastic, and melamine are the materials that are key plastic components. However, melamine is suggested more because of its durability and sleek, elegant designs.
The profile of the plastic bowls has been altered by a better design and trendy style used by the makers, resulting in bowls that look real yet are constructed of plastic.
A Few Tips for Finding Bowls that Look Real but Are Actually Plastic 
Before you look for reusable plastic bowls that look real, you should carefully study a few essential ideas, so you don't wind up buying worthless plastic bowls.
Analyze the Code
A little triangle with a number (code) ranging from 1 to 7 can be found on the bottom of plastic food storage units. The number (code) identifies the type of plastic used. Numbers 1, 2, 4, and 5 are the safest selections for food use in general. For example, plastic number 7 might contain a variety of polymers, including Bisphenol A (BPA).
Consider the Durability
This is a crucial consideration when purchasing plastic bowls that look real. Also, check if the disposable plastic bowls you are buying are strong enough to hold the food you will serve.
Some inexpensive plastic bowls are bendable or can't hold up to the weight of the food put on them. Before purchasing them, ensure that you have double-checked the plastic bowls' durability and sturdiness.
Firm and Focused - Align with the Theme
The theme is central in setting the mood of the party. Whether you're throwing a baby shower, bridal bash, birthday party, a formal wedding reception, professionally catered event, or a casual get-together with family and friends, you will need a theme to bring the event to life.
The disposable plastic bowls will seize the charm of the party decorations if they are chosen to coordinate with the party décor and the table decor. Match your dinnerware to the plastic party bowls. It will allow the bowls to contribute to the tableware while remaining hidden in the elegance of the tablescape.
What Are the Best Reusable Plastic Bowls that Look as Real as Ceramic?
Plastic materials are some of the most common materials on earth and can be found in solid items such as films, fibers, foams, and coatings. Sturdy plastics have become the material of choice for permanent dinnerware in the foodservice industry and the dominant material in paper cups. However, plastics are used in so many dishes that determining their contribution to the disposables group is challenging. So, we have gathered a few great options to think about while buying reusable plastic bowls that look real.
When you have many guests to serve and a limited budget, the best real-looking disposable plastic serving trays and bowls are the most acceptable option at Smarty had a Party. They are the perfect choice for arranging the most beautiful table setting and serving your guests in style at a low cost.
Our Clear Square Plastic Serving Bowl and White with Silver Edge Rim Plastic Soup Bowls are the perfect example of reusable plastic bowls that look as real as ceramic.
Where to Buy Plastic Bowls that Look Like Real Ceramic Bowls? Look No Further! 
You don't have to roam around to grab the best and finest disposable plastic bowls. Our exquisite plastic tableware will please you if you want to give a world-class holiday party, special event, or wedding reception without exerting yourself with the clean-up. At Smarty Had A Party, we have a large selection of high-quality fancy disposable plates and elegant plastic plates that look real for creating a beautiful tablescape while maintaining your sanity. Our attractive disposable plates and bowls, which have the appearance of fine china, are great for weddings. Check out our party supplies and receive all of the supplies for your special event in one spot. Order your elegant plastic plates and bowls right now.