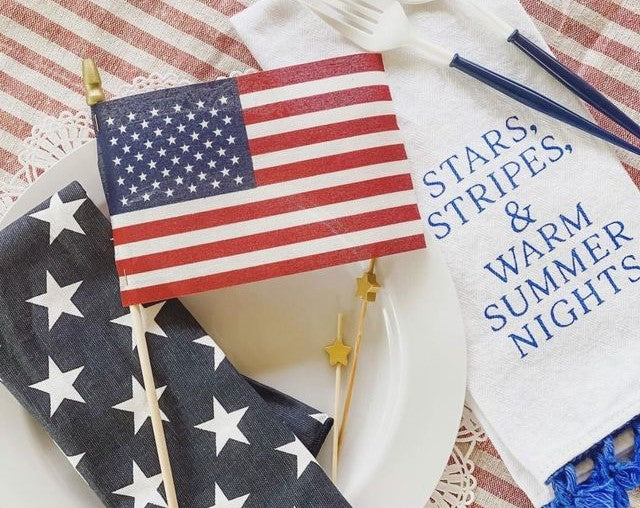 10 Essential Memorial Day Party Supplies
Memorial Day is when those who died on active services are remembered, usually on the last Monday in May. It was observed on 30th May from 1868 to 1970. It is originally known as Decoration Day. People make it a point to honor this day to the military officers who sacrifice their lives for the sake of their country. 
Because there is nothing more essential and more sacrificing than risking your life for your country. This day is honored to officers, and the day is honored to their family members and friends.
Freedom doesn't come easily. It demands sacrifices. We must celebrate this day for the armed forces' sacrifices. Everyone has a different way of commemorating events. Other cities celebrate this day in their own unique ways. 
Some celebrate this day by hosting parades, while others do this by arranging activities related to this day. Some send patriotic and loving messages to their families, while others host parties and invite their friends and family. 
Any kind of celebration you are going through, add some Memorial Day quotes on the printed menus. 
As it is said, and I quote, "The Blood of a Patriot Is actually the Seed of Freedom's tree," Thomas Campbell. 
Are you going to throw a party at this special event? Or inviting family and friends? So, wait, you need to know about the essential things for the party. Because if the party is not well organized, it can never be an epic party. We have gathered a few essential Memorial Day party supplies for you. So, give them a read and have a memorable party. 
1. Printed Materials Look Appealing 
Some of the simple printed materials would go beyond your imagination as it is crucial to show your joy and concern while inviting your guests to your home.
These include:
Welcome signboards

Food and beverages menu

Guest setting charts

Water bottle wraps 

Straw flags

Invitation cards

Thank You cards  
2. Home Decor Sets the Mood 
Home decor is essential as without some fun and pretty decoration, parties are blind, so to make your party more memorable and pleasant, follow the essentials listed below. 
These include:
Balloons 

Decoration with red and blue colored sprinkles and markers

Flowers

Carpets

Streamers 

Paper lanterns 

Theme backdrop
3. Table Décor and Serving
Table settings always depict your mannerism. Make your food look more appetizing by having some elegant table décor. 
Smarty had a Party and got various serving trays, bowls, and knives. As a result, we have an epic range of good quality utensils at pocket-friendly prices.
We have got you covered with these must-haves for your next party:
Chair clothes 
Candles 
Drink dispenser
4. Technical Settings are Always Important 
Great technical settings are always the gist of any party. Your precious party memories must get captured, and you save your videos and photographs for mesmerizing them later. You can also display some patriotic videos for your guests to enjoy while having dinner. 
These include:
Camera 

Projector 

Music system 
5. Hire Some Party Vendors and Lessen Your Burden
Having vendors at your party can easily have fun gossiping with your guests after assigning duties to the vendors. In addition, hiring some vendors will save your energy and time since it takes a lot of time and effort to host a party.
These include:
Caterer 

Photographer 

Entertainers

Event organizers 

Party hosts
6. Place Settings-Make Comfort Your Priority! 
Full and fine settings are a must just to avoid the mess, and the overall settings can bring a unique feel to your party. 
Take care of the following settings:
Chairs

Tables

Napkins

Table runners

Extra servings 

Stirrers 
7. Welcome Your Foodies 
Good food always leaves a good impression! For some people, "happiness is delicious food." Good food and fancy flatware are a nice combo to impress your guests. Never limit your menu to only solid foods, add some drinks in plastic drinkware and serve your guests. 
You can have the following items in your menu list:
Appetizers

Juices

Sandwiches 

Potato salads

Lamb burgers

Steaks

Sausage Rolls

Desserts 
8. Add Some Fun to Your Party 
Activities at a party always make them so excited and memorable. So, entertain your guests by arranging some activities, especially for kids, as if kids are happy, everyone is happy.
You can include the following activities:
Patriotic craft

Lawn games

Face painting 

Sidewalk mural

Pinata 

Prizes
9. Keep Calm and Theme On!
Nothing works without a pretty theme, no matter how lavish your party is. Have a patriotic theme to represent Memorial Day and make it stand out. Have some themed balloons or props displaying country flags, loved messages, or patriotic messages written or engraved on them. Patriotic themed dresses would be the showstoppers. 
10. Some Miscellaneous To Keep With You
You might not expect to have things at the party, but they must be in the backpacks. It's easier to keep things with you instead of finding them in the rush hour. 
These include:
Some extra folding tables 

Fairy lights

Goody bags

Thank you, cards,

Battery chargers 

Cupcake liners

Cake topper 
Having some spare cutlery at the parties is very essential. We have affordable and good-quality plastic serving plates, trays, bowls, knives, and other party utensils.
Tips To Remember
The host must be on time to welcome the guests. 

Décor, dresses, and table setting, make sure to align with your central theme.  

Honor your guests by dedicating them to a few songs/skits. 

Goodbye to your guests with a thanksgiving card.
Memorial Day should be highly valued to remember the fallen ones and pay tribute to their families since they also contribute to this country by sending their loved ones apart. Memorial Day brings all the nation together despite any government and political issues. The nation remembers and celebrates this day as an example to others.