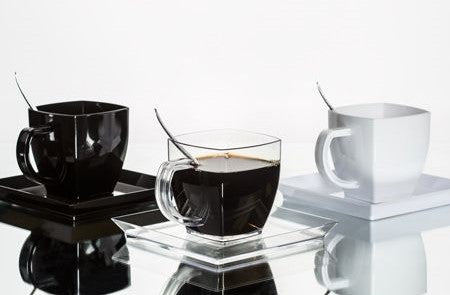 The Best Fancy Disposable Coffee Mugs
The first thing you need to start your day is a fresh mug full of coffee in the morning. And according to a report, about 62% of adults in the US consume coffee every day. This tells us how often we need it to boost our energy level, either at work or home. 
Apart from the skills to make the coffee, the mugs also affect the taste of the coffee. The design, the aesthetic, and the style of the coffee mug put together everything and contribute to the coffee drinking experience. 
This leads us to the coffee mugs discussion, and this is what you are going to read about. We have composed a detailed guide on the best fancy disposable coffee mugs you should consider when hunting for one. 
Why Disposable Coffee Mugs?
We know while reading this, you might have come up with the thought, "Why only disposable Coffee Mugs?" Well, the answer to this question couldn't be a Yes or No, as many valid reasons make disposable coffee mugs the perfect choice for all time for everyone.
Whether you are running a business or a hard-core party lover who couldn't go without throwing a party after one or two months, the cleanup is the biggest challenge you would face after you are finished using the serving ware. 
The disposable coffee mugs make the cleanup process seamless and take the pressure off the host, as you wouldn't need to clean/wash them; instead, you can easily discard them just like a tissue paper and forget about them if they even existed. 
Moreover, the affordability of disposable coffee mugs is also a critical factor that makes them the perfect coffee serving ware option. The disposable coffee mugs are made of plastic, making them affordable to any budget. 
With disposable plastic mugs, you get the most affordable coffee mugs and the ultimate practicality, making it relatively easier to serve a large crowd without worrying about the cleanup duties. 
These coffee mugs are made of high-end transparent plastic that resembles glass material. The top-notch quality of the plastic makes them look exactly like real glass coffee mugs. 
Whether throwing a celebration party or arranging a casual get-together with friends or family, these are the perfect coffee mugs that come at a fraction of the cost. 
If we talk about their design, the opening is square-shaped, opposite to the conventional coffee mugs, making them prominent and unique serving ware when presented on the table setting. 
Of course, these are designed for disposable use, and the best part is your guests wouldn't be able to spot the difference if they are real-looking ones or the disposable coffee mugs. 
Moreover, these clear square-shaped disposable plastic coffee mugs are made of BPA-free material - meaning no dangerous toxins would be transferred to your hot beverages. They are made of durable high-end quality plastic that ensures the handles stay cool so your guest can comfortably hold them. 
Further, you don't need to be extra careful like you have to be with the glass-made coffee mugs. They are strong and durable enough to hold accidental drops, just like paper cups. The practical capacity of these coffee mugs is 6 oz. 
They are ideal for upscale events, like weddings, birthdays, catered events, and special occasions. You can't just serve the guest with them, but you can also be creative to turn them into a beautiful customized gift for anyone getting married. 
If the clear square plastic coffee mug didn't excite you for whatever reasons, look at these white square plastic mini coffee teacups full of elegance.
They are made of top-quality, durable plastic material, but they look exactly like ceramic or any other premium material coffee mugs with the spectator's eyes. The "Mini" word in the title of these coffee mugs tells the size of the cups is just 2 oz. 
However, these are perfect for serving hot or cold beverages for events like weddings, anniversaries, birthdays, bridal showers, and any kind of function where you want your tableware to shine and glow.
These coffee mugs can also be used for regular coffee serving to your VIP guests or clients in your offices. And forget about washing or cleaning them, as you can always dispose of them and pull out the new ones. 
You can repurpose these plastic-made coffee mugs to turn them into a piece of art through DIY projects. And, since they are made of top-grade plastic material, the customization and personalization would be a piece of cake for you. 
Looking for an elegant, sophisticated yet modern touch in your coffee mugs? The white with the Gold edge rim is the perfect set of coffee mugs with a beautiful, sleek profile that's always ready to enhance the look of your table's top. 
Whether it's you, who couldn't compromise on the size of the mug and always prefer the bigger one for your daily coffee consumption or your guests who expect a warm welcome from you on their arrival, this coffee mug set won't just help you serve your guests with style but offer ultimate practically of minimizing the cleanup duties for you and your staff. 
These are made of high-quality plastic material with BPA-free properties. Utilize them to serve your special guests at special occasions like wedding receptions, bridal bashes, baby showers, birthday parties, upscale parties, professionally catered events, holiday feasts, and anywhere where elegance and sophistication are required. 
Moreover, the gold edge rim of the round disposable plastic coffee mugs provides them the unique look to be prominent when presented with the party tableware. 
Add an extra finishing touch and sophistication to your fancy tabletop with these elegant plastic coffee mugs that come at a fraction of the cost, and get started with a compliment list given by your party guests.