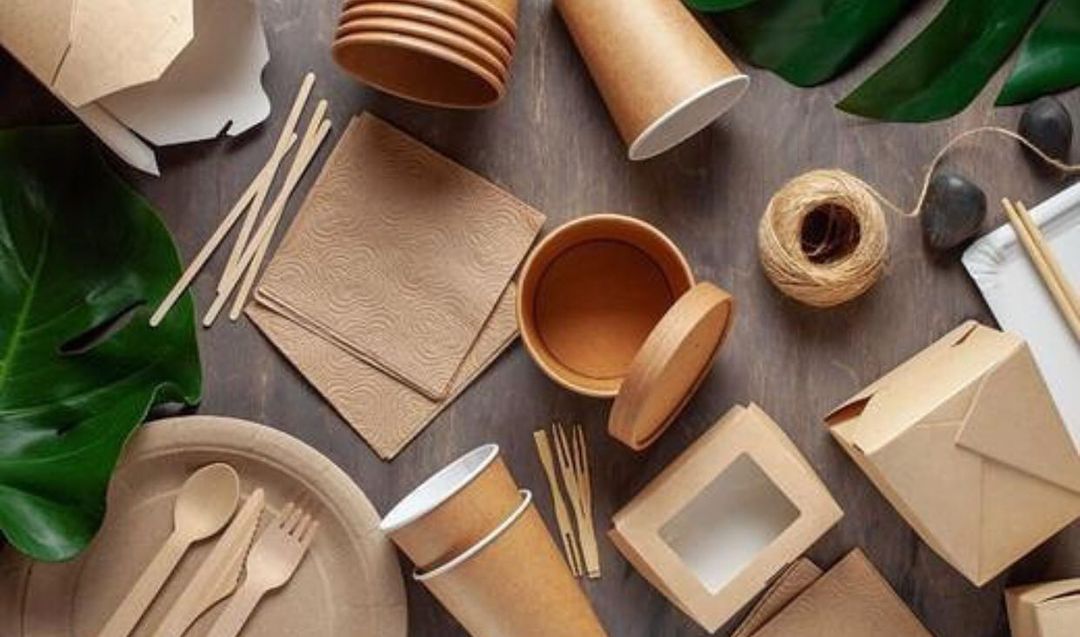 The Best Eco-Friendly Party Supplies
We don't always think about what our plates, cups, cutlery sets, and napkins are made of when setting the table. This guide deals with the sustainability of partyware and a few ethical partyware materials.
Contemporary dinnerware is made from a variety of materials. So there are bound to be a type of sustainable plates and bowls that fits your design, styles, and tastes, from recycled materials to ceramic. Here are a few top eco-friendly party supplies to think about.
Want to Elevate Your Event Appeal? We've Got You.
Get 10% Off Your First Order
5 Best Disposable Eco Party Supplies
Are you looking for some eco-friendly party supplies such as plates, cups, bowls, serving utensils, and dishes? From soup spoons to napkin holders, we're convinced that you'll discover something unique to spice up the busiest room in the house. Of course, there are several inexpensive price points and a few luxury things worth splurging on.
1. Square Palm Leaf Eco-Friendly Disposable Dinnerware Value Set
Smarty had a Party offers you the best eco-friendly party supplies with elegant designs and classy colors. In addition, their palm leaf dinner set is sustainably produced with fallen leaves. As a result, the weight of the meal will not cause it to bend. 
The larger package, which contains 100 buffet plates and 100 cake plates, is ideal for large-scale events such as weddings, birthdays, or engagement celebrations. In contrast, the relatively small package, which contains 25 buffet plates and 25 cake plates, is ideal for family gatherings and casual parties.
Here are some key features of this product:
It can be microwaved for up to 2 minutes on high

100% Compostable

Color

: Natural (Gold)

Shape

: Square

Material

: Made only of fallen leaves that are collected and then cleaned.
2. Eco-Friendly Disposable Cutlery Set (Napkin, Spoons, Forks, and Knives)
This pack includes 25 spoons, 25 forks, 25 knives, and 25 napkins.
This tableware set with napkin has all of the utensils your guests will need to eat, yet it can easily be thrown away or composted once the party is over. In addition, it's simple to arrange for any number of guests, thanks to the bulk sizes.
The pieces in this cutlery set are made entirely of sustainable 100 percent natural birch wood. This wood is free of chemicals, making it more environmentally friendly than other disposable cutlery.
Here are some key features of this product:
Color: 

Natural (Gold and Brown)

Material: 

Birchwood

Disposable:

 One-time, single party use

Chemical and glue-free, completely non-toxic
3. Round Palm Leaf Eco-Friendly Disposable Plates
The 5" round palm leaf plates are attractive plates made of palm leaves with an earthy, natural look perfect for rustic weddings.
The disposable party plates are incredibly sturdy and will not buckle under the weight of the food on them. You can use them in the microwave for up to two minutes on high or 45 minutes in the oven. If you need to keep foods like desserts refrigerated for an extended period, you can do so safely in the refrigerator.
Here are some key features of this product:
Color

: Natural (Gold)

Shape

: Round

Material

: Made only of fallen leaves that are collected and then cleaned.

100 % biodegradable

Refrigerator safe
4. Square Palm Leaf Eco Friendly Disposable Wedding Value Set
With some help from this very trendy and stylish value set of dinnerware from Smarty had a Party, you can be creative with your meal presentation. This set is ideal for presenting delicious dinners, desserts, appetizers, salads, and other food. In addition, this disposable set is versatile and chic, making it an excellent choice for weddings, birthday celebrations, and other special occasions.
Here are some key features of this product:
Color

: Natural (Gold)

Recycling note:

 All natural, compostable and biodegradable, with no binders or chemicals.

Material:

 Made only of fallen leaves that are gathered, cleaned, and pressed

It can be used in the microwave on High for up to 2 minutes
5. Fancy & Disposable Wine Glasses
While good wine can spice up any party, the right glass may improve the experience. So, serve your favorite wine in disposable wine glasses to ensure that your guests get the most out of the flavor and pleasure of sipping excellent wine. Use stemless wine glasses with a crystal look.
Add Some Flair with Rustic Eco-Friendly Party Supplies
The most significant gathering for us is the one that you host. That's why you'll be delighted with our value in terms of aesthetics and functionality with this tableware.
Smarty Had A Party offers a wide selection of fancy, biodegradable and compostable tableware pieces that help with the decorative and practical side of party planning!
To make hosting a delight, enhance your meals and entire event with our help.
Want to Elevate Your Event Appeal? We've Got You.
Get 10% Off Your First Order
Eco-Friendly Party Decoration Ideas
Whatever the scale of your event or party, these general tips for eco-friendly party decorations will ensure that it is also environmentally friendly.
Reuse. Make or buy reusable alternatives to throwaway decorations.

DIY. If you have the time, make some DIY decorations yourself for eco-friendly party décor.

Reuse decorations, make your own, or purchase products with minimal packaging to reduce waste.

Use natural and organic components such as pinecones, stones, seashells, and potted flowers and plants to create a natural look.

Shop locally and from environment-friendly suppliers to lessen your carbon footprint.

Think rentable. Consider renting linens and décor from a party rental shop instead of purchasing new ones. It can be more affordable than buying everything new for massive gatherings.
Best Biodegradable Party Supplies that Are Best to Buy in Bulk
Are you preparing for your wedding? Getting ready for a wedding entails making plenty of lovely decisions. Browse our selection of exquisite party supplies, stylish wedding plates, and the best biodegradable party supplies available for bulk purchase.
Made entirely from renewable, fallen palm leaves, our eco-friendly party supplies will safely biodegrade into the environment in approximately 60 days. This will help you reduce your carbon footprint and improve the sustainability of your wedding party food service.
Are you preparing for a party? Our biodegradable dinnerware is ideal for making cleaning a breeze at the end of your event. In addition, our silverware, plates, bowls, straws, and napkins have all passed compostability tests at home. 
Disposable cutlery allows you to ensure that everyone has the appropriate combination of forks, spoons, and knives without spending hours cleaning up once the party is finished. 
What you can conclude from this article is that promoting environmental responsibility is now not only a right but also a beautiful decision! Therefore, order Smarty's chic, practical, and sustainable eco-friendly party supplies and let yourself enjoy the exquisite host glory!