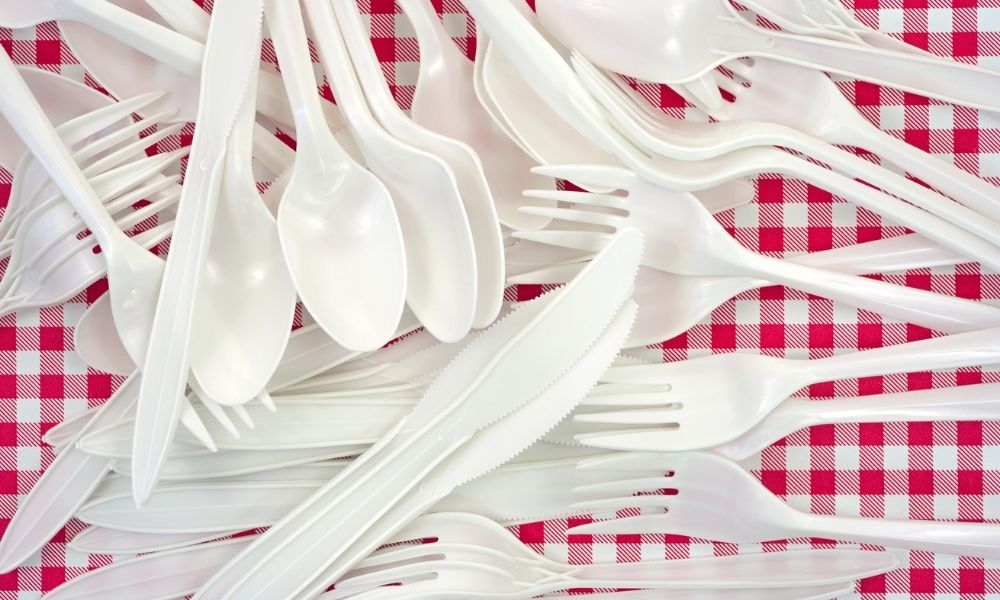 The Advantages of Using Disposable Cutlery
With summer winding down and the trusty grill easing into semi-retirement for the season, many of our parties and significant events are moving back indoors. That can mean our events have a more formal tenor than what we roll with in summer. What that doesn't mean, however, is that using your finest flatware on hand is a must. You can still throw an elegant party using single-use options — and you should. Here are some advantages of using disposable cutlery at your upcoming events.
A Lighter Alternative
Not every party you throw is a home game for you. When planning an event requires you to go on the road, you don't want to schlep heavy silver or stainless-steel flatware to the venue if you don't have to. Sure, one fork alone doesn't exactly make you call in the piano movers, but the weight of all those pieces adds to a sizable inconvenience. Disposable cutlery is much lighter, making your travel considerations much easier.
Less Resource-Intensive
The green-minded among us may initially bristle at the thought of using disposable flatware. After all, disposable means plastic, and plastic means petroleum, which means destroying our planet to extract harmful fossil fuels, right? Not necessarily. There's some resource use going on even if you use non-disposable flatware for your event — consider the electricity and water it takes to run your dishwasher. That electricity is ultimately coming from somewhere, and that somewhere may well be the coal that fires a power plant. The water that your dishwasher leaves behind also requires further processing to reclaim, and it's another energy-intensive process.
You should also remember that not all disposable cutlery is plastic. Smarty Had a Party features lines of birchwood flatware that provide strength and durability during the meal and biodegradable material afterward. It's a win-win.
Consistency Is Key
Look through your drawer. What do you find? Forks, knives, and spoons, obviously, but look more closely. Some of the forks are longer than others. Some of the spoons have wider bowls than the others. Some forks may even only have three tines instead of four. They all vary in size, shape, and heft. As you acquire silverware over the years, they tend not to be a perfect match, and for your next big party, that's an imperfection you don't want to put on display. One of the most significant advantages of using disposable cutlery is giving your table settings a fresh start from what you have on hand. With a new set of luxury disposable cutlery from Smarty Had a Party and disposable plates to match, each table setting can look uniformly gorgeous. Each guest will receive the same elegant presentation as they sit down to enjoy their meal—no three-tined forks or oddly wide spoons to draw the wrong kind of attention.
The Perfect Price
It is possible to use silverware for celebrations and events - but it is worth looking at the actual costs of buying silverware versus using disposable plastic flatware as an alternative. Silverware can also be rented from larger off-licenses. However, there are charges for any damages incurred, which must also be factored in. On the other hand, our disposable plastic flatware is a great alternative! They are cost-effective, break-resistant, and can simply be thrown in with your plastic recycling afterward – no dishwasher required and no need to break the bank. 
An Easy and Quick Clean-up Process
The idea of cleaning flatware after a large reception is often discouraging for organizers, hosts, and catering staff alike. But with disposable flatware, there is no need to worry about the chore of cleaning after an event. Whether you are organizing a grand affair like a wedding or a small family reunion, dirty plastic flatware can be thrown away and recycled, making washing up less of a hassle. So forget about washing dozens of forks, spoons, and knives after the party ends - just pitch the dirty flatware and call it a day!
Remember that flatware is just as crucial for your enjoyment the next time you celebrate! And as you can see, plastic flatware has many advantages over its counterparts. Since this type of plasticware can make it easier for you to host parties, we offer a wide range of bulk plastic flatware pieces, including forks, knives, spoons, and serving flatware. So, hurry up and grab your favorite flatware set from Smarty Had A Party and celebrate all the special moments in your life! 
DIY Disposable Cutlery Creations
In addition to all the benefits they bring, there is another one! If you don't know what to do with the excess accessories left over from the party, we'll show you some ideas on how to use them wisely:
1. A watch with a character
Kitchen decor from cutlery.
An old clock is used as a basis for decoration. You can buy a watch in a handicraft store if the desired model is not found.
2. Shiny butterflies for the garden
Spectacular landscaping. 
Cutlery cut into several pieces is an excellent material for creating garden decor in the shape of insects. The parts are glued together.
3. Retro style
An unusual photo stands from a fork.
Such a stand looks elegant and concise, allowing you to focus entirely on the photo you are holding. Old photos look especially impressive in such an environment.
5. Decoupage technique
To keep the decoupage on a plastic surface, we recommend sanding it. Then the surface must be coated, for example, with a thin layer of white acrylic paint.
4. Original wall panel
The cutlery panel is a non-standard decor for the kitchen or dining room. The devices can be fastened with several seams with threads and on wood-glued liquid nails on a textile basis.