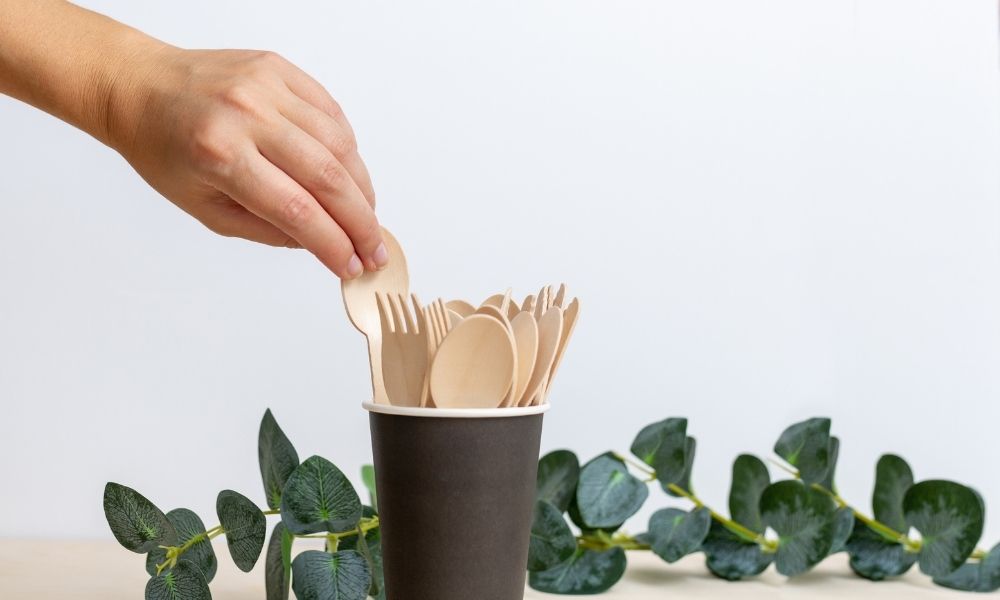 Nail Your Next Dinner Party With Fancy Disposable Dinnerware
As cooler temperatures start to peek from around the corner, our party-hosting mindset shifts from outdoor soirees to gathering around the dinner table together. Dinner party season is almost upon us, if there is such a thing as dinner party season. So naturally, that means extensive planning, from the perfect large-group meal to the best possible playlist in the background to ensure the centerpiece at the dinner table is completely on point.
Let's not forget, of course, about how you'll be serving that meal. For a one-time event like an elegant dinner party, you want one-time table settings, too. So don't subject your guests to mismatched plates and flatware or your tired old family plates with the little scratch marks and hairline fractures from ten years' worth of microwaved meals. 
No, you're here to set a mood, and at Smarty Had a Party, we're here to help you set that mood with curated ensembles of luxury single-use dishes and utensils. Here are a few of our suggestions for how you can nail your next dinner party with fancy disposable dinnerware sets.
Keep It Simple With White and Metallics
Let's talk about the rest of your dinner party setup. How are you decorating the table? What kind of centerpiece did you decide on? What's for dinner? While the dinnerware can present an opportunity to get creative, you don't want to subject your guests to sensory overload. So whether you have a dazzling centerpiece or wish to let the meal be the star, our austere but lovely silver-rimmed white plates are the ideal option. Being a coolly neutral color, silver won't clash with anything on the plate or anything else on the table, from the centerpiece to the tablecloth. In addition, our white and silver set comes with separate plates for the salad and the main course, keeping everything in low-key harmony.
The Same, Only Warmer: Ivory and Gold
If these principles appeal to you but want a slightly warmer color palette, we have you covered there, too. Our ivory plates with gold rims don't just keep a low profile on a busy table with a delicious meal—they also connote a certain inviting warmth that cool white and silver don't. In addition, there's something about creams, eggshells, ivories, and other off-whites that many people find more visually appealing than pure white—consider baseball's San Francisco Giants. The latter bypass traditional home white uniforms for a subtly peachy, vintage-white alternative that fans love. However, you needn't be a Giants fan to see the merit in these pleasantly warm ivory plates for your next dinner party.
Dinnerware That Will Teal Your Heart
Maybe you don't feel the need to keep your dinnerware subtle. Perhaps you want it to stand out just as much as your delicious dinner and dazzling guests. For a burst of color at the dinner table, Smarty Had a Party offers vintage teal and turquoise dinnerware sets that are as eye-catching as they are durable. Going with a mid-century menu? Our vintage turquoise sets feature artful and elegant accents along the edges, giving you a set you wouldn't be surprised to see come from Betty Draper's cabinet. For a more progressive take on cool blues and greens, our turquoise and silver mosaic-rim plates feature a compellingly fractal design, taking inspiration from terrazzo flooring to create artsy lines and angles that ring each meal.
None More Black
For some events, it's hard to top the refinement of pure black plates. If your tastes lean this way, with love for black granite floors and black lacquer furniture, we offer black plates with gold rims to fit your darkness-adoring sensibilities. Though we have a place in our hearts for every style of single-use dinnerware, we can certainly see the argument for the elegance of these black plates. Consider that those standard-issue paper plates we buy in the hundreds from the big-box warehouse are plain white. They're also the opposite of chic and refinement. So what's the opposite of white? Our point exactly.
Plant-Based Menu? Try Plant-Based Plates
More and more of us are eschewing meat and poultry to different degrees. Yes, those "Lacto-pescatarians" have always struck us as an excessively Latinate way of saying, "I'm cutting down on red meat." Still, you might be surprised to discover that many people are saying no to animal products altogether. On the other hand, you may not be so surprised—you may be one of them yourself. If your dinner party is entirely vegetarian or vegan, the perfect complement to what's on your plate is a plant-based plate. We offer a full line of dinnerware that uses compressed and heated palm leaves to create utensils, dishes, and plates that contain no petroleum products and no harmful chemicals—just well-pressed plant matter that gives the appearance of wood-carved artisan goods.
When the party is over, you can send the used plates to the garbage, where they'll safely biodegrade in our landfills. Better yet, you can gather them up yourself, get a compost heap going, and transform your dinnerware into uber-nutritious fertilizer for your plants. It's an opportunity to go beyond going green.
Which Set Is Right for You?
These single-use sets from Smarty Had a Party will allow you to nail your next dinner party with fancy disposable dinnerware. We think these are some of our best, but what's the best is that we don't have room to tell you about all our favorites. These are but a few of our most popular selections. All the fancy disposable dinner sets we've told you about here—and more—are available in our extensive catalog, where we've compiled and set aside our favorite ensembles to catch your eye and save you money. By buying these sets together instead of making several discrete purchases, you'll be able to save on your single-use dinnerware and allocate those savings toward the rest of your dinner party's budget, whether that's springing for a few more premium ingredients or finally putting together that elite centerpiece you've always wanted for a party. Now that's smart.