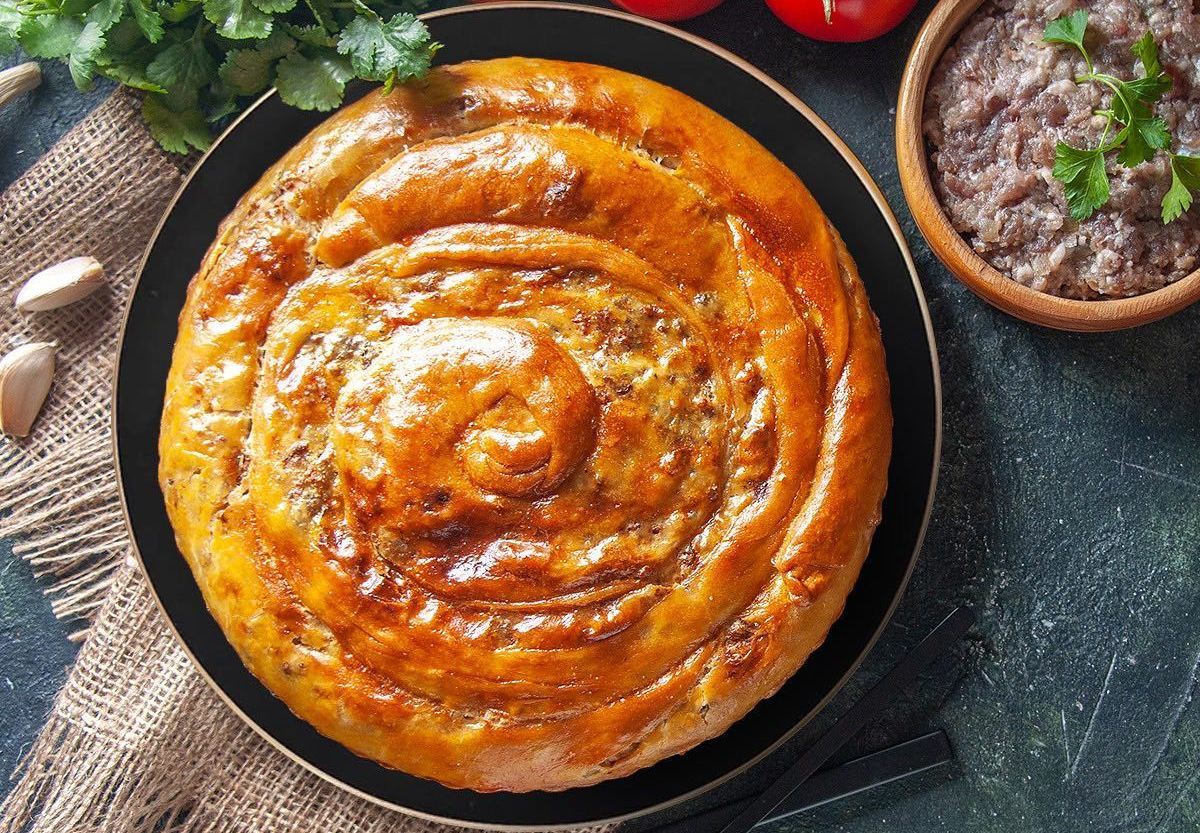 Autumn Entertaining Delight: Onion Presley Tomato Pie
As the crisp breeze of autumn descends upon us and leaves transform into a symphony of vibrant hues, it's time to usher in a new season of warmth, togetherness, and, of course, delicious food. Autumn is a time for gatherings, whether a casual weekend get-together with friends, a cozy family dinner, or a festive fall soirée with loved ones. And what better way to delight your guests and celebrate the season's flavors than with a comforting dish that captures the essence of autumn?
Savoring Autumn Flavors: Onion Presley Tomato Pie Recipe for Fall Gatherings
In this blog post, we invite you to embark on a culinary journey combining fall's rich flavors with the joy of entertaining. We present the mouthwatering "Onion Presley Tomato Pie" – a recipe that encapsulates the essence of autumn's bounty. 
So, whether you're planning a cozy dinner party, a harvest celebration, or just craving a slice of fall, join us as we delve into the world of this exquisite pie. Get ready to discover the recipe to make your autumn entertaining delightful, leaving your guests craving more and your heart brimming with the season's spirit.
The Onion Presley Tomato Pie Recipe
Ingredients:
For the Crust:
1 ½ cups all-purpose flour

½ teaspoon salt

½ cup unsalted butter, cold and cubed

4-5 tablespoons ice water
For the Filling:
3 large onions, thinly sliced

3 large tomatoes, thinly sliced

2 cloves garlic, minced

2 tablespoons olive oil

1 teaspoon dried thyme

1 teaspoon dried rosemary

Salt and black pepper to taste

1 cup shredded mozzarella cheese

½ cup grated Parmesan cheese

Fresh basil leaves for garnish
Instructions:
Step 1: Prepare the Crust
In a large mixing bowl, combine the all-purpose flour and salt.

Add the cold, cubed butter to the flour mixture.

Using a pastry cutter or your fingertips, work the butter into the flour until it resembles coarse crumbs.

Gradually add ice water, one tablespoon, and mix until the dough comes together.

Form the dough into a disk, wrap it in plastic wrap, and refrigerate for at least 30 minutes.
Step 2: Caramelize the Onions
In a large skillet, heat the olive oil over medium-low heat.

Add the thinly sliced onions and cook occasionally for about 20-25 minutes or until they turn a rich golden brown.

Stir in the minced garlic, dried thyme, rosemary, salt, and black pepper. Cook for an additional 2-3 minutes, then remove from heat.
Step 3: Preheat the Oven
Preheat your oven to 375°F (190°C).
Step 4: Roll Out the Crust
Roll out the chilled dough on a floured surface into a circle large enough to fit a 9-inch pie dish.

Carefully transfer the rolled-out dough to the pie dish, trimming any excess.
Step 5: Assemble the Pie
Begin by layering half of the caramelized onions on the bottom of the pie crust.

Next, arrange half of the sliced tomatoes over the onions.

Sprinkle half of the mozzarella and Parmesan cheese over the tomatoes.

Repeat the layers with the remaining onions, tomatoes, and cheese.
Step 6: Bake to Perfection
Place the assembled pie in the oven and bake for 35-40 minutes until the crust is golden and the cheese is bubbly and slightly browned.
Step 7: Garnish and Serve
Remove the pie from the oven and let it cool for a few minutes.

Garnish with fresh basil leaves for a burst of flavor and color.

Slice and serve your Onion Presley Tomato Pie while it's still warm and inviting.
Tips & Tricks for the Perfect Onion Presley Tomato Pie
1. Choose Quality Ingredients: Opt for fresh, ripe tomatoes and sweet onions. The quality of your ingredients will significantly impact the flavor of your pie.
2. Pre-Bake the Crust: Consider blind-baking it before adding the filling to prevent a soggy bottom crust. Simply line the pie crust with parchment paper, fill it with pie weights or dried beans, and bake for about 15 minutes before adding the filling.
3. Layer Wisely: Layering is essential to a well-balanced pie. Start with a layer of caramelized onions at the bottom to create a flavorful base. Alternate layers of onions, tomatoes, and cheese for even distribution of flavors.
4. Season Thoughtfully: Make sure to use herbs and seasoning sparingly. Dried thyme and rosemary add depth to the flavors. Season each layer of tomatoes with a pinch of salt and black pepper to enhance their taste.
5. Mind the Cheese: Use a combination of mozzarella and Parmesan cheese for a balanced, savory profile. The mozzarella melts beautifully, while Parmesan adds a sharp, nutty flavor.
6. Vent the Pie: Use a sharp knife to create small vents or slits on the top crust. This allows steam to escape during baking, preventing the pie from becoming too moist.
7. Egg Wash for Shine: Brush the top crust with a beaten egg or egg wash before baking for a beautiful golden-brown crust. This gives the pie an appetizing sheen.
8. Monitor Baking Time: Keep a close eye on your pie while it bakes. The exact baking time can vary depending on your oven. Remove the pie when it's golden and bubbling to perfection.
9. Let It Rest: Allow the baked pie to rest for 10-15 minutes before slicing. This helps the filling set and makes for neater slices.
10. Get Creative with Garnishes: Consider garnishing your pie with fresh basil leaves, a drizzle of balsamic glaze, or a sprinkle of additional grated Parmesan for an extra layer of flavor and visual appeal.
Serving Made Easy with Disposable Tableware
As you prepare to host your autumn gatherings and indulge in the season's culinary delights, it's essential to consider not only the delicious dishes but also the practical aspects of serving. Autumn entertaining should be a time of joy, connection, and cherished moments, not a time spent scrubbing dishes and silverware.
The Convenience of Disposable Tableware
Time-Saving: Disposable plastic plates, disposable bowls, and disposable silverware are the unsung heroes of stress-free entertaining. They eliminate the need for post-event dishwashing, giving you more time to enjoy the company of your loved ones. After all, isn't that what autumn gatherings are all about?
Eco-Friendly Options: Concerned about the environment? Many disposable tableware options are eco-friendly, offering the best of both worlds: convenience and sustainability. Look for biodegradable, compostable, or recyclable products to reduce your carbon footprint while still enjoying the benefits of disposable tableware.
Introducing Smarty Had A Party
When finding high-quality disposable tableware that's stylish and practical, look no further than Smarty Had A Party. They're not just an online store; they're your go-to resource for elevating your autumn gatherings to a new level of sophistication.
Here's why you should consider Smarty for your autumn entertaining needs:
1. A Wide Range of Products: From elegant plastic plates in various sizes and designs to disposable bowls, cutlery, and glassware, Smarty Had A Party offers a vast selection to suit any occasion and theme.
2. Durability Meets Aesthetics: Don't be fooled by the word "disposable." Smarty Had A Party's products are known for their durability and aesthetic appeal. Your guests will be impressed by the quality and elegance of your table settings.
3. Sustainable Options: Smarty Had A Party is committed to sustainability. You'll find eco-friendly options that align with your values, ensuring your gatherings are convenient and environmentally responsible.
4. Hassle-Free Shopping: Smarty's user-friendly website makes browsing, selecting, and ordering the tableware you need easy. Smarty's prompt shipping ensures you have everything in time for your event.
Frequently Asked Questions (FAQ)
1. Can I find disposable tableware in different colors and styles?
Smarty Had A Party offers a variety of disposable tableware options in various colors and styles for any occasion, from a rustic fall picnic to a formal dinner outdoors. With modern and classic designs to choose from, you're sure to find the perfect fit for your event.
2. Are Smarty Had A Party's products suitable for both casual and formal gatherings?
Smarty Had A Party's disposable tableware is versatile and perfect for any event, from casual gatherings to formal occasions. Smarty's products can create an elegant or laid-back atmosphere, catering to your specific needs.
3. What are the advantages of using disposable tableware for autumn entertaining?
Using disposable tableware for autumn gatherings makes cleanup effortless and reduces stress. It eliminates worries about broken dishes and matching sets, giving you more time to enjoy the company of your guests.
4. Do Smarty Had A Party's products meet quality standards?
Smarty Had A Party takes quality seriously. While designed for convenience, Smarty's party supplies don't compromise on quality. Smarty Had A Party's tableware meets high standards and undergoes rigorous testing to ensure it meets your event's demands. You can trust that products will look fantastic on your table and perform exceptionally well during autumn gatherings.
Whether you're hosting a casual autumn picnic in the park, a formal dinner under the stars, or anything in between, remember that the beauty of autumn lies not only in its vibrant foliage but also in the moments we share with those we hold dear. Embrace the season, savor the flavors, and celebrate the joy of autumn entertaining. With Onion Presley Tomato Pie and Smarty Had A Party by your side, your gatherings will be a delightful autumnal experience for all. Here's to a season filled with warmth, connection, and the simple pleasures of autumn.