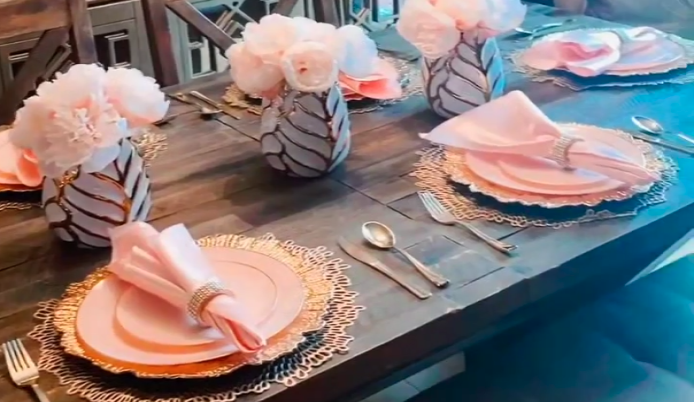 How Do You Set an Elegant Table for a Dinner Party?
When hosting a dinner party, it's not just about the food. A well-set table can transform a meal into an extraordinary experience. In this blog post, we'll explore the art of creating an elegant table for any occasion. Join us as we delve into the world of tablescaping and learn how to leave a lasting impression on your guests with a beautifully arranged table. It's time to unlock the secrets of dining in style - your elegant dinner table awaits!
The Basics of Elegant Table Setting
When it comes to setting an elegant table for a dinner party, the foundation is vital. This is where you lay the groundwork for the entire visual experience. Fortunately, achieving elegance doesn't always mean sacrificing convenience, and Smarty Had A Party is here to help you strike the perfect balance between style and ease.
Choosing the Right Foundation: Disposable Charger Plates
For an added touch of opulence, consider introducing charger plates. These oversized, decorative plates are placed beneath the dinner plate and act as an elegant backdrop for your meal. While traditional charger plates may be made of china or metal, you can effortlessly elevate your table setting with disposable charger plates. Smarty Had A Party offers a stunning array of options, from metallic finishes to intricate designs, ensuring that your table exudes sophistication without the hassle of cleanup.
Opting for Convenience with Plastic Dinnerware Sets
Your choice of dinnerware can make or break the overall elegance of your table. While traditional china or porcelain sets are exquisite, they can also be cumbersome and prone to breakage. Enter plastic dinnerware sets – a modern solution that marries convenience with style. Smarty Had A Party's range of plastic dinnerware boasts the look of fine china but with the practicality of disposable use. You can choose from various styles, including classic white, contemporary designs, and even options with metallic accents. Your guests will be amazed at how these elegant plates and bowls enhance the dining experience.
Elevating the Experience with Disposable Silverware
Don't let the term "disposable" fool you. Disposable silverware can be a game-changer when creating an elegant table. Smarty Had A Party offers disposable silverware that mimics the sophistication of real silver, minus the hassle of polishing. With options like silver-like plastic cutlery sets, your guests will appreciate the attention to detail, and you'll appreciate the effortless cleanup.
Elegant Drinkware Alternatives: Plastic Drinkware
Regarding drinkware, plastic doesn't have to mean flimsy or tacky. Disposable plastic drinkware has come a long way, and Smarty Had A Party offers a range of options that combine the elegance of glass with the convenience of disposability. From crystal-clear plastic wine glasses to stylish tumblers and champagne flutes, you can choose the perfect drinkware to complement your table setting.
Incorporating Disposable Napkins and Napkin Rings
Completing the foundation of your elegant table are disposable napkins and napkin rings. Napkins serve both functional and decorative purposes, and Smarty Had A Party offers a variety of colors, textures, and fold options to suit your theme. Elevate your napkin presentation with elegant napkin rings, adding that extra sophistication to each place setting.
Upgrading the Centerpiece
The centerpiece of your dinner table is like the crescendo of a beautiful symphony. It captures attention, sets the mood, and ties the entire table setting together. To create an elegant table, your centerpiece deserves special attention. 
Elegant Vases as Centerpieces
One surefire way to make a statement with your centerpiece is by choosing an elegant vase as its vessel. Vases come in a myriad of shapes, sizes, and materials, allowing you to find the perfect match for your table's theme and your personal style. Crystal vases exude timeless sophistication, while glass vases offer a modern touch. Ceramic and porcelain vases can add a touch of classic charm. The key is to choose a vase that complements your overall table design and enhances the ambiance you want to create.
Choosing Artificial Flowers for a Timeless Look
While fresh flowers are undeniably beautiful, they have a short lifespan and can be costly. Fortunately, artificial flowers have evolved significantly in recent years, offering a stunning alternative that lasts and looks just as gorgeous. Artificial flowers come in various varieties, from classic roses and peonies to exotic blooms and foliage. The advantage? You can choose any flower you desire, regardless of the season.
Styling Tips for Arranging Artificial Flowers
Choose a Focal Point

: Decide if you want a single dramatic arrangement or multiple smaller ones. A grand, towering centerpiece can be breathtaking, while smaller clusters create an intimate atmosphere.

Consider Height

: Vary the height of your flowers and vases to create visual interest. Taller vases can be placed at the center, while shorter ones flank the sides.

Mix Textures

: Combine different types of flowers and foliage for depth and texture. Play with complementary colors and shapes.

Accessorize

: Add decorative elements like candles, greenery, or elegant vase fillers to enhance the overall look.

Balance and Symmetry

: Ensure your arrangement is balanced and symmetrical, especially if creating multiple centerpieces.

Maintenance

: Unlike fresh flowers, artificial blooms won't wilt but can accumulate dust. Keep them clean by gently wiping them down before your event.
Tips for a Successful Dinner Party
Creating an elegant table for a dinner party is only part of the equation; the true success of your event lies in the overall experience you provide to your guests. To ensure a memorable evening, consider these essential tips beyond table settings.
Coordinating Table Settings with the Overall Theme or Occasion
Color Palette

: Choose a color scheme that complements your theme. Soft pastels and candlelight can set the mood for a romantic dinner, while a holiday gathering might call for rich, festive colors.

Table Decor

: Incorporate decorations that align with your theme. Add seashell accents or tropical leaves to your centerpiece for a tropical-themed dinner.

Tableware Selection

: Select Smarty Had A Party's disposable tableware that matches the theme. Smarty offers various options to suit multiple occasions, from classic to contemporary.
Mixing and Matching Dinnerware for a Unique Look
Texture Play

: Experiment with different textures. Pair a shiny charger plate with matte flatware or combine textured placemats with sleek glassware for a captivating contrast.

Layering

: Layering is a design technique that adds depth and dimension to your table. Place a charger plate under your dinner plate and add a contrasting napkin for an eye-catching effect.

Mood Lighting

: Enhance the ambiance by mixing and matching various types of lighting, such as candle holders, LED candles, and string lights, to create a magical atmosphere.
Staying Organized and Planning Ahead for a Stress-Free Event
Create a Timeline

: Plan your menu, table setting, and decorations well in advance. Make a timeline for preparation, cooking, and setting up to avoid last-minute stress.

Delegate Tasks

: Feel free to enlist the help of friends or family to set the table, serve drinks, or assist with cleanup.

Triple-Check Details

: Ensure you have enough tableware, drinkware, and serving utensils for your guests. Confirm dietary preferences and restrictions with your invitees.

Have a Plan B

: Be prepared for unexpected situations, such as weather changes for outdoor parties or menu adjustments for dietary restrictions.
Frequently Asked Questions (FAQs)
1. Where can I find high-quality disposable tableware like charger plates?
Finding high-quality disposable tableware, such as charger plates, is easier than you might think. Smarty Had A Party is an excellent source for elegant disposable tableware, including charger plates. Smarty offers a wide selection of styles, colors, and finishes, ensuring you can find the perfect charger plates to complement your table setting. These plates are visually appealing and durable, allowing you to achieve an upscale look without the hassle of cleanup.
2. How can I make disposable silverware look elegant?
Disposable silverware doesn't have to sacrifice elegance. Consider opting for plastic flatware sets with metallic finishes to make it look more refined. Smarty Had A Party's disposable flatware options include silver and gold-like plastic cutlery sets that closely mimic the appearance of real silverware. Your guests will be hard-pressed to tell the difference when placed alongside your other elegant table settings.
3. Are Smarty Had A Party's plastic drinkware options durable?"
Yes, Smarty Had A Party's plastic drinkware options are elegant and durable. They are designed to withstand the rigors of your dinner party without compromising on quality. Whether you're serving wine, cocktails, or sparkling water, their plastic drinkware, such as wine glasses and champagne flutes, offers the look and feel of glassware without the risk of breakage. With these reliable options, you can confidently raise a toast to a successful evening.
4. What are the benefits of using disposable napkins and napkin rings?
Using disposable napkins and napkin rings offers several benefits for your dinner party. These include added convenience, a wide range of decorative options, improved hygiene, and an enhanced overall look for your table.
The next time you host a dinner party, remember that setting an elegant table isn't just about impressing your guests; it's about creating cherished memories and shared moments. You can turn every meal into a masterpiece with the right tools and creativity.
Now, craft your own unforgettable dining experiences, and may your elegantly set table be the canvas upon which beautiful memories are painted. Cheers to the art of dining in style!