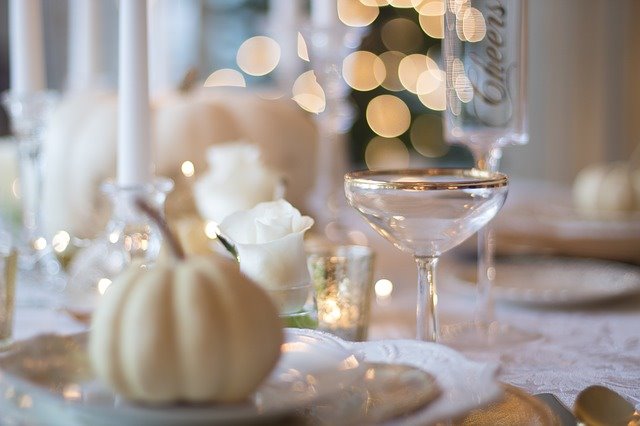 Feast and Festivity: Hosting the Ultimate Thanksgiving Party
As the air turns crisp and the leaves don their vibrant autumn hues, it's a sure sign that Thanksgiving, the season of gratitude and togetherness, is just around the corner. Amidst the anticipation of reuniting with loved ones and savoring the rich flavors of a bountiful feast, the art of hosting a Thanksgiving party becomes an exhilarating journey in itself. In our guide, we delve into the secrets of creating a celebration that goes beyond the ordinary, infusing style, warmth, and unforgettable memories into every moment.
Giving Thanks in Style: Hosting a Chic Thanksgiving Celebration 
This isn't just a guide; it's an invitation to embark on a culinary and aesthetic adventure where the traditional meets the chic, and the mundane transforms into the extraordinary. Whether you're a seasoned host looking to elevate your annual gathering or a first-timer eager to make a lasting impression, our guide is crafted to inspire, guide, and ensure your Thanksgiving celebration is nothing short of extraordinary.
So, let's roll out the metaphorical red carpet, deck the halls with the essence of autumn, and prepare to host the ultimate Thanksgiving party. 
Giving Thanks in Style: Hosting a Chic Thanksgiving Celebration
The Art of Elegant Place Settings
The table is set, the aroma of a sumptuous Thanksgiving feast wafts through the air, and your guests are about to experience a celebration that marries convenience with elegance. The art of crafting an elegant place setting begins with thoughtful consideration, and in this section, we explore the components that transform a table into a feast for the eyes.
Disposable Dinnerware: Balancing Convenience and Elegance
Gone are the days when disposable meant sacrificing style. Explore the world of chic disposable dinnerware sets that not only add a touch of sophistication to your table but also alleviate the post-feast cleanup stress. From modern designs to classic patterns, discover the perfect balance between convenience and elegance.
Plastic Drinkware: Raising a Toast in Style
Toasting to gratitude should be done in style. We uncover the realm of plastic drinkware that mirrors the appearance of crystal, allowing you to clink glasses with flair and glamour. Elevate your guests' drinking experience without compromising on the practicality of disposable options.
Disposable Silverware: Navigating the Etiquette of Convenience
Delve into the world of disposable silverware that mimics the look and feel of real cutlery. Navigating the etiquette of convenience has never been so stylish. Explore the options that bring sophistication to each place setting while keeping the cleanup hassle to a minimum.
Plastic Servingware: Serving Culinary Delights with Panache
Presentation is key, and with the right plastic servingware, you can turn each dish into a culinary masterpiece. From elegant serving bowls to stylish serving utensils, discover how to showcase your Thanksgiving creations with panache, all while embracing the practicality of disposable options.
Disposable Tablecloths and Napkins: Weaving the Aesthetics Together
The foundation of a well-dressed table lies in the choice of tablecloths and napkins. Weaving aesthetics together involves selecting disposable options that not only enhance the visual appeal of your table but also make post-dinner cleanup a breeze. Explore textures, colors, and patterns that complement your Thanksgiving theme.
Elevating the Ambiance: Decor Ideas for a Stylish Setting
The table is just the beginning; the ambiance of your Thanksgiving celebration extends beyond. Elevate the sensory experience of your guests with carefully curated decor ideas that infuse style into every corner of your space.
Centerpieces that Wow: Nature-inspired Elegance
Uncover the beauty of nature-inspired centerpieces that captivate attention and serve as conversation starters. From rustic arrangements to modern twists on traditional harvest themes, discover how to make your table the focal point of your Thanksgiving feast.
Ambient Lighting: Creating Warmth and Charm
Lighting sets the mood, and for a chic Thanksgiving celebration, ambient lighting is the secret ingredient. Explore creative lighting ideas that add warmth and charm to your gathering, creating an inviting atmosphere for friends and family.
Themed Decor: Personalizing the Celebration
Make your Thanksgiving celebration uniquely yours with themed decor that reflects your personality and style. Whether it's a rustic farmhouse theme, a glamorous gold and white affair, or a playful nod to autumn's bounty, personalize your space for an unforgettable celebration.
The Ultimate Thanksgiving Menu
Thanksgiving is a feast for the senses, and while tradition holds a special place on the table, there's always room for a touch of innovation.
Innovative Turkey Recipes
The centerpiece of any Thanksgiving spread, the turkey, takes center stage with a twist. Move beyond the classic roast with innovative turkey recipes that infuse new flavors and cooking techniques. Whether it's a herb-infused brine, a daring rub, or an unexpected cooking method, discover how to make your turkey the talk of the feast.
Sides that Steal the Show
While Turkey holds the spotlight, the supporting cast of sides can steal the show. Elevate your Thanksgiving table with sides that go beyond the usual suspects. From creative stuffing variations to inventive vegetable dishes, we guide you through crafting sides that not only complement the turkey but stand out in their own right.
Desserts to Satisfy Every Sweet Tooth
No Thanksgiving celebration is complete without a sweet ending, and this year, we're taking dessert to the next level. Explore decadent desserts that satisfy every sweet tooth, from traditional pies with a modern twist to inventive new treats. Discover the art of balancing tradition and innovation on the dessert table, leaving your guests eagerly reaching for seconds.
Stress-Free Hosting: Planning and Organization
Hosting a Thanksgiving party should be a joyous occasion, not a stress-inducing endeavor. In this section, we unravel the secrets to stress-free hosting, guiding you through the planning and organization that will ensure a seamless and enjoyable celebration.
Preparing Ahead: A Timeline for Success
The key to a stress-free Thanksgiving starts with meticulous planning and preparing well in advance. From creating shopping lists to tackling pre-cooking, make sure you're well-prepared so that you can savor the festivities without being tethered to the kitchen.
Smart Seating Arrangements: Ensuring a Harmonious Gathering
The seating arrangement can make or break the atmosphere of your Thanksgiving celebration. Create a seating plan that fosters harmonious conversations and connections among your guests. Whether you have a mix of family, friends, or acquaintances, discover the art of strategic seating that ensures everyone feels comfortable and engaged.
Entertaining Activities: Keeping Guests Engaged and Happy
Beyond the delicious food and stylish decor, keeping your guests entertained is a crucial aspect of hosting a memorable Thanksgiving party. From interactive games to thoughtful activities, search for ideas to keep the energy high and the laughter flowing. Learn how to tailor activities to your guest list and create an atmosphere of joy and camaraderie.
The Power of Gratitude: Thanksgiving Traditions and Activities
As we gather around the table to celebrate Thanksgiving, it's not just about the food; it's about embracing the spirit of gratitude and creating meaningful traditions that resonate with the essence of the holiday. 
Reflecting on the Meaning of Thanksgiving
Before the first fork touches the plate, take a moment to reflect on the true meaning of Thanksgiving. Delve into the historical significance of the holiday, exploring its roots and evolution. Discover the power of gratitude in its simplest form and set the tone for a celebration that goes beyond the material, emphasizing the importance of thankfulness.
Incorporating Thankful Traditions into the Celebration
Infuse your Thanksgiving celebration with traditions that focus on gratitude. From a heartfelt round of sharing what each guest is thankful for to creating a gratitude jar, search for ideas that encourage reflection and appreciation. Explore how these traditions can become a cherished part of your annual celebration, weaving a thread of thankfulness throughout the day.
Encouraging Acts of Kindness: Spreading the Spirit of Thanksgiving
Thanksgiving is not only a time for personal reflection but also an opportunity to spread the spirit of gratitude beyond the dinner table. Incorporate acts of kindness into your celebration, from organizing a food drive to volunteering as a group. Discover how small gestures can have a big impact, creating a ripple effect of gratitude in your community.
Frequently Asked Questions (FAQ)
1. Where to buy fancy disposable party supplies?
Elevate your table settings with fancy disposable party supplies that strike the perfect balance between convenience and sophistication. Explore the curated selection at Smarty Had A Party's Online Store, where elegance meets practicality, offering a range of options to suit your aesthetic preferences.
2. How can I ensure a stress-free Thanksgiving preparation?
Stress-free hosting begins with a well-thought-out plan. Create a timeline that spans the weeks leading up to Thanksgiving, breaking down tasks into manageable steps. Additionally, embrace the art of delegation; share responsibilities with willing friends or family members to lighten the load and ensure a smoother preparation process.
3. What are creative Thanksgiving decor ideas?
Transform your space into a Thanksgiving haven with creative decor ideas. Personalize mini pumpkins for place cards, craft a gratitude tree or opt for warm-hued table runners. Illuminate with gourd lanterns and embrace the season's charm.
4. Any tips for entertaining kids at Thanksgiving?
Create a dedicated kids' table with entertaining activities, like crafts and games. Consider a kid-friendly menu and set up a dessert decorating station. Incorporate playful centerpieces and organize outdoor activities or a cozy movie corner.
From all of us at Smarty Had A Party, we wish you and your loved ones a Happy Thanksgiving filled with joy, laughter, and the true spirit of the season. Cheers to feasting and festivity!