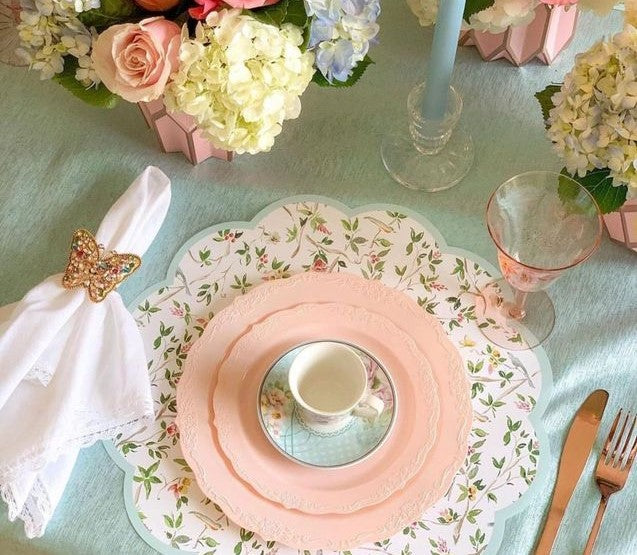 Spring Party Themes to Celebrate the Season in Style
The season of new beginnings has just arrived. The leaves come back, the birds return, and flowers are in bloom. In the most delightful season of Spring, throw your friends, family, and colleagues a fun-filled party.
Here are some theme ideas that go perfectly well with a Spring party.
1- Garden Party
It's time to say goodbye to winter blues and welcome the invigorating season of Spring by having a refreshing garden party with your friends. Here are a few tips and tricks to celebrate the arrival of the Spring season with a garden party.
Follow a Spring Theme
Follow a Spring theme; vibrant colors and lights for the decoration of the garden, invitation cards setting of tables and chairs, and even dress code.
The dress code should go with the theme to have some pretty pictures and make the party memorable. Spring themes usually include energetic colors like orange, yellow, different shades of pink and green, etc.
Decoration and Seating
The garden with the Springtime makeover will look alluring at the party. The matching decorations of the tables and dining hall with the garden plants look attractive. Candles give a subtle and fascinating look to the parties.
Candles or lanterns hanging over the table, especially if it's nighttime, will look so lovely. A shaded area in the garden would be awesome to have tea in the evening.
Place the flower jars on the tables throughout the eatables. Green and yellow flower jars will enhance the beauty of the garden too.
Hanging lampshades for indoor/outdoor parties look great. They can be hung from string to a tree, and adding fairy lights to this setup will create a lovely version of the party. 
The seating arrangement in the garden must be super comfortable and padded with cushions. People enjoy parties when they can sit comfortably and talk for hours.
Good Food - Good Mood
Parties are recalled for years if the food is delicious and well-served. Fruit salads work great as appetizers, while fresh lemonade would go well for the drinks. Other than food items, a barbeque at night would make the party catchy.
A bright disposable plastic silverware brightens the celebration. We have a variety that comes in different designs and colors to be used at parties.
2- Citrus Party-say Squeeze!
The citrus party is again very colorful and vivacious. The citrus party is all about playing with citrus fruits, including Limes, Oranges, Limes, Grapefruit, etc. Incorporating fresh citrus vibrant colored fruits take the party to the next level. Orange hues theme can go well with Citrus parties.
Work on the Details
The tables and chairs should also be bright and colorful. A wooden table with a rustic feel and color sets good. A lot of orange - and lime-colored balloons will look attractive.
A unique backdrop that goes with the theme will look excellent - by using the most accessible and affordable stuff like tissue paper, cardboard, and computer papers, you can make a very elegant backdrop. Floral arrangements give the parties a very refreshing look.
Triangular and geometric 3D fruits would go with vibrant fruit centerpieces on the table. Perfect disposable flatware would be the showstopper.
Our dinnerware is available in a wide range of colors and patterns, and one can buy them from an entirely separate section called 'Shop by Color' to have the freedom of matching the dinnerware to the decor and theme.
When it comes to food - Mini Strawberry Orange Muffins are an exquisite choice. You need all the basic ingredients to bake these. The ingredients include baking soda, eggs, apple sauce, vanilla extract, almond milk, maple syrup, oranges, and diced strawberries.
A Recipe Must Try!
Heat the oven to 350 degrees. Add all dry ingredients to a bowl and mix. Add wet ingredients to a separate bowl. Don't add orange zest and gently stir. Add mini muffin liners to the pan.
Add batter into muffin tins. Bake for 20-25 minutes, or until a toothpick comes out clean. While cooling, add the orange zest to the top of each muffin, and you are good to go.
To enjoy eating muffins, serve these with attractive light-colored disposable silverware to make the dining table look more appealing. Different flavored cocktails are not a bad option when it comes to drinks.
3- Spring Break Pool Party
Who doesn't love to go and enjoy swimming in the warm weather? This weather calls for outdoor activities and parties. The most difficult task is managing the kids with you at the parties.
Spring break pool party is best for engaging the children with you and allowing them to have fun in the ongoing season.
Ask the children to bring their colorful swimming jackets, swimsuits, or pool floats. That will also look enchanting in the pictures. If you want a more specific theme, make a shark pool party. You can decorate the boundary of the pool with a fleet of fish and swans.
Brightly colored Inflatables like sharks, goldfishes, flamingos, palm trees, and pineapples would fascinate the kids. Contests like a hula hoop, the limbo, beach volleyball, and Marco polo can be arranged for kids so that they don't get bored.
Serve only light snacks and make swimming the main event. Menu shall be kept simple, like fried foods, drinks, desserts, and more to lessen the cleaning once the party is finished.
If there is enough time left, you can also plan a movie night in the backyard with some fairy lights and lanterns for the decoration.
Photo Booth
Everyone is fond of taking pictures so that they can seize the moments for life. Setting up a photo booth would be very interesting for children as well. Photo booths are one of my personal favorites and a very essential service for any event.
Music
Children love to have fun with music around. It's your choice either to hire a Dj for the party, or you can create a setup for Bluetooth speakers, etc. This will make the party even more perfect for your child and lifelong happy memories will be created.