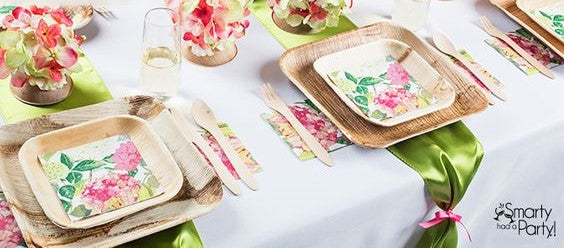 Adorable and Eco-Friendly Pink Garden Party
Throwing a pink garden party is altogether a different experience since you've to consider a lot of things while planning for it. And when it needs to be eco-friendly, things get even more complex.
But don't worry, there are a lot of ideas that can make your party adorable by being eco-friendly.
What Does Color Pink Mean?
The pink color is considered a feminine color that symbolizes love, compassion, and friendship. It is also a color most commonly used in baby girl showers. Pink color holds significant importance and social value.
However, a pink-themed party can also represent the welcoming party for cherry blossoms. It not only represents your daughter's favorite color, but it's also a symbol of enjoying the Spring season. The pink-colored cherry blossom trees are something that one can easily watch for hours!
So, a pink-colored party is not limited to only girl's parties, but rather it's a great way to celebrate the Spring vibes.
Let's see what can be done to throw an epic pink party that's also eco-friendly.  
Sending Eco-Friendly Invitations
Inviting your guests over to a party is always a great experience. You get to interact with them, and there's a lot you can do to make this interaction more appealing and memorable. To make your party go green and eco-friendly, you can send them electronic invites that are 100% eco-friendly.
You don't have to send a physical paper card to invite them to a party. There are lots of free templates available online. You can choose any of them, customize, and personally send them in the chatbox.
You can add their nicknames or just a few lines, which they would love to read. Just be creative and do a bunch of crazy stuff with those invitation templates and surprise your guests with them.
Eco-Friendly Decorations
You can now get eco-friendly confetti that eventually decomposes, so you can use them to decorate your party setting. Moreover, you can also get eco-friendly balloons. These eco-friendly decorative ideas are made of natural substances that are 100% natural.
However, when it comes to eco-friendly balloons, many researchers claim that they don't completely decompose, so you have to be very picky when it comes to eco-friendly balloons. Find a brand that offers 100% compostable balloons and stick with it.
You should be looking for pink balloons to make incredible decorations with them for your adorable pink party.
Along with confetti and balloons, you can use pretty much anything that gives your party a pinkish shade. You would be surprised to know that you can get ostrich feathers in different colors.
These shaded ostrich feathers are used as a centerpiece on tablescapes. So, you can also use these pink ostrich feathers to make your pink party more eco-friendly.
Pink Party Themes
Choosing a pink party theme means having everything covered in pink. Everything you buy for the decoration or the menu needs to be pink. It's like throwing a regular party but stuffed with pink colors everywhere.
It's interesting to shop for only pink items. If you're planning a pink party for your daughter's birthday, then you should take her with you when you hit the store for the shopping.
Let her choose items for her special event. Let her choose the shade of the pink color. There are a lot of shades within the pink color. So, it's always great to let her choose the shade she likes.
Print Her Favorite Cartoon Character
You can also ask her about her favorite cartoon shows. Print her favorite cartoon character on eco-friendly paper and display it pretty much everywhere - she would like it. It doesn't have to be a pink panther every single time. You can print almost every character in a pink outfit.
If you're finding it hard to find her favorite character in a pink outfit, you can always lookout for a professional graphics designer to do the job for you. All you would have to do is make her pink party more interesting and memorable.
Food (Cupcake and Cookies)
Plan a perfect buffet for your pink party. Your menu should be enriched with food items that are pink in color. You can always go for epic strawberry-flavored cakes and cookies. You can use food colors to add pink to pretty much every single food item.
Moreover, you can include pink-colored baked cookies and cupcakes. Again, the internet is full of interesting pink recipes, but here's our list of some of the best pink recipes you should try at your eco-friendly pink party.
This eye-catchy cake can be a great centerpiece for your table. It not only looks incredible, but it also tastes amazing! You should give this pink cake a try.
These pink classic cupcakes are perfect items for your dessert. The pink cupcakes can be decorated in hundreds of different ways, try the one that fascinates you the most.
This can be another great addition to your dessert list since it's full of flavor and an epic taste.
Moreover, candies, cookies, cupcakes, m&m's, popsicles, fruits, and other pink eatables can be some of the great items for your food table.
Having everything in pink will make a statement to your guests that you've done your best to make this party pink and eco-friendly at the same time.
The best part is to serve your food. You can not traditionally serve them. The party needs to be conducted under eco-friendly boundaries. So, for serving your pink food, you can use our eco-friendly cutlery. We offer a wide range of eco-friendly bowls and eco-friendly plates to make your parties go smoothly.`
Pink Party Dress
You can grab some pink princess dresses for your daughter, and believe us: she will never forget this party in her life. Look for dresses that can be used in routine outfits.
They don't have to be Cinderella dresses that are only meant for parties. You can grab a couple of pink dresses for her along with matching jewelry (of course, pink!).