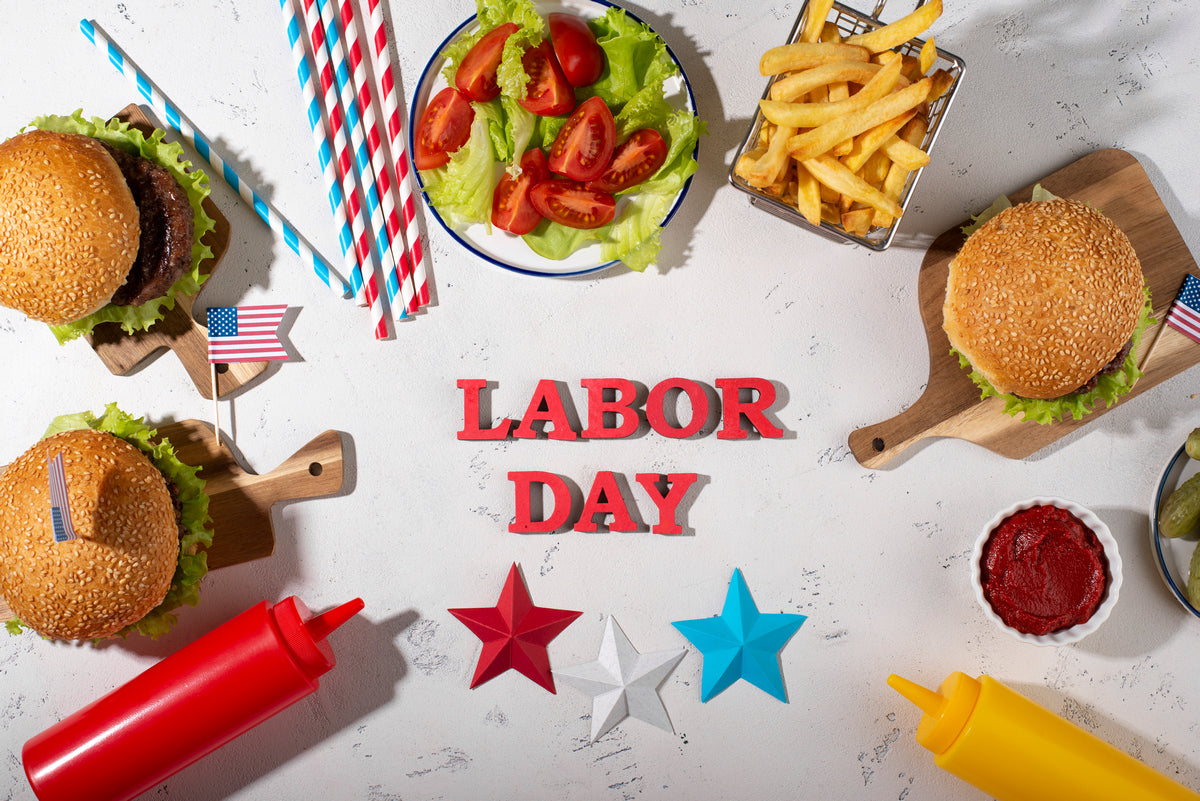 Sizzling BBQ and Summer Vibes: Hosting the Best Labor Day Cookout
Summer is winding down, but one last hurrah before we say goodbye is Labor Day. It's time to fire up the grill, savor the barbecue, and make memories with loved ones. If you want to host the best Labor Day cookout, you're in the right place.
The Ultimate Guide to Hosting Labor Day Cookout
 In this guide, we'll take you on a journey through the art of hosting a cookout that combines the sizzle of BBQ with the laid-back vibes of summer. So, let's roll up our sleeves, fire up the grill, and embrace the summer vibes as we dive into the world of hosting the ultimate Labor Day cookout!
Planning Your Labor Day Cookout
Create a Checklist for Preparations
Setting a Date and Time:
Choose a date that works for you and your guests. Labor Day falls on the first Monday in September, but you can also celebrate on the weekend leading up to it.

Decide on a starting and ending time for your cookout so guests know when to arrive and when the festivities will conclude.
 Guest List and Invitations:
Create a guest list based on the size of your outdoor space and your budget.

Send invites early with all necessary event details included. Choose digital, paper, or text invites with RSVP information.
Menu Planning and Dietary Considerations:
Consider guests' dietary needs when planning the menu.

Create a diverse menu with appetizers, mains (meat, veg, and vegan), sides, salads, and desserts.

Don't forget to plan for drinks, including non-alcoholic and alcoholic options.
Gathering Supplies and Decorations:
Make a list of all the supplies you'll need, including grilling equipment, utensils, plates, cups, and serving platters.

Consider a theme or color scheme for your decorations. Patriotic red, white, and blue often work well for Labor Day, but you can get creative with your decor to match the summer vibes.

Order or purchase your supplies well ahead of time. 
Perfecting the Menu
Offer a Variety of Barbecue Recipes
For a Labor Day cookout, cater to different preferences by offering grilled alternatives like portobello mushrooms, veggie skewers, or marinated tofu for non-meat eaters, but also include classic barbecue options for meat lovers.
Sides, Salads, and Desserts that Complement BBQ
Sides:

 Consider classics like coleslaw, potato salad, and baked beans. These sides offer a comforting contrast to the smoky flavors of the grill.

Salads:

 Opt for fresh, vibrant salads with seasonal ingredients. A crisp garden salad or a zesty pasta salad can provide a refreshing balance to the richness of BBQ.

Desserts:

 Enjoy the sweet tooth with desserts like fruit skewers, ice cream sundaes, or a delightful berry cobbler. They're perfect for rounding off a hearty BBQ meal.
Tips for Accommodating Dietary Restrictions
Ask in Advance:

 When sending out invitations, inquire about dietary restrictions or allergies. This way, you can plan your menu accordingly.

Label Your Dishes:

 Clearly label dishes to indicate whether they are vegetarian, vegan, gluten-free, or contain common allergens like nuts.

Prepare Separately:

 If possible, prepare dishes separately to avoid cross-contamination. Use separate utensils and grilling areas for different types of food.

Offer Options:

 Ensure there are substantial options for guests with dietary restrictions. For example, if you have vegetarian guests, offer more than just a basic salad.
Setting the Stage
Outdoor Seating and Decoration Suggestions
Comfortable Seating: Provide comfortable seating options for guests, including picnic tables, folding chairs, outdoor cushions, and even a lounge area with bean bags or hammocks for a casual atmosphere. Get creative!
Shade and Shelter: Provide shade options like umbrellas, tents, or a canopy for guests to stay cool and comfortable during Labor Day cookouts in the sun.
Decorate with Flair: Add patriotic decorations for Labor Day with red, white, and blue color schemes. Hang string lights or lanterns for a cozy glow, and use summertime centerpieces like vases filled with fresh blooms or Mason jar candle holders.
Music Playlists to Set the Mood
Create a Diverse Playlist: Create a playlist with a mix of classic summer anthems, timeless hits, and personal favorites to set the mood for your Labor Day cookout.
Volume Control: Keep the music volume comfortable for guests to talk. It's the background ambiance, not the main event.
Live Music: Invite musically inclined friends or family to perform live for a unique and intimate touch to your gathering.
Games and Activities for Guests of All Ages
Backyard Games: Plan outdoor games like cornhole, horseshoes, frisbee, and water fun for kids with a kiddie pool or sprinkler.
DIY Craft Station: Add a creative twist to your party by setting up a DIY craft station for guests to make custom tie-dye shirts or decorate party hats.
Storytelling or Campfire: Lighting a campfire can enhance a cookout experience by providing a cozy atmosphere for guests to share stories and roast marshmallows for s'mores.
BBQ Tips and Techniques
Choosing the Right Grill
Charcoal vs. Gas: Charcoal or gas grill? Personal preference. Charcoal adds a smoky flavor, and gas has accurate temperature control. Keep it clean and working well.
Size Matters: Choose grill size based on guest count: big for crowds, small for intimate gatherings.
Preparing the Grill and Regulating the Temperature
Clean and Preheat: Clean grill grates before grilling to prevent sticking and off-flavors. Preheat the grill for 15-20 mins for even cooking.
Two-Zone Cooking: Use direct heat for searing and indirect heat for slow cooking on your grill to achieve different levels of doneness for various foods.
Marinating and Seasoning Meats
Marinating: Marinating meat tenderizes and adds flavor. Refrigerate for a few hours or overnight in airtight containers or ziplock bags.
Seasoning: Use varied seasonings to enhance meat flavor. Be generous, as some will stick to the grill.
Cooking Times and Techniques for Different Cuts of Meat
Steak: Sear steak on high heat, finish cooking on indirect heat, and use a meat thermometer for desired doneness.
Burgers: Grill burgers over medium-high heat for 4-5 minutes per side. Ensure they reach an internal temperature of 160°F (71°C).
Chicken: Grill chicken until internal temp is 165°F. Boneless cooks faster.
Ribs: For fall-off-the-bone ribs, use indirect heat and cook low and slow. Baste with barbecue sauce during the last 30 minutes of cooking.
Fish and Seafood: Use a fish basket or grill mat for delicate fish. Cook until the flesh flakes easily with a fork.
Vegetables: Remember the veggies! Brush them with olive oil, season, and grill until tender, turning occasionally.
Beverage Selection
Alcoholic Options:
Beer: Offer craft beers, lagers, and ales at your BBQ, and keep them cold in a cooler with ice.
Wine: Pair white wine or rosé with grilled meats and salads. Lighter reds like Pinot Noir work well too.
Spirits and Cocktails: Set up a DIY cocktail station for guests with spirits, mixers, and garnishes. Popular options include margaritas, mojitos, and sangria. Encourage guests to create cocktails or try a signature Labor Day drink.
Non-Alcoholic Options:
Iced Tea: Brew a big batch of iced tea and offer a selection of flavored syrups, lemon wedges, and fresh mint leaves for guests to customize their drinks.
Lemonade: A classic summer thirst quencher. You can provide a variety of lemonade flavors, including regular, pink, and even lavender-infused.
Soda and Sparkling Water: Stock up on various soda flavors, including cola, lemon-lime, and ginger ale. Sparkling water with a splash of fruit juice is another fantastic non-alcoholic option.
Signature Cocktails and Mocktails:
Mango-Pineapple Punch: Blend together mango, pineapple juice, and a hint of coconut cream for a tropical punch. Add rum for the alcoholic version and omit it for a refreshing mocktail.
Cucumber Mint Cooler: Muddle cucumber slices and fresh mint leaves, then mix with soda water and a touch of honey or agave syrup. This can be served as both a cocktail and mocktail.
Watermelon Mojito: Puree chunks and mix with lime juice, mint leaves, and soda water. Add rum for those who prefer a kick or keep it alcohol-free.
Water and Hydration Considerations:
Hydration Station: Set up a hydration station with large dispensers filled with ice-cold water. Provide plenty of cups and encourage guests to stay hydrated, especially on hot days.
Infused Water: Make infused water with lemon, cucumber, strawberry, and basil.
Coconut Water: Offer coconut water as a natural electrolyte-rich beverage to help guests stay refreshed.
Serving with Disposable Party Supplies
Convenience and Easy Cleanup
When you think of hosting a gathering, the last thing you want is to be stuck in the kitchen washing dishes while your guests are having a blast outdoors. Disposable party supplies offer a convenient solution. Here's why they're a game-changer for your Labor Day cookout:
Effortless Cleanup:

 Instead of scrubbing plates and utensils after the festivities, you can simply gather the disposable items and toss them into the trash. This means more time enjoying the celebration and less time spent on post-party chores.

No Risk of Breakage:

 With disposable plates, glasses, and flatware, you eliminate the risk of broken dishes or glasses, making your outdoor gathering safer for everyone, especially if kids are around.
Necessary Disposable Tableware
Plastic Flatware: Choose plastic forks, knives, and sturdy spoons to handle your cookout fare. They're lightweight, easy to use, and come in various colors to match your party theme.
Disposable Glasses: For refreshing beverages, opt for disposable plastic glasses. They're shatterproof and come in different sizes, from small cups for cocktails to larger ones for soft drinks.
Patriotic Plastic Plates: Since Labor Day often carries patriotic themes, patriotic plastic plates in red, white, and blue are an excellent choice. They enhance the holiday spirit and reduce waste by being recyclable.
Disposable Plastic Serving Ware: Don't forget serving utensils and platters. Disposable plastic serving ware, such as trays, tongs, and ladles, make it easy to present your BBQ masterpieces with style.
Smarty Had A Party Online Store - Your One-Stop Shop
Check out the Smarty Had A Party online store to make your Labor Day cookout a breeze. Smarty offers a wide range of high-quality disposable party supplies that are perfect for any occasion, including your cookout. Here's why Smarty Had A Party is a great choice:
Variety:

 Smarty Had A Party provides a vast selection of disposable items, including plates, glasses, flatware, and servingware, allowing you to mix and match to create the perfect table setting.

Quality:

 You can trust that the products from Smarty Had A Party are durable and reliable, so your guests can enjoy their meals without any concerns.

Convenience:

 With an easy online ordering process, you can quickly stock up on all the disposable party supplies you need for your Labor Day cookout.
So, fire up that grill, set the stage, and serve with style because your Labor Day cookout is bound to be the stuff of legend, a gathering that will be remembered for years. Here's to a sizzling BBQ and the best of summer vibes! Happy Labor Day!