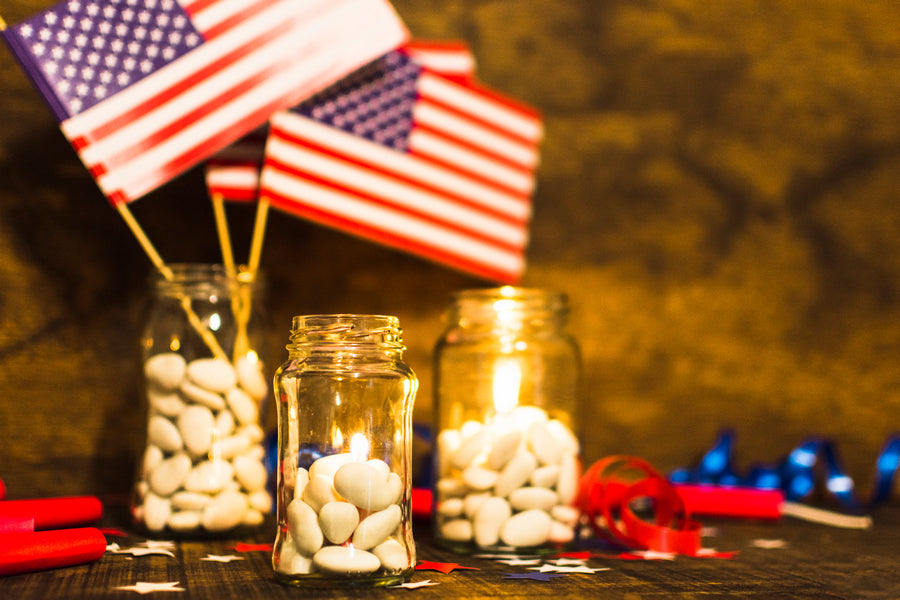 Labor Day Decor: DIY Centerpieces to Wow Your Guests
As summer bids its final farewell, we welcome the arrival of Labor Day, a time to honor the hardworking spirit of America and celebrate the long weekend with friends and family. It's the perfect occasion to fire up the grill, relish some delicious BBQ, and enjoy the last rays of sunshine. But what sets an exceptional Labor Day gathering apart from the rest? The atmosphere and ambiance make your guests feel truly welcomed and appreciated.
DIY Centerpiece Idea for Labor Day Festivities
In this blog post, we're here to help you transform your Labor Day gathering into a visually stunning and unforgettable event with the magic of DIY centerpieces. Whether you're hosting an outdoor barbecue, a cozy indoor get-together, or a picnic in the park, these creative centerpieces will leave your guests in awe. So, roll up your sleeves, tap into your inner DIY enthusiast, and embark on a journey to create Labor Day decor that will leave your guests saying, "Wow!" Let's make this Labor Day celebration one to remember.
Mason Jar Centerpiece
Labor Day celebrations are all about creating a warm and inviting atmosphere, and one of the best ways to achieve this is with the timeless charm of mason jar centerpieces. These versatile glass jars can be the perfect canvas for your creative Labor Day decor ideas. 
Materials You'll Need:
Mason Jars:

 Select mason jars in various sizes to add visual interest to your centerpiece. You can find them at your local craft store or even repurpose old ones.

White Stones:

 These will serve as a base for your mason jar centerpiece, providing stability and a touch of elegance.

Candles:

 Opt for candles that suit your style – classic white, patriotic red and blue, or even scented candles for an extra layer of ambiance.

Mini American Flags:

 To infuse your centerpiece with a patriotic spirit and remind everyone of the occasion's significance.
Step-by-Step Instructions:
Prepare Your Mason Jars:

 Ensure your mason jars are clean and dry. You can leave them clear or personalize them with paint, ribbons, or decorative stickers that match your Labor Day theme.

Layer the White Stones:

 Start by placing a layer of white stones at the bottom of each mason jar. This adds a decorative touch and helps anchor the candles securely.

Position the Candles:

 Gently place your chosen candles into the mason jars, ensuring they are centered and upright. You can use one large candle or multiple smaller ones, depending on your preference and the size of the jars.

Add Mini American Flags:

 Carefully insert mini American flags into the stones around the candles. You can vary the number of flags in each jar to create an aesthetically pleasing balance.

Light Up Your Centerpieces:

 Once your mason jar centerpieces are arranged on your table, light the candles before your guests arrive to create a captivating, flickering glow.
Tips for Customization:
Paint and Decorate:

 Get creative with your mason jars by painting them in patriotic colors or adding decorative elements like stars, stripes, or even stenciled messages.

Ribbon Accents:

 Wrap festive ribbons or twine around the necks of the jars for an extra pop of color and texture.

Seasonal Fillers:

 In addition to white stones, you can use seasonal fillers like sand, seashells, or colored glass beads to tailor your centerpieces to the time of year.

Mix and Match:

 Experiment with different-sized mason jars and candles to create a dynamic and visually appealing arrangement.
Candlelit Elegance
Highlighting Romantic Ambiance
Candles can set the mood uniquely, instantly transforming any space into a haven of romance and intimacy. Whether you're hosting an outdoor barbecue or an indoor dinner party, the soft, flickering light of candles adds an enchanting touch to your Labor Day decor.
Choosing the Right Candles:
Classic White Candles:

 These timeless candles symbolize purity and peace, making them ideal for celebrating unity and togetherness on Labor Day.

Patriotic Colors:

 Red, white, and blue candles can infuse your decor with a patriotic flair, emphasizing the holiday's significance.

Scented Candles:

 To engage multiple senses, opt for aromatic candles that evoke the essence of summer, like citrus, lavender, or ocean breeze.
Candle Safety and Placement:
Keep an Eye on Open Flames:

 Never leave candles unattended. Assign someone to be responsible for ensuring the candles are extinguished when they're no longer needed.

Choose Stable Candleholders:

 To prevent accidents, place your candles in stable, non-flammable holders, such as glass jars or metal containers.

Mind the Breeze:

 Be cautious of wind if you're celebrating outdoors. Place candles in wind-protected areas or use hurricane lanterns to shield the flames.
Alternative Candleholders:
Hurricane Lanterns:

 These elegant glass lanterns protect candles from the wind while creating a stunning visual effect.

Candelabras:

 For a touch of sophistication, consider candelabras with multiple candleholders.

Floating Candles:

 Floating candles in a vase filled with water can create a captivating, ethereal display.

Tea Light Holders:

 Small, decorative tea light holders can be scattered among your mason jar centerpieces for added charm.
Mini American Flags
Symbolism of Mini American Flags
Mini American flags represent more than just stars and stripes; they symbolize the ideals of freedom, unity, and patriotism. Incorporating these flags into your Labor Day decor is a meaningful way to honor the hardworking spirit of America and show your appreciation for the nation's history and values.
Creative Ideas for Incorporating Flags:
Flag Centerpiece Toppers:

 Attach mini American flags to the tops of your mason jar centerpieces, letting them proudly wave above your candles and white stones.

Flag Garland:

 Create a charming flag garland by stringing mini flags together and draping them across your table or a nearby wall.

Flag Bouquets:

 Bundle several mini American flags together to form elegant bouquets that can be placed in vases as standalone centerpieces.

Flag Place Cards:

 Use mini flags as place card holders for your guests, combining functionality with patriotism.
Making Your Own Mini American Flags
If you're feeling crafty and want a personal touch to your Labor Day decor, consider making mini American flags using craft materials such as fabric, felt, or paper. Plenty of DIY tutorials are available online to guide you through the process.
Proper Etiquette for Displaying American Flags:
Respect the Flag:

 Treat the flag with utmost respect. Never let it touch the ground, and avoid using it in any way that could be considered disrespectful.

Position Correctly:

 When displaying the flag on a table or in a centerpiece, ensure it is placed prominently and upright.

Lighting:

 If your celebration continues into the evening, consider illuminating the flag correctly, as it should not be displayed in darkness.

Storage:

 When not in use, store your mini American flags in a clean and dry place without damage or contamination.
Setting the Table
As we delve deeper into crafting Labor Day decor that will "wow" your guests, it's time to shift our focus from the centerpieces to the heart of your celebration – the table. A well-set table is visually appealing and vital in creating a comfortable and enjoyable atmosphere for your Labor Day gathering. 
The Importance of a Well-Set Table
Setting the table is more than just a practicality; it's an art that enhances the dining experience and sets the tone for your celebration. A beautifully arranged table communicates your thoughtfulness and attention to detail, making your guests feel truly valued.
Convenience with Disposable Tableware
For Labor Day gatherings, convenience can be a game-changer. Opting for plastic plates, disposable drinkware, and plastic flatware sets can simplify cleanup while allowing you to focus on enjoying the festivities. Here's why they're a great choice:
Time-Saving:

 Disposable tableware eliminates the need for washing dishes, allowing you to spend more time with your guests.

Reduced Breakage:

 With minimal risk of breakage, you can relax and enjoy your gathering without worrying about accidents.

Variety and Color:

 Disposable tableware comes in a wide range of colors and patterns, making it easy to match your Labor Day theme.
Arranging Place Settings with Flair
Layered Look:

 Create depth and interest by layering your tableware. Start with a charger or placemat, followed by a dinner plate salad plate, and top it off with a decorative napkin.

Centerpiece Coordination:

 Ensure your centerpiece complements the tableware in color and style, creating a cohesive and visually appealing look.

Flatware Placement:

 Place flatware on either side of the plates, with forks on the left and knives and spoons on the right. Consider adding a dessert fork or spoon above the dinner plate if needed.

Glassware Arrangement:

 Arrange glassware from smallest to most significant, starting with water glasses, followed by wine glasses if you're serving wine.

Name Cards:

 For a personal touch, create name cards for each guest and place them at their designated seats.
Happy Labor Day, and may your celebration be filled with joy, laughter, and the spirit of gratitude for the hardworking men and women who have shaped our nation. Cheers to a day to remember!