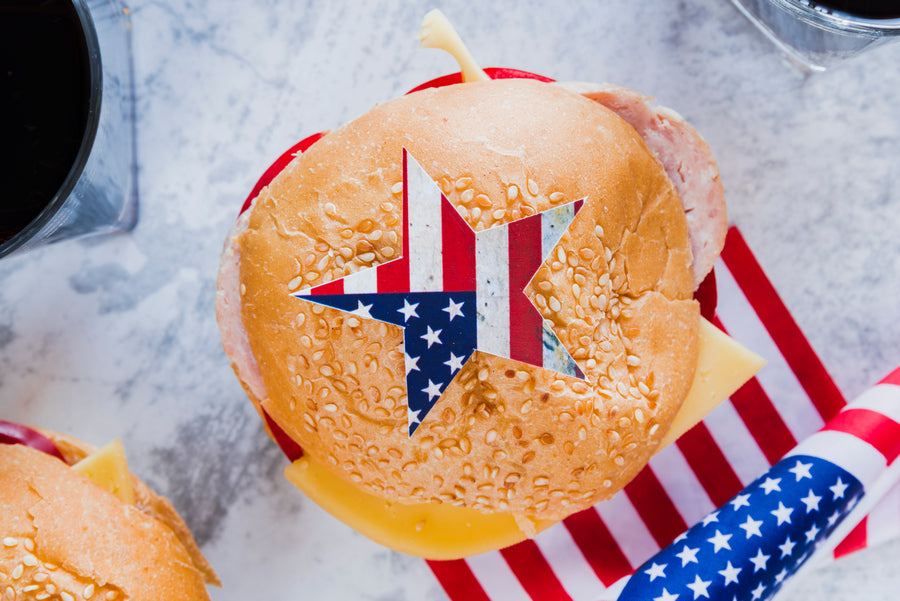 Patriot Plates: Flavorful Labor Day Food Ideas for a Patriotic Feast
As summer wanes and Labor Day approaches, join us in celebrating American dedication with a patriotic feast. Explore our blog, 'Patriot Plates: Delicious Labor Day Food Ideas,' for a flavorful journey blending tradition and taste. Get ready to savor the spirit of Labor Day!
The All-American Classics
1. Pizza Perfection
Tips for Making Homemade Patriotic-Themed Pizzas
Labor Day is perfect for gathering friends and family for an outdoor pizza party. Get creative with your pizza toppings by incorporating the colors of the American flag. Here are some tips to achieve pizza perfection:
Red, White, and Blue

: Use classic tomato sauce for red, mozzarella cheese for white, and blue potatoes or blue cheese for blue.

Star-Spangled Shapes

: Cut your toppings into star shapes for a patriotic touch.

Grilled Goodness

: Consider grilling your pizza for that smoky summer flavor.
Popular Pizza Toppings for the Occasion
Whether you prefer the classics or enjoy experimenting with unique flavors, Labor Day pizzas can be as diverse as the nation. Some popular patriotic pizza toppings include crispy bacon, juicy grilled chicken, fresh basil, and vibrant bell peppers.
2. Burger Bliss
Creative Ways to Customize Burgers with Patriotic Ingredients
Burgers are a quintessential part of any American celebration, and Labor Day is no exception. Elevate your burger game with these creative ideas:
Red, White, and Blue Slaw

: Top your burgers with a refreshing coleslaw featuring red cabbage, jicama, and blueberries.

Star-Spangled Sauces

: Experiment with patriotic sauces like tangy barbecue, creamy blue cheese, and zesty ketchup.

Cheese Choices

: Opt for red and white cheeses like cheddar and Swiss to stay on theme.
The Importance of the Perfect Patty
A burger is only as good as its patty. Share tips on forming and seasoning burger patties for that mouthwatering juiciness. From beef to turkey to plant-based options, there's a patty for everyone at your Labor Day cookout.
3. Hot Dog Heaven
Unique Hot Dog Toppings and Condiments for a Patriotic Twist
Hot dogs, a beloved classic, can be elevated with creative toppings and condiments. Give your guests a taste of Hot Dog Heaven with these ideas:
Spicy Freedom Relish

: Make a zesty relish with diced jalapeños, red onions, and honey for a spicy kick.

Pickle Parade

: Offer an array of pickles, from bread and butter to dill, for guests to customize their hot dogs.

Must-Have Mustards

: Curate a selection of gourmet mustards, including honey mustard and classic yellow.
Serving Suggestions for Hot Dogs
Hot dogs are versatile and can be served in various ways. Consider setting up a hot dog bar with different buns, sausages, and condiments. Or wrap them in bacon for a smoky twist that'll have your guests craving more. Don't forget to provide patriotic napkins and plates for a truly festive experience.
4. Corn on the Cob Delight
Grilled Corn on the Cob Recipes and Seasonings
Corn on the cob is a must-have at any summer celebration, and Labor Day is the perfect time to enjoy this classic side dish. Here's how to take your corn on the cob to the next level:
Grilled Goodness

: Grill corn for a smoky flavor, and brush it with a savory herb and garlic butter.

Seasonings Galore

: Offer a variety of seasonings like chili powder, parmesan cheese, and paprika for guests to sprinkle on their corn.
How to Serve Corn in a Patriotic Manner?
Transform corn on the cob into a patriotic delight using colored butter garnishing with fresh herbs and red and blue spices. Serve on patriotic-themed plates to complete the picture of American pride.
5. Fried Chicken Frenzy
Recipes for Crispy, Flavorful Fried Chicken
Fried chicken is a Southern staple that deserves a spot on your Labor Day menu. Share recipes for achieving the perfect crunch and flavor balance, whether making it from scratch or ordering from your favorite local spot.
Pairing Options and Sides for Fried Chicken
Fried chicken pairs wonderfully with a variety of sides and beverages. Suggest classic options like coleslaw, biscuits, and macaroni and cheese, or introduce a fresh twist with watermelon slices and a cucumber salad. Remember to recommend a refreshing beverage, like iced tea or lemonade, to wash it all down.
Patriot Plates: Serving with Style
As you prepare to host a patriotic Labor Day feast, it's not just about the food—it's also about the presentation. Elevate your dining experience and simplify cleanup with these stylish and convenient serving options.
Patriotic Disposable Dinnerware
The Convenience of Disposable Dinnerware for Large Gatherings
Planning a Labor Day gathering for a crowd? Disposable dinnerware is your best friend. It streamlines serving and eliminates the need for numerous trips to the sink or dishwasher, allowing you to enjoy the festivities without cleaning up.
Where to Find Themed Disposable Dinnerware?
If you're wondering where to find themed disposable dinnerware, consider checking out Smarty Had A Party, an online store known for its wide selection of stylish and theme-appropriate disposable tableware. You'll discover a treasure trove of options to suit your patriotic vision, from elegant to whimsical.
Patriotic Plastic Plates
Stylish Patriotic Plastic Plate Designs
When hosting a patriotic gathering, the proper plates can make all the difference. Patriotism meets practicality with stylish patriotic plastic plates. Look for designs that feature stars and stripes, fireworks, or a red, white, and blue color scheme. These plates are visually appealing and functional, ensuring your meal is as Instagram-worthy as delicious.
Durability and Eco-Friendliness
You might be wondering, are plastic plates eco-friendly? Many patriotic plastic plates are made from recyclable materials, balancing durability and environmental consciousness. After your celebration, properly recycle them to reduce your carbon footprint.
Palm Leaf Serving Ware
The Uniqueness and Sustainability of Palm Leaf Serving Ware
Consider palm leaf serving ware if you're looking for an eco-friendly and unique way to serve your Labor Day feast. Crafted from fallen palm leaves, these disposable trays and bowls are sustainable and visually striking. 
Tips for Pairing This Option with Your Labor Day Feast
Palm leaf serving ware pairs beautifully with the flavors and aesthetics of your Labor Day menu. Imagine serving grilled corn on the cob or presenting fried chicken on these rustic and elegant trays. The combination of sustainability and style will impress your guests.
Mini Plastic Bowls
The Versatility of Mini Plastic Bowls
Mini plastic bowls may seem unassuming, but they are incredibly versatile when serving a variety of Labor Day treats. From holding sauces and dips to cradling toppings for hot dogs and burgers, these little bowls pack a big punch for convenience and presentation.
Uses for Serving Sauces, Dips, or Toppings
Mini-plastic bowls come in various shapes and sizes, making them ideal for offering a variety of condiments. Whether it's ketchup and mustard for your burgers, a zesty aioli for your fries, or a creamy ranch dip for your veggie platter, these bowls are both practical and stylish.
Setting the Patriotic Scene
As you prepare to indulge in the mouthwatering All-American Classics and serve your delicious Labor Day feast on Patriot Plates, don't forget to set the stage for a patriotic celebration. 
Tips for Creating a Patriotic Ambiance for Your Labor Day Celebration
Red, White, and Blue

: Incorporate the colors of the American flag throughout your party area. Consider red and blue tablecloths, white chairs, or even patriotic bunting to adorn your outdoor space.

Lighting Magic

: Use string lights with red, white, and blue bulbs to create a warm and inviting atmosphere as the sun sets. You can also place candles in mason jars with colored sand or glass beads for a charming and patriotic glow.

Thematic Music

: Set the mood with a playlist of patriotic tunes. Classic American songs and anthems can add a sense of tradition and pride to your celebration.

Flag Display

: Remember to proudly display the American flag. Hang it on a flagpole, drape it over a porch railing, or use more miniature flags as centerpieces or table decorations.

Involve the Kids

: If you have little ones at your gathering, consider organizing a craft station where they can create patriotic decorations, like paper lanterns or handprint flags.
Ideas for Patriotic Table Decor and Centerpieces
Mason Jar Centerpieces

: Fill mason jars with red, white, and blue flowers such as roses, daisies, or hydrangeas. These rustic centerpieces add a touch of charm and elegance to your table.

Patriotic Place Settings

: Coordinate your tableware with the patriotic theme. Arrange red, white, and blue napkins, utensils, and plates for a cohesive look. Consider using mini American flags as place cards.

Fruit and Floral Arrangements

: Create edible centerpieces by arranging strawberries, blueberries, and white marshmallows on skewers. These fruity creations look stunning and serve as a sweet treat.

Patriotic Table Runners

: Layout table runners with patriotic patterns or prints. These can be purchased or crafted from red, white, and blue fabric, adding color and style to your table.

Mason Jar Candle Holders

: Repurpose mason jars as candle holders. Fill them with sand or colored stones and place a white candle inside. These DIY candle holders are both charming and practical.

Chalkboard Signs

: Use small chalkboard signs to label dishes or write patriotic quotes and messages. This adds a personal touch and informs your guests about the delicious offerings.

Fireworks-Inspired Decor

: Decorate your table with fireworks-themed items such as sparkler bundles, firecracker decorations, or even sparkler-inspired centerpieces for a touch of whimsy.
From all of us here, we wish you a Happy Labor Day, filled with good food, great company, and a heartfelt salute to the land of the free and the home of the brave. Here's to Patriot Plates, and here's to the red, white, and blue!