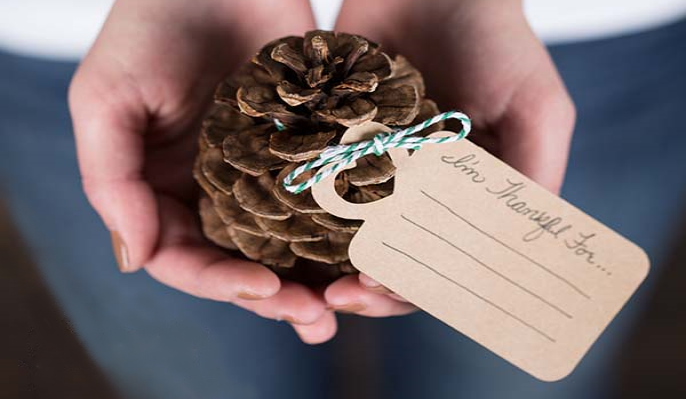 Thanksgiving DIY Delight: 'I'm Thankful for' Craft Projects
As the leaves turn golden and the air carries the unmistakable chill of autumn, our hearts naturally turn toward gratitude. Thanksgiving, a time-honored celebration of appreciation and togetherness, provides the perfect backdrop for expressing thanks. Let's infuse our festivities with a personal touch this year through delightful do-it-yourself projects.
Crafting Gratitude: DIY 'I'm Thankful for' Thanksgiving Project Ideas
Welcome to our blog post, where we embark on a journey of creativity and gratitude. In this guide, we'll explore unique and heartfelt crafts that beautify your Thanksgiving table and create moments of connection and reflection among your loved ones.
Let the warmth of creativity and the spirit of thankfulness fill your home this holiday season. Whether you're a seasoned crafter or a novice, our DIY projects are designed to inspire and bring a sense of joy to your Thanksgiving celebration. So, gather your crafting supplies and get ready for a Thanksgiving that's not only delicious but also filled with heartfelt expressions of gratitude.
Crafting Gratitude: DIY 'I'm Thankful for' Thanksgiving Project Ideas
Thanksgiving is not just about savoring a delectable feast; it's a time to pause and reflect on the blessings that enrich our lives. What better way to manifest that gratitude than through the art of crafting? 
Exploring the Concept of Expressing Gratitude Through Crafts
Crafting has a unique way of transcending spoken words. It transforms sentiments into tangible expressions of love and appreciation. When it comes to Thanksgiving, creating something with our hands becomes a powerful means to convey the depth of our gratitude. 
The Personal Touch of 'I'm Thankful for' Projects
The beauty of 'I'm Thankful for' projects lies in their personal touch. Unlike store-bought decorations, these crafts carry the individual sentiments of those who create them. Whether you're crafting alone in quiet reflection or engaging in a group activity with loved ones, the personal touch sets these projects apart. Each stroke of the pen, every carefully chosen element, and the thought behind the creation make these expressions of gratitude truly unique.
Pine Cone 'I'm Thankful for' Place Cards
The Idea of Using Pine Cones as a Decorative Element
This Thanksgiving, let nature play a role in your table decor with a charming touch – pine cones. These humble yet elegant natural elements can be transformed into a meaningful part of your celebration. Imagine each place setting adorned with a rustic pine cone for aesthetic appeal and as a thoughtful vessel for expressions of gratitude.
Step-by-Step Guide on Attaching Cards with the Text 'I'm Thankful for':
Gathering Your Supplies:

 Collecting pine cones, ensuring they are clean and dry. You'll also need small cards or pieces of paper, twine or ribbon, and a pen for writing.

Preparing the Cards:

 Cut the cards into small rectangles, providing ample space for your guests to express their gratitude. Consider using autumnal colors or themed designs for an added festive touch.

Writing Your Thanks:

 Encourage your guests to write down their thoughts of gratitude on the cards. The personal touch of handwritten notes adds a heartfelt dimension to the project.

Attaching Cards to Pine Cones:

 Carefully tie each card to the pine cone using twine or ribbon. Secure it between the cone's scales or create a loop around the base for stability.
How to Display the Pine Cones on Each Plate:
Consider placing the pine cones on the dinner plates or delicately positioning them on folded napkins. Another option is to create a designated 'Gratitude Centerpiece' using a small basket or tray filled with pine cones, allowing guests to choose their own and place them beside their plates.
Encouraging Guests to Write What They're Thankful For on the Cards:
The true beauty of this project lies in the sentiments shared. Encourage your guests to take a moment before or during the meal to reflect on what they are thankful for and express it on the cards. It's a simple yet profound way to foster a sense of gratitude and connection during your Thanksgiving gathering.
Disposable Elegance from Smarty Had A Party
Smarty Had A Party's Elegant Disposable Tableware
As we infuse gratitude into every aspect of our Thanksgiving celebration, let's explore a seamless blend of style and convenience with the fantastic Smarty Had A Party online store. Hosting a memorable gathering has never been this elegant and effortless.
Various Range of Options
Incorporating the 'Give Thanks' Theme by Writing It on Each Plate
Take your Thanksgiving table to the next level by incorporating the 'give thanks' theme onto each plate. Add this heartfelt message with food-safe markers, nuts, or elegant decals. This simple yet impactful touch serves as a reminder of the essence of the holiday, bringing a unifying theme to your dining experience.
The Convenience and Style of Disposable Tableware for Thanksgiving Gatherings
Gone are the days when disposable tableware meant compromising on style. Smarty Had A Party proves that elegance can coexist with convenience. The beauty of disposable tableware lies not just in its glamorous aesthetics but in its stress-free hosting experience. Spend less time on cleanup and more time connecting with loved ones this Thanksgiving.
Frequently Asked Questions (FAQ)
1. What type of cards work best for attaching to pine cones?
Opt for sturdy yet small cards or pieces of paper for attaching cards to pine cones. Consider using cardstock or textured paper for durability. Ensure the cards are large enough for guests to express their gratitude but not so big that they overwhelm the natural beauty of the pine cone.
2. How can I make the 'I'm Thankful for' cards visually appealing?
Enhance the visual appeal of your 'I'm Thankful for' cards by incorporating autumnal colors, themed designs, or festive patterns. Experiment with calligraphy or decorative fonts for the 'I'm Thankful for' text. Small illustrations or embellishments related to Thanksgiving can make the cards more visually appealing.
3. Where can I purchase fancy disposable tableware?
High-quality yet elegant disposable party tableware is conveniently available on smartyhadaparty.com. Explore Smarty's extensive collection of plasticware, eco-friendly dinnerware, and disposable party supplies to find the perfect pieces for your Thanksgiving celebration.
4. How can I involve children in crafting 'I'm Thankful for' projects?
Engage children by providing age-appropriate crafting materials and encouraging them to draw or write what they are thankful for. This adds a heartwarming touch to your table.
May your Thanksgiving be a delightful tapestry of crafts, gratitude, and the simple joys of being together. From our crafting table to yours, we wish you a Thanksgiving to remember, filled with love, laughter, and a deep sense of appreciation for all that surrounds you. Happy Thanksgiving!