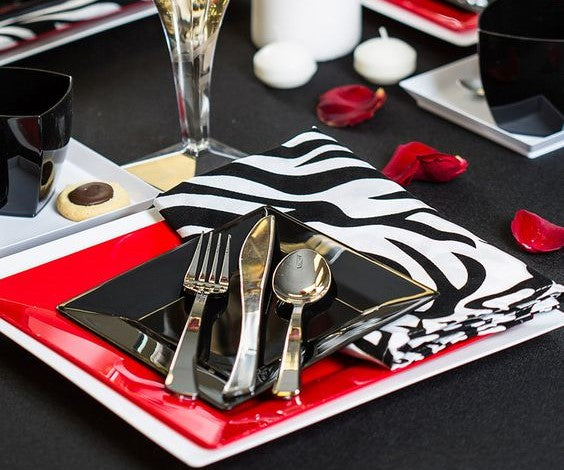 Set Up an Elegant, Easy, and Cost-Effective Valentine's Day Table
Valentine's day is one of the most romantic and critical moments of someone's life, and everybody tends to spend the day to its utmost but according to his budget. 
Elegant party supplies elevate your table decor, but what about the budget? No doubt, premium party supplies are always costly, but not anymore.
If you are planning to decorate your table on such an important day in an elegant, easy, and cost-effective manner, then lucky are you, as we have come up with a detailed guide. 
Short but Complete Menu
Too many items on the menu mean too many dollars to spend on different ingredients. Preparing too many dishes, two to three desserts, and different kinds of the main course will make it quite expensive. 
It's not necessary or mandatory to have different types of food and dishes on the table. You don't need to have two to three desserts. 
Similarly, the same goes for the other items such as the main course, appetizers, and drinks. 
By cutting the menu items in the menu list, you can set up a perfect table for your guests that would have everything to offer. 
Elegant Flowers Bouquet 
Flowers provide a sophisticated look no matter where you place them, and when it comes to table decor, they can play a vital role in enhancing its elegance and profile. 
Buying flowers can be expensive - that's why we recommend utilizing your garden (if you have one). Collect some flowers from your garden or nearby park, if your state allows you.
Prepare them in such a way to form an elegant bouquet, and then it's ready to enhance the profile of your table. 
Create Ambiance 
Your table ambiance can bring impactful change to your guest's mood and environment. Warm lights, scented candles, and beautiful flowers on the table will set your and your significant other's mood.
If you have ever noticed, most fancy restaurants use warm lights to catch more customers, as it makes you feel hungry. You can play with the light to be creative with your table's decor.
Our expert designers suggest using warm lights as they directly impact your brain and eventually make you feel good. 
You don't need to buy expensive party supplies, but being creative with the decor and arrangements can help you set up a perfect and elegant table for a valentine's day date. 
Use Disposable Servingware
Whether you are planning a lunch party or arranging a lovely family dinner or it's about a dinner with someone special, you will need fancy and elegant serving ware that should transform your profile with its presence. 
When it's about to set up an elegant table for valentine's day, then it's a must to have a premium-looking dinnerware set, drinkware collection, and flatware.
Buying a premium ceramic dinnerware set or fancy china might upset your budget. We recommend disposable valentine's day plates that are affordable to any budget.
Valentine's Day Party Plates are made of plastic that comes at a fraction of the cost. Plus, they are disposable, so no more after-party mess. 
Bring china-like plates for Valentine's Day to your table and elevate your table's decor without spending a hefty amount.