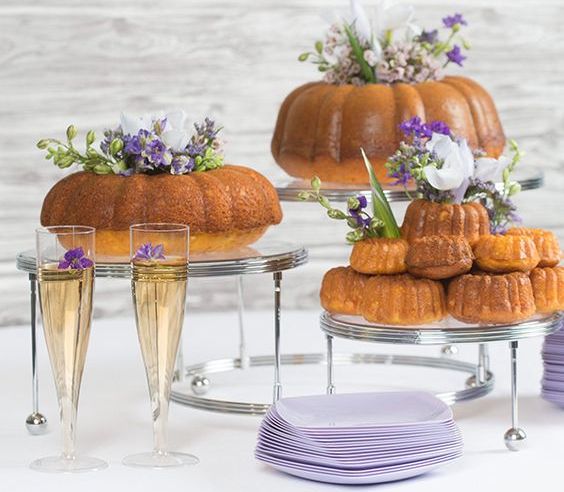 Modern Wedding Dessert Trends for 2022
From the moment it starts to the bride and groom's sweet kiss, everything about a wedding is magical. To complete the sweetness of a wedding, you need delicious desserts. They are not just an item on the menu served after the main course, but they are a means of adding more value to your wedding event. When the guests have a sweet touch of dessert in their mouth, they feel fulfilled and content.
Just like any other trend, the trend of serving wedding desserts is ever-changing. The change can either be in the making of the recipe or its serving. For instance, there is a growing love for artistic cakes that are the epitome of uniqueness. The reason for this is the effort put into making a plain fondant an art piece. Also, couples love getting creative when it comes to making and serving different items on their wedding tables. It's completely fine - they deserve to celebrate their wedding uniquely and elegantly.
Let us walk you through some of the growing trends for wedding cakes and desserts in 2022 that you might need to follow this year.
Wedding Cake Trends for 2022
We all love and appreciate when couples think out of the box about decorating their wedding cake. In 2022, what's been trending so far is separated tiers of the cake. The cake layers are placed separately, having a visible pillar separating the layers. Or another trend is where the three layers are placed in different serving plates, let alone supported by a pillar.
Plain white cakes with colorful sugar flowers are also something that couples are interested in. Moreover, mini cakes are also in trend. You can also serve personalized cookies instead of cake.
Ice Cream Cones and Carts
Ice cream is probably the most over-used item in a dessert menu, but it never gets boring. You can always serve ice cream, and people will not want more of it, but make sure to serve them creatively. Make a DIY ice cream cart, and it will be the talk of the town.
You can also make ice cream sandwiches along with some strawberries covered in chocolate. This combination of desserts is what we call a perfect dessert menu.
Trends for Serving
No matter how good of a dessert you have made, all your effort is useless if you don't know how to serve it properly. The recent trend in serving desserts is the use of elegant mini partyware. They are the need of the hour as they look super cute. The aesthetics of your dessert are worth the watch when you serve them in Smarty's disposable mini party supplies. 
Our wedding collection has been made to allure your wedding tables with the most elegant and modern plastic mini flatware and plates. Speaking of plates, serve your exceptionally decorated wedding cake in our fancy plastic dessert plates, and you will be in awe of its beauty. Not only that, mini party supplies are a trend, and more and more people have been following this to serve their desserts extraordinarily.