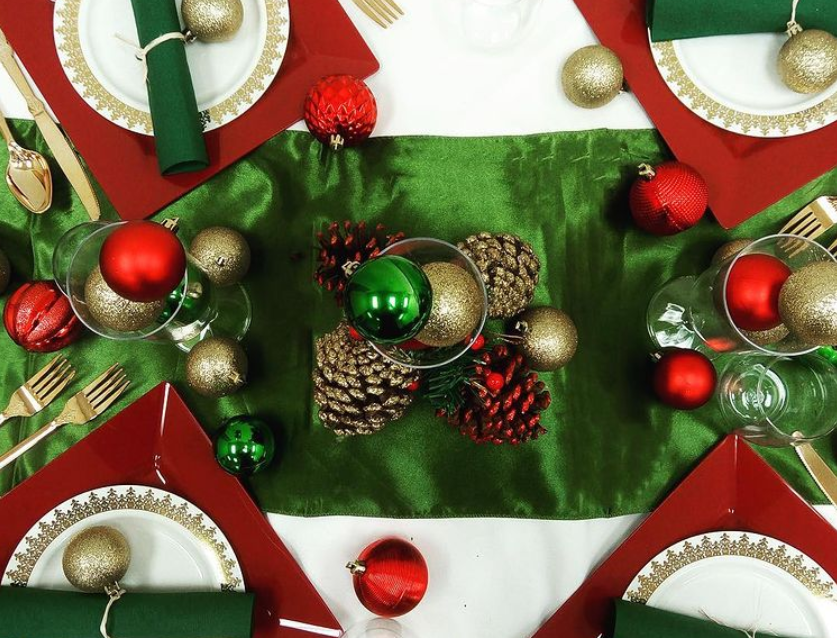 Color Pop Christmas Table Style
Here comes the most awaited event of the year - Christmas. And you are probably stressed about the preparations you will have to go through. From shopping for presents for your loved ones to wrapping them and then preparing a delicious meal for your friends and family might seem a daunting task of the year. 
But what about your party table, where your guests will be sitting to gaze at the meal you will be serving? Lucky you are because we have come up with the simplest ways of styling your Christmas table for a Christmas eve party.
Choose a Table Theme
No party and tables are complete without a theme, as it will give life to your table's decor and appearance. Therefore, choosing a perfect table theme is the first thing you need to consider.
However, you don't need to be extravagant about the table theme. You don't need to buy everything new - you can use the previous one to keep your budget in a safe zone. A simple table cloth with an attractive velvet runner will get the job done for you by providing your table with the focal point.
Moreover, don't forget to keep some elegant-looking & formal linen napkins to make everything communicate formally.
Bring Out the Best from What You Have
Christmas is the perfect time to showcase your spectacular cutlery sets, tableware, and dinnerware sets. So pull your best collection from your kitchen cabinet, and spread it all across your table to wow your guests at first glance.
Moreover, if your flatware collection is outdated or your instinct doesn't allow you to go with them for such a special event, look at these tremendous fancy plastic cutlery.
Smarty offers disposable Christmas party flatware with multiple benefits over the other flatware material. Bonus is; that you can get elegant-looking colorful flatware sets with various designs and styles at a fraction of the cost from the smarty's superstore. 
If you are a host who loves to mix up things at a table to create a dramatic effect, then colored plastic flatware has something for you that you must check out.
Choose Perfect Centerpieces 
Formal tables must include the perfect centerpiece matching the color scheme of your other table decor or your kitchen's settings. However, if you don't have enough time, a few antique vases with narrow bases will cater to the needs of providing your perfect centerpieces. 
Narrow bases of the vases with a few flowers on the top will allow you to be sociable with your guests sitting across the table. To add aesthetic touches to your table decor, light up many candles around the table.
Moreover, expert designers suggest keeping the table simple rather than over-decorating it with a bunch of decorative pieces, which will result in insufficient space for other things such as plates, cutlery, and glass.
Christmas Tree in White, Silver, or Gold as the Central Decoration of the Table
 If you want an elegant decoration, we suggest that you place the figures of Christmas trees in the center of the table in white, gold or silver. They look very modern. They will be an excellent addition to the table decor if you choose napkins with prints or a colored tablecloth. This solution does not overload the table with abundant shades, making it harmonious and gorgeous. 
Decorative Plate with Candles and Cones 
You can make this decoration element yourself, and it will become an excellent addition to the festive table. Place a few large candles in the center of the charger plate and place decorations around them - cones, beads, Christmas balls, and fir twigs. You can sprinkle cones and branches with fake snow to make the decoration even more impressive. And if you do not have a charger plate, you can place the composition on a board or cardboard painted in the desired color.
Composition of Sweets 
Make a composition of sweets that will become decor for the festive table. Choose New Year's candy wrapper colors or ones that match the color schemes of the rest of the decor. For example, you can hang lollipop sticks in beautiful jars and put a pine branch or fill the pot with tiny Christmas balls. You can also make a Christmas tree out of sweets - to do that, make a cardboard cone, stick sequins on it and attach the candies. 
Print as Part of the Decor 
Use checkered prints if you want to decorate your table and make it stand out for the New Year holidays. These can be accents on the tablecloth or napkins. Also, use plaid shades of red and green, which are often associated with the New Year and Christmas. The main thing is not to overdo it - choose a simple decor if there is a checkered tablecloth on the table.
Green "Path" on the Table 
The center of the rectangular table can be decorated with a wreath of greenery. It can be made of fir branches and complemented with candles, pearls, beads, or decor. Decorate the branches with LEDs hidden inside the wreath and add stars, balls, and snowflakes.
Compositions in Jars
You can make compositions in jars to tell your guests the whole New Year's story. For example, you can take a small model car and a few small trees and put them in a jar. Sprinkle everything with artificial snow to create a New Year's atmosphere. Add lamps inside to make the composition look even more fantastic and festive. Choose a model that does not require plugging in and whose power supply can be hidden under artificial snow.
Hoop as an Ornament
You will need a strong wire that can be shaped into the desired shape. Decorate the composition with fir or pine branches and balls and glue them or hang them on a hoop. Finish your new decor with pearls or snowflakes that also look spectacular.
Merry Christmas, Smarties!