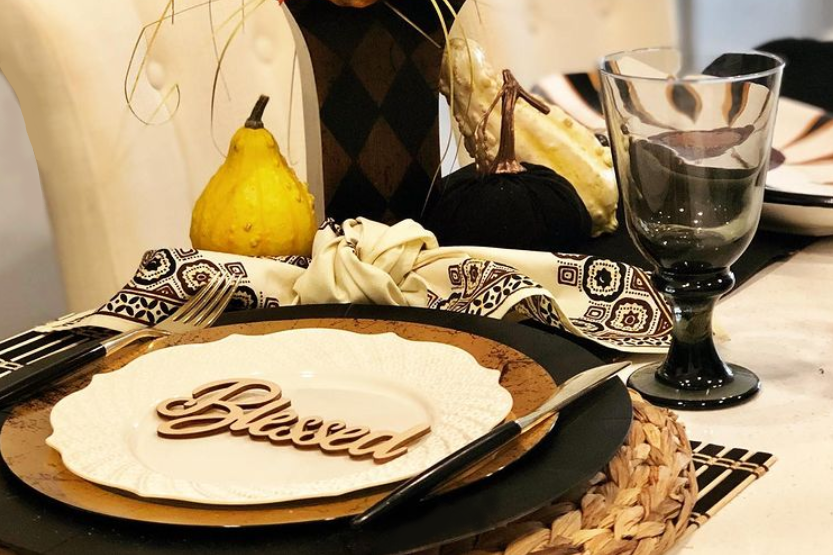 Pinteresting Table Decor Ideas for Thanksgiving
There is only one secret to creating a picture-perfect, which is bringing your inner creative genius out. And if you think you have no artistic skills, you are wrong. A little guidance will help you experiment with your creative skills and create something new.
Especially for an event like Thanksgiving, where your loved ones deserve to feel special, it is even more critical that you do something extra for them. With the correct type of dinnerware and some elegant centerpieces, you can master the skills of decorating a Pinteresting table.
DIY Customized Fancy Party Plates
You can do a lot with disposable plastic plates to decorate them. Just grab some spray paint cans and acrylic colors and get ready to create your own space of color and creativity. Speaking of a Thanksgiving party table, you can write beautiful messages with acrylic colors on the plates for your loved ones to read and feel special.
You can always paint them in whatever color you want, but if you don't want to get into that drill, we have a separate section called 'Shop By Color' where you can get the most beautiful plastic plates in all colors and designs. Our disposable china-like plates are intricately made to allure all your party tables.
Do-it-Yourself Garlands
DIY garlands are not a new trend in party decor, but they never get old. The reason is that they are super easy to make and look extra chic when hung on a wall.
Make a DIY confetti balloon garland and bring some glitter to your party decor. Confetti balloons are everyone's favorite, not like the boring ones we used to have on birthdays.
You can also make a tissue paper tassel garland that is budget-friendly and looks royally elegant. 
Vegetable and Fruit Basket
Try putting together vegetables and fruits in one rustic-looking basket to make the colors of the fruits and vegetables pop out better. Then, combine some big green leaves to balance this centerpiece's natural element.
Table Decor with Napkins
Napkins are not yet another piece of cloth on a party table. However, you can use them to decorate your party tables by folding them elegantly. There are endless napkin fold ideas and tutorials on our website that you can easily follow and adorn your party tables. They include lotus flower fold, bat napkin fold, envelope fold, and more.
They look perfectly well put when their colors are contrasted with the color of the tablecloth. So get our elegant disposable dinnerware in contrasting colors and wait for the magic to happen!
DIY Flower Vase
The aroma of freshly picked flowers filling up the room, delicately put in a glass jar or goblet, and elegantly placed on the dinner table along with some beautiful candles is all you need to set the mood for a Thanksgiving party table. Believe us, having flowers as centerpieces on Thanksgiving will be a sweet gesture to your family.
Home Decor
The beauty of autumn nature, bright colors, and the desired coolness after a hot summer can somehow help in the fight against autumn blouses. Therefore, decorating unusual autumn corners in their homes has not become in vain. Autumn home decor, which is very diverse, will help you bring something bright, warm, and natural into the interior.
Even as children, we all learned to make crafts from natural materials. However, at the time, it could hardly be considered art, although our parents praised our creations. Now the material for such crafts has not changed at all. Still, the technique of execution, product options, and ideas for decorating the house in the fall have become much more interesting, original, and beautiful. 
All the same natural materials known since childhood are used as materials for decorating the house: dry autumn leaves, dry ears of cereals, branches and dried flowers, acorns and their caps, cones and firs, plant seeds, autumn fruits, and berries, as well as all other autumn attributes.
An exciting autumn decor can be created without combining several elements. For example, glossy acorns poured into a tall glass look spectacular as a decorative component of a minimalist style. You can also decorate candlesticks with acorns without paying particular attention to detail because acorns in large quantities are themselves a bright accent in the interior. The basket on the table will look very original and even fantastic.
This autumn decor has a significant advantage: it doesn't take time to decorate. Instead, you just need to search and collect acorns and leaves, and for that, you only need to visit the oak or coniferous forest once. 
During any walk in the woods or park, you can immediately make a bouquet of autumn leaves, which will look beautiful at home on the dining table. When complex compositions are created and exciting options appear on how to decorate a table in autumn, you can look in the pantry and take various attractive pots, bottles, or counterfeit candlesticks and decorate them. For the fan of self-decoration of the house, every little thing and old thing in the household will come in handy.
Bouquet Decoration 
One of the simplest but no less attractive options for interior design is a bouquet of autumn leaves, cereals, or dried flowers. Such a table can shine with new colors if you choose the right combination. The most common bouquet of autumn leaves looks interesting in earthenware, and dried flowers go great with glass. Cereal crops can be placed in a tall vase, previously tied with twine or another plant.
A lone dry branch looks nice, which can be placed on a floor or table vase. You can allow children to decorate autumn trees: cones, acorns, or crafts made from them can be hung on a branch with the help of ribbons. The most magnificent and elegant bouquets are obtained from autumn flowers in combination with leaves and branches. For such a bouquet, you can use all the light still left in the garden or vegetable garden. Physalis will become a unique element of every bouquet - these orange bombs are always pleasing to the eye and give a playful mood.
Happy Thanksgiving Smarties 🦃!