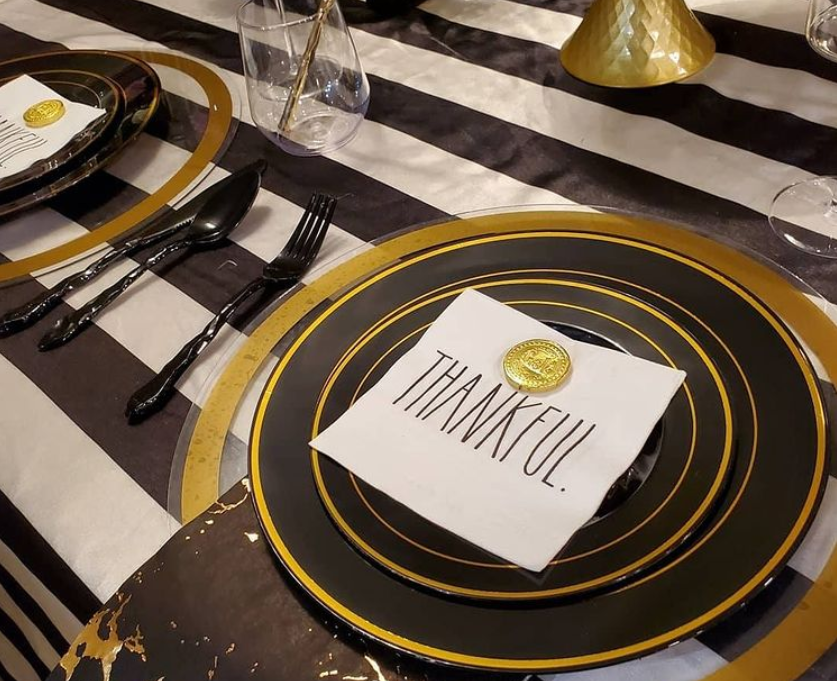 How Do You Set a Perfect Thanksgiving Table?
Thanksgiving is a great day to celebrate the harvest and other blessings of the year. On this particular day, you would be looking for some fantastic and unique ideas to set your table perfectly, and you should, as it would complement your food and all other decorations you have put together. We have come up with some of the best Thanksgiving tablescapes ideas that you and your guests would love.
The party season has just begun, and Thanksgiving is number one on the calendar! And before you put aperitifs for autumn dinner on the table, the decoration of the latter requires all your attention to make the famous Thanksgiving feast a success. Among the comforting materials, seasonal fruits and vegetables, and Scandinavian atmospheres in the cocoons that this time of year offers you, you can easily find inspiration for decorating your table. So without complicating life, decorate the dining room with a few beets, carrots, pumpkins, or artichokes in the middle.
Creating a Table Scene 
When inviting your family and friends, paying attention to the table scene and the table itself is essential. Whether you are crazy about the decoration or not, there are a few things you need to consider when bringing a lovely gathering opportunity for your loved ones. 
Creating a table scene around the table will provide the table decor a clean and decent look, and of course, it will boost other arrangements. Moreover, if you aren't good at crafting, you can still create a table scene spreading good vibes in the air. 
For clever table decoration, don't hesitate to re-use the pumpkins that lie from Halloween. A few cans of spray or gold spray, and voila! You can also hang personalized stickers with the names and surnames of the guests. So pumpkins become beautiful gifts with tiles your loved ones can take home. If, on the other hand, you don't have the time or patience to mess around, take a permanent marker and write the guest's name directly on the pumpkin.
And for those more creative, instead of opting for a bowl, why not serve autumn in a mini hollowed-out pumpkin? Gourmet and eye-catching, this idea will delight snacks and complement the palette of autumn shades so popular on Thanksgiving. Finally, the meals you serve are also an integral part of the feast! For example, you can enhance the green color of beans by serving them with emerald green napkins. Pouring cranberry sauce into small trays in bright red will be just as lovely!
Attractive and Festive Centerpiece
A festive centerpiece for your Thanksgiving table will reflect the authentic autumn vibes. In the fall, the air is always wild with the leaves, so take your kids along and start grabbing some of them or go for the faux ones.
Spread out the table runner, and then put the faux leaves along with the faux pumpkins of whatever color you like. We prefer the lighter color for the faux pumpkins, but it depends on your preference. 
Arrange the faux leaves and pumpkins to become part of the table decor. Moreover, make sure you have lightened up some candles that smell amazing. Candles will add warmth to the scene, plus the lovely fragrance will keep your guests' mood delighted. 
As for the leading element of any entertainment decoration, the central part, we are focusing on everything natural and ecological. Decorate the decor with fresh flowers, natural textures, and seasonal fruits and vegetables. Feel free to add something from the garden or yard to the table decoration, such as dried leaves, ears of wheat, olive twigs, or acorns. Alternating them is also convenient for integrating external elements, such as pans, bowls, vases, or candles.
For those who value simplicity and speed, a colored and flower-filled pumpkin will come in handy! In addition to being extremely easy to make, this one will bring an incomparable festive air to the table, without exaggeration. And to keep your flowers fresh longer, put a small can filled with water in the flask. A simple idea, but worth it. Autumn leaves, pine cones, candle holders, and a large round solid wood drawer will add character to the centerpiece!
Wheat stalks have a long lifespan and combine perfectly with feathers, pumpkins, and autumn leaves. They are necessary if you want to make an original and extraordinary decoration. Like autumn leaves, they are an excellent basis for making an autumn wreath, without which the decor of Thanksgiving would not be the same. 
Enjoy the beautiful colors that will fill the atmosphere of your home with joy and positive energy. But, with the scent of the deacons, you have served, the most important thing is that all your dear people are together, and the fun can begin!
Gorgeous Servingware for Thanksgiving Table
When your guests sit at the dining table, the first thing that will come in their contact will be the dinnerware you are them in. So make sure you aren't lacking anything, and everything should be up to the standards, and it would make your guests feel special and welcomed.
Moreover, if you are a long list of people on Thanksgiving, you don't need to rent the plates as there is a better alternative. 
Disposables are in trend, and they are pretty affordable for any budget. We have a wide variety of disposable Thanksgiving serving ware for you to cover your thanksgiving meal without the hassle. 
With our Thanksgiving plastic tableware, you can efficiently serve and elevate your table decor as they are elegant and gorgeous, like your table scene. 
Whether you use our serving bowls for Thanksgiving or Thanksgiving serving platters, we are proud to say every disposable party serving set will get the job done for you. 
Our elegant party supplies are affordable for any budget, plus they are hassle-free as you don't need to wash them and instead dispose of them. 
Happy Thanksgiving Smarties 🦃!