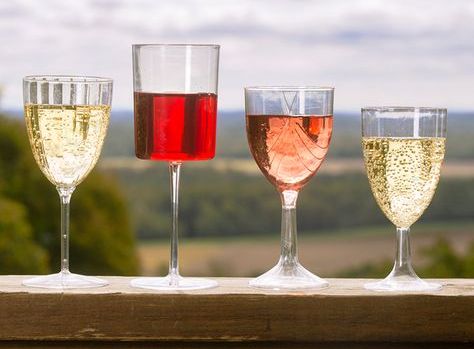 Perfect Plastic Drinkware for Your Next Party
Planning a party is always exciting. Whether it's summer or winter, the parties are incomplete without a complete set of drinkware. Your selection of drinkware tells a lot about your personality and interests. You should know precisely what impression your drinkware set is projecting on your guests. No doubt, it's a subjective matter, and guests may perceive your selection differently, but still, there are a lot of opportunities to avail.
We're here to offer a wide range of perfect plastic drinkware to make your next party more epic than ever before.
Plastic drinkware is always preferred since they are disposable, and you won't have to worry about cleaning them afterward. In addition, disposable drinkware makes a party more convenient and easy to conduct.
Start with ordinary plastic party cups because no matter your setting, you will need them for sure. The term ordinary shouldn't confuse you with our elegant designs. Plastic party cups are must to have items at a party. We offer disposable plastic party cups that make your event a hassle-free party!
We design and craft premium party cups in various shapes, styles, and designs. And to make your party more colorful, we also offer plastic cups in multiple colors. Whether a birthday party or the 4th of July, you can choose plastic cups in your desired color scheme to match your theme.
We offer disposable wine glasses to make your party look classy. Our disposable wine glasses come in different shapes and sizes to cater to all your party needs. The different shapes of wine glasses aren't just for making it look cool, but these different designs help you get a unique air exposure.
Depending upon your mood and drink, you can choose an appropriate choice of a disposable wine glass. But, of course, it all depends on what you want for your party setting.
Fresh lemonade and iced tea are just tumbler kinds of stuff. We offer elegant plastic tumblers to hold your summer cocktails and smoothies well. We provide tumblers in different shapes and designs to make your party more enjoyable. You can choose tumblers that suit your overall party setting.
We've designed some amazing-looking disposable champagne flutes to let you feel your drink with that energy and vibe. Traditionally, champagne flutes were offered in simple and static designs. There was no customization in the designs of champagne flutes, but we've covered you with our disposable champagne flutes that look premium and give your table a royal look.
Different shapes and sizes in our champagne flutes will give you plenty of options to choose from.
Along with disposable champagne flutes, we also offer plastic carafes to make your drinkware set look complete. As mentioned earlier, how you serve your drink tells a lot about your personality. So, ensure you're arranging every necessary drinkware item that your guests might be expecting.
A Pyramid Made of Plastic Champagne Glasses
During formal celebrations, such as weddings or anniversaries, guests are treated to champagne. Of course, you can simply put bottles of champagne on the tables and pour them into the guests' glasses, but often you want to organize a more spectacular presentation of this noble drink. For example, if you wish your alcohol presentation to look grand and stunning, you may prefer a champagne slide. 
Such a chic pyramid built from plastic champagne glasses will impress all guests. But, at the same time, it is filled alternately from top to bottom. Today, there are many bartending shows where a slide of champagne glasses is filled in front of the guests. The good thing is that if your hand shakes and the pyramid collapses, you're safe with plastic champagne glasses!
You need to put the glasses on the tray, which should be tightly pressed together by the edges. The second layer is built on them. In this case, the legs of the glasses should be placed at the point of contact of 3 or 4 faces of the glasses of the lower layer. It is essential not to rush and act carefully. The other layers of the pyramid are placed similarly, and only 1 glass should be on top. To fill all the glasses, the drink must be poured into the top glass in a thin stream, after which the champagne will spread over all the mirrors. If no mistakes are made during placement and filling, there will be practically no drops on the tray, and all glasses will be filled to the top.
How to DIY a Champagne Tower for Your Best New Year's Yet?
The highlight of the New Year's meeting is the festive bursts from champagne bottles, New Year's wishes with bells ringing, and enthusiastic shouts of Happy New Year! And Hooray!
To make this moment even more brilliant and impressive, we invite you to try yourself as a real professional bartender.
We reveal to you a simple but fantastic secret on how to make a pyramid of champagne glasses.
 So the most important thing to start with is to buy plastic champagne glasses of the same size. The number of glasses will depend on the size of the pyramid you need to make.
It is essential to arrange the glasses correctly for the idea to succeed. Remember! The first bottom layer of glasses should form a square. Every four wine glasses should form a neat rhombus between them. Make sure all cups are in contact with each other.
Now we start building the second level. For each diamond formed by cups on the bottom layer, you must place a cup.
Build all the other layers in the same way, each time placing a cup on top of the diamond formed by the cups on the previous layer.
All the glasses must be in contact with each other.
Make a pyramid of glasses in the center of the New Year's table on a beautiful festive tray that can be decorated with New Year's tinsel and Christmas decorations. The tray will be a decoration and an additional safety net in case the pyramid leaks.