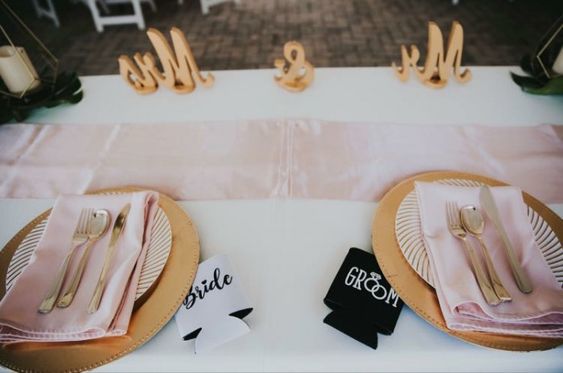 Creating a Fabulous Wedding Table
Managing wedding tables are quite different than setting up a regular dinner table. First, you have to put a lot of effort into making your wedding table stand out. A number of guests, choosing a perfect place, the right choice of tableware, and a fascinating theme all these dimensions make it harder to create a fabulous wedding table. 
Weddings are always fun, and we all make sure that everything goes according to plan. However, the regret of missing an opportunity at the wedding table is disturbing because everyone wants their wedding to go perfectly. So, you need to make sure you're consulting a perfectionist who knows what would work for your wedding style.
Choosing a Perfect Place
We prefer our wedding event planner to select the place most of the time. However, before finalizing the venue, you need to ensure that you and your wedding planner are on the same page. If you have a theme in your mind, make sure that you properly convey it to your planner so that nothing goes wrong at the end of the day. 
This is important because a place can make a massive difference in creating a vibe on the table with your overall setting.
Table Cloth and Linens
Your tablecloth will act as the base of your table, and there are lots of color options available to choose from. You can choose from neutral colors to sharp ones depending upon your overall theme. If you're more into the luxurious or royal setting, you can go with the tablecloth with bold jewels and countless other options.
Just think outside the box, and you'll be amazed to know how much variety of different textures and colors are available to make your wedding table setting look more attractive.
Centerpieces
A wedding table looks incomplete without a centerpiece. Many options are available, like a vase with feathers, beads, origami, some glowing lights, or any other centerpiece that you think will attract the guests' attention. What about some scented candles, pebbles, or confetti? Sounds interesting, right?
Your wedding table isn't only for serving food - it's more like a canvas on which you can get creative. There's a lot to do with your creative imaginations.
Table Stationery
Your table must have basic stationery like menus, table numbers, and place cards. It helps guests find their seats, and your caterer knows which guests are sitting at which table number. These settings seem minor but can help you manage your wedding table quite efficiently.
Choosing Appropriate Dinnerware
Last but not least, fancy dinnerware for weddings can bring a whole new vibe to your event. Plastic dinnerware sets are mostly preferred because they are easy to handle and budget-friendly. The right choice of disposable wedding plates and plastic flatware can give you great relief in almost every possible dimension. In addition, you should add some graceful plastic wedding drinkware with plates and silverware. Your wedding table is incomplete with the right choice of wedding champagne flutes and some elegant plastic wine glasses.
Wedding Color Scheme
We see them in everyday clothing combinations, interior design, making delicious treats, and details at weddings. If you are looking for a unique and very unusual color scheme that could refresh your wedding day and make it unforgettable, gray and yellow tones seem to be a perfect choice. Bold enough, vibrant, and neutral, these two colors represent the ideal pair, i.e., a contrast that inspires.
Complete this color scheme with neutral shades if you do not want to create an overly intense ambiance. These colors, including white, beige, and cream, will make the tables for your guests beautifully decorated and very modern. Earth tones are also desirable because they bring much-needed calm to these intense colors. If you like sophisticated arrangements and a breathtaking look, this is the direction you should go.
Hunting green, navy blue, and all other dark shades can also serve you well to create a more dramatic and elegant space. Thanks to them, the liveliness of the yellow color will be even more pronounced, and the gray color will find its meaning in the whole story. You need to start with the theme and style in which you plan your wedding, because of the shades of gray and yellow depending on it, and their combination with other colors. It is also always advisable to preference one of these two colors. For example, a light gray tablecloth with yellow flowers and napkins will look like a beautiful flower field. You can also include cutlery in gold or gray tones and plates in attractive yellow or gray shades in the whole story. The possibilities are unique. Take a look at our gallery and find your inspiration. 
Rustic Decorative Details 
If you strive for boho style, knitted details are indispensable. However, if your goal is a modern style display from the middle of the last century, you will need some geometric details. In that direction, if you want to create a rustic wheat wedding, there is a detail that can help you with that. Classic, elegant, and very simple wheat present a perfect rustic touch. You can create beautiful decorations on wedding tables, around the altar, and when creating Biedermeier.
Wheat is an excellent addition to wildflowers, thanks to which you can create a fantastic decor for the center of the table. It is perfect for summer weddings and can also be presented as a mono arrangement, where its beauty is especially pronounced. Moreover, it is a very favorable option because with what you do not have to worry, as with other flowers, that it will dry out too much by the beginning of the ceremony in hot summer temperatures. You can decorate wedding invitations or table numbers with wheat and thus give them a unique line. 
In combination with rosemary and lavender, wheat is perfect for decorating chairs. Sheaves of wheat in the middle or along the tables are the ones that especially emphasize the rustic style. Even your wedding cake can get an addition in the form of wheat. You can combine wheat with fresh and dried flowers and plenty of fruits and vegetables for an accurate impression.