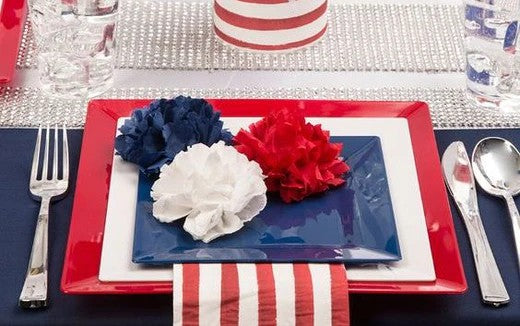 Patriotic 4th of July Tablescape Ideas
Want to make this year's Independence Day celebrations exciting and cheerful? Stick around as we are about to tell you some epic 4th of July tablescape ideas to help you throw the best Independence Day party ever.
The 4th of July is almost here. If you're planning to host family and friends like us, follow these ideas for patriotic table settings.
They are all simple and perfectly represent the Patriotic theme. So, gather your blue, red, and white linens and tableware, and set a festive table that will delight your guests this year.
Explore your creative talents this Independence Day. Decorate your dining table with handmade items and beautiful cutlery.  
Think about refining the BBQ area or the dining table with flags, candles, fresh flowers, banners, or Glass jar lamps. Or perhaps you simply want to radiate some American spirit around your house this summer!
Since the Fourth of July is about honoring and loving the nation, creating a table setting for it is a lot of fun. Try to maintain a balance between basics and extras. We are talking about the stars and stripes on the flag - that is too basic! Avoid that.
You can always opt for a design that isn't overdone by picking a few lovely prints and stacking them with high-quality solids. Then, with a few easy suggestions, you can be a pro at arranging the best Tablescape for this Independence Day. 
Centerpiece Always Steals the Limelight
A combo of blue, red, and white flowers makes a patriotic display on the table with a vintage touch! You can choose any of your three favorite flowers to create a beautiful centerpiece. 
Showcase the flowers in an antique serving flask or a plastic serving ware. Although a little unusual, it creates a great display that looks nice as a centerpiece.
Arrange the flowers in the serving dish in your preferred style. Add a few mini flags to the bouquet to give it a patriotic touch. You can arrange a few tiny lanterns to make it look more refined and pretty.
In the blink of an eye, an adorable yet patriotic centerpiece gets ready.
Cutlery that Defines Luxury
Everyone wants the dinnerware to be attractive and sturdy to hold the food, but you also don't want them to be the same plastic you see everywhere But we have a blend of both vintage and contemporary.
As they are durable and easy to carry, plastic tableware and disposable serving utensils are ideal options for outdoor dining. It's always fun to shop serving ware for parties. Mixing and matching different colors and designs to decorate your table for a patriotic dinner would be exciting. 
Our gold disposable spoons and silver-colored utensils would make your food look more appealing. Moreover, our disposable serving trays are perfect for your patriotic table.
Some antique serving dishes make excellent placemats and are lightweight enough to carry to the dining spot.
Make a colorful patriotic fruit salad with bananas, strawberries, and blueberries and serve in plastic serving bowls. The bowls better be red, blue, or white to complete the patriotic look.
Patriotic Food Decorations
When making tasty meals and beautiful desserts, unique food decor in vibrant colors would look nice. You may give lovely desserts some stunning final touches and make patriotic-themed table decorations for this Independence Day. 
For incredible food decorations for the party table, top your sweets with cherries and raspberries and decorate cookies with blue and red frosting. 
Patriotic Bandana Tablecloth
Rinse, dry, and iron your bandanas first. Next, arrange your blue, white, and red bandanas to determine the style and look of your tablecloth. Finally, stitch the bandanas using a sewing machine.
You can also use large flags as placemats. Or spread a white or blue plain cloth on the table for an elegant appearance.
Give the kids some blue, red, and white crayons as a fun option, and ask them to create drawings that express their feelings about their nation. That is a perfect method to keep the kids occupied while also including them in the decoration process!
DIY Patriotic Napkin Idea
Napkins enhance the appearance of the table as well as the dinnerware.
Let us tell you how you can add a fun element to your patriotic tables. Take some pointers from blue, red, and white pinwheels. Even though it only takes a few minutes, this napkin art will impress your guests.
Things you need: 
Ironing board

Cloth napkins
Steps:
Iron the napkin

Lay it in front of you. Face downwards. Fold the two right edges diagonally - so the tips lie in the middle.

Continue with two more corners at the left. A square will form at the end. 

To align with the napkin's center, fold the top portion over.

Continue to the left side so that it forms a rectangle. 

Make a square shape again by turning the two corners of the rectangle to the center. Use an iron to press the folds. 

Create the first cue of the pinwheel by pulling the outer edge out.

Do the same on the left corner. Fold the right flap in your direction. The pinwheel has formed its first half. Press all the folds. 

You can be creative and add any kind of art to the napkin. 

Follow these ten effortless steps, and you are good to go.
Other Essentials for a Stunning Patriotic Tablescape
Adding mini flags and colored balloons makes the table look more delightful. Summer floral arrangements in the colors red, blue, and white give the dining table a patriotic touch.

The welcoming ambiance and patriotic spirit can be improved using colored ribbons, patterned fabric, and white confetti.

Write your guest's name on the back of a tiny paper flag and set it on their plate before serving the meal.

Each table should have plain or patterned stars hung above it. You can also hang tiny lanterns or candles. 
Feel free to add creativity while preparing your dining tables for Independence Day.