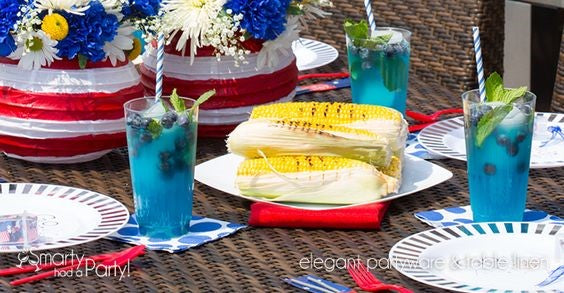 The Best Party Supplies for the 4th of July Party
The 4th of July is at the corner and that time of the year when everyone enjoys the day by throwing epic parties. The 4th of July is about having fun outside, with many activities to celebrate and plenty of food to enjoy. 
However, when it comes to throwing a party, it seems a daunting task, as hosting a large crowd isn't an easy thing. Therefore, it's better to start preparing and planning days ago before the party date arrives. 
You may want to purchase party supplies to make your party stand out. We have handpicked some of the best party supplies for the 4th of July. So stick to the end to find out what you should be buying for your next 4th of July party. 
Patriotic Paper Fans
Balloons are a big part of the Independence Day decorations. However, you might be bored of them, or they are too conventional to use for a special event like the 4th of July. 
Consider paper fans to add an extra unique touch to your party decor. They aren't just inexpensive and easy to source and look fantastic when hanging in the outdoor party setup. 
They come with patriotic flag colors, so if you have a patriotic party theme for your event. The patriotic paper fans will add a special touch to your party decor. Since they are paper, you wouldn't be causing environmental damage to the planet. 
Cool Bucket
July is the hottest month of the year, and since then, the party has to take place on the 4th of July. Therefore, you may need a cool box or a bucket to keep the drinks chilled for the guests to stay hydrated throughout the party. 
Consider decorating the bucket uniquely to make its representation stand out. Then, all you need to do is get a steel bucket in large size (depending on the number of guests), craft paper, and of course, a creative mind.
Just cut down the craft paper into stars and whatever shapes you like and put them on the bucket to make it stand out with the party theme. 
Disposable Party Supplies
Serving the guests is a big part of any event. And, when it comes about the 4th of July, you may want dinnerware sets and serving ware matching your table theme. 
Disposable plasticware is the perfect choice to decorate your tablescape according to your imagination. In addition, you can use plasticware products to craft them for your party decor.
Other than serving the guests, plasticware is the best option for doing DIY projects for your party. For example, with plasticware sets, you can make photo wreaths, sign boards to guide the guests, and much more.
Moreover, when it comes to serving the guest's plasticware dinnerware, the clean-up becomes a breeze. At the end of the party, you wouldn't have to wash and clean a pile of dishes. Instead, you can simply discard the disposable dinnerware just like the tissue. 
Get the plasticware for parties at "Smarty Had a Party" at a fraction of the cost. We have a wide variety of dinnerware sets, party supplies, and everything you need to have a delicious meal at the party. 
Patriotic TableCloth
Since the patriotic theme consists of red, blue, and white, colors are what you see everywhere. If you plan to follow it for your next 4th of July party, you must consider having a patriotic tablecloth. 
Your tablescape shouldn't be relaxing and welcoming for the guests but also should reflect the reasons to be together. Covering your table's top with a patriotic tablecloth is the best way to do it. You can repurpose it for other holiday parties of the year, like memorial day, labor day, and even Martin Luther King Jr.day. 
Patriotic Pillow
Most of the 4th of July pirates take place outside, and it's the best way to enjoy the day of celebration. However, when you are taking your quests outside may be in the backyard or nearby park, providing them the best comfort should be your priority. 
If you are considering planning an outdoor picnic party or even planning to have a barbecue night, provide your guests pillows, and cozy blankets to keep them relaxed at the party. 
Use the patriotic pillow covers to match your party. For example, covering the pillow with red, blue, and white would make your party stand. 
Red, Blue, White Cowboy Hat
Party preparations also include planning how you look at the party and what you will wear to get some fantastic selfies and photos for your Instagram. Along with all the party preparations, make sure you haven't forgotten to think about yourself. 
Use a cowboy hat to enhance your personality for the casual party. Of course, it won't save you from the scorching heat hitting your head while you are partying outside, but it will also make you stand out in the photos and selfies.
Consider wearing the one at the next party, or you can also gift it to your loved ones like your father, uncle, and special guests at the party. Moreover, as the 4th of July date comes closer, most stores have sales running on such items.
You can buy plenty of it to give your guests a party favor when they leave the party. 
Red, Blue, White Strings Lights
Having appropriate lighting for the party will enhance its decor and theme. Lights don't only make the scene stand out but also set the mood. So whether you are having a party outdoors or indoors, consider setting up the lights to add a glow. 
Cover the surroundings with the red, blue, and white strings of light, like trees and plants, and cover your house building. It would also help your guests to recognize the party venue. So, when they reach the party address, they will know they have knocked on the right door.
Now you know what supplies to get for your 4th of July celebration. Believe us; you won't run out of anything if you follow this list. However, you can add any item to this list if you want.