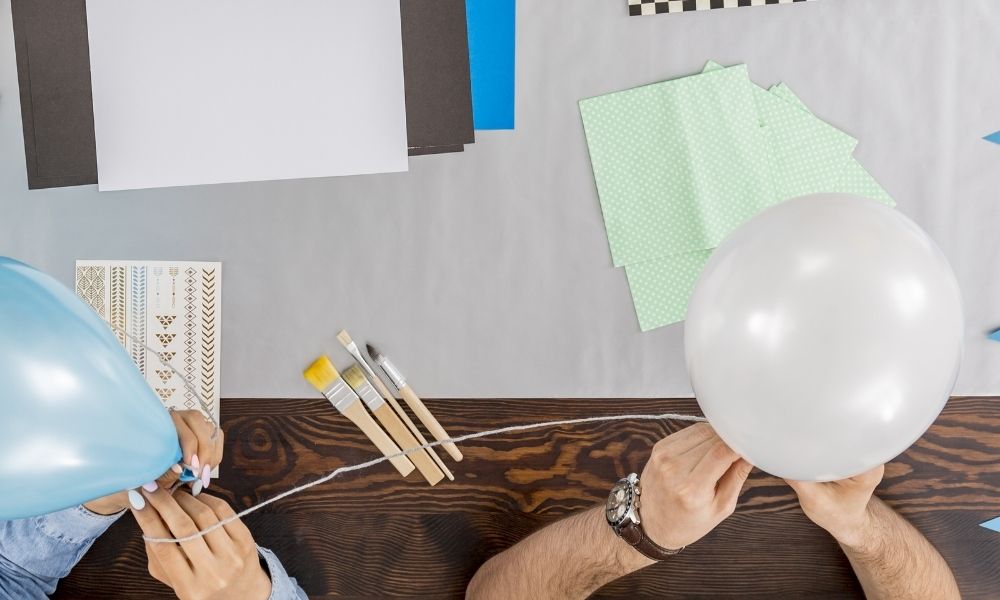 Party Planning Mistakes To Avoid
As the vaccine rolls out and we can begin to gather safely again, one of the things we're looking forward to most is throwing some fantastic and well-deserved parties. However, after the long layoff, our party-planning skills may have atrophied a bit in lockdown. No one wants to inaugurate post-pandemic life with a party that doesn't go quite as planned—we've been dealing with things not going quite as planned for long enough. So before you start gathering supplies and curating playlists for future events, let's take a quick refresher course on some of the most egregious party planning mistakes to avoid.
Wrong Theme or No Theme
Any trip to your local party-planning superstore should confirm that there are innumerable roads you can go down in selecting party décor. The challenge, then, is making sure you choose the right one. Color palettes are essential to setting the right mood. If you have family over for a sumptuous Easter brunch, you'll want to deck the house in a pleasantly vernal palette of pastels, suggesting dyed eggs and floral blooms. Celebrating Easter with decorations in silver and black would simply be a bad fit. As much of a misstep as an ill-fitting color scheme is, not having any theme will underwhelm your guests. Go the extra mile to set an appropriate mood for the occasion.
Inelegant Table Settings
Once you've gone through the trouble of inviting friends and family to your party, you must make sure your guests feel valued. Sitting down to paper plates and white plastic forks or your host's cracked and chipped dishes every day is an express route to feeling like an undesired houseguest. Of course, you wouldn't want that for yourself, nor should you want that for your own guests. But, not to worry—you needn't deploy the fine china for your party and leave yourself with the extensive and careful cleanup. Elegant disposable party supplies from Smarty Had a Party make it possible to customize your table settings to match your party theme and to do with products that are durable, attractive, and worthy of your event. Best of all, as single-use supplies, cleanup couldn't be easier.
Improvising the Guest List
You learned from your paper-writing days in school that the second set of eyes can help you immensely by catching the mistakes and oversights that you're too close to the work to perceive yourself. Relief of reliefs, you don't have to write a five-page essay to throw a party. Instead, you have to write your guest list, and here, you need someone to check for errors and omissions just as much as you would a term paper on the history of the Russian monarchy. Have a spouse, relative, or close friend double-check your guest list to ensure no essential potential guests slipped your mind. Inadvertently leaving someone off the guest list can be a grievous faux pas that triggers a years-long grudge. No one wants that. Don't write your list off the top of your head, and don't do it alone.
Invitations: Too Early, Too Late, or Not at All
No matter your natural hair color, you'll have to be a real Goldilocks when it comes to mailing out party invitations—don't be too early or too late, but just right. As prudent as it may seem to give more than adequate lead time for invitations, sending the invite for a 4th of July party in early April offers potential guests too much time to forget about their plans. Conversely, an invitation with too little notice means that many guests will have made plans already—especially for big holidays or three-day weekends—and will be unable to attend. Fortunately, nailing down the sweet spot for invitations is much easier than finding the perfect porridge temperature. Anywhere between three and six weeks should be the happy medium you seek to allow guests to make plans without forgetting them.
Laissez-Faire Hosting
After all the work that goes into planning a party, it's tempting to declare your mission accomplished and try to enjoy the big day as much as your guests. Ah, but the host's work is never indeed done until the party is over. As the guests start filing in, it's not enough to fade into the background of your event. You may need to facilitate conversations, distribute the hors d'oeuvres, and do all the little things that—if you're doing it right—the guests don't even notice. Suppose you attempt a laissez-faire approach to the proceedings once the party is underway. In that case, your guests may feel like it's their responsibility to get the party started, which can put them in an awkward spot, and uncomfortable is not what you want; after all, the hard work you've put in.
Not Having a Backup Plan
Indeed at this point in your life, you've become acquainted with Murphy's Law. If you don't know it by name, you know the axiom: "Anything that can go wrong will go wrong." Planning to roll out an ice cream cake for the big dessert? That's the day the freezer dies. Have an old home video to play for your assembled guests? The DVD player won't read the disc you burned the night before. While you're likely to have a higher success rate than Mr. Murphy predicted, you should still try to expect the unexpected and foresee the unforeseen whenever you pull off a party because something will not go as planned. Whenever you find yourself relying on technology or other people, both of which can let you down, try to have a Plan B in mind.
One Choice That's Not a Mistake:
We know that it's been far too long since we've been able to celebrate important events the way we should. Re-examining these party planning mistakes to avoid should remind you of how much of an art and a science party planning can be. As you plan your next party—indeed, you're first in a long while—look to Smarty Had a Party for the party-themed flatware and dinnerware you need, with sets ranging from the stylish to the sustainable.