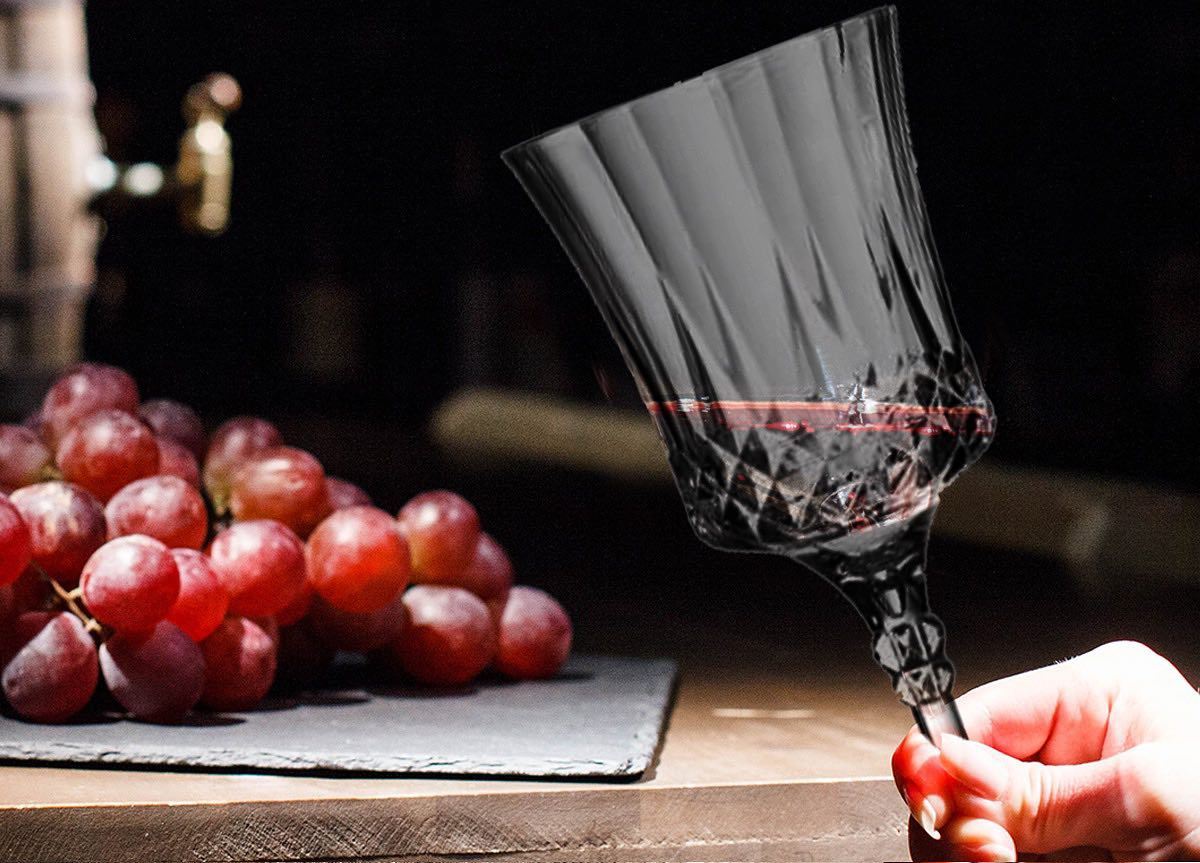 Our Top 5 Disposable Wine Glasses
For both regular use and outside drinking on special occasions, disposable stemware is an affordable and reliable option. The best disposable wine glasses are sturdy, last as long as you need them to, and have the proper shape for the type of wine you are serving.
Wine is an experience rather than just a regular drink. At its core, wine is a drink that is best enjoyed with other people at meals, events, feasts, and get-togethers with family and friends. As a result, every culinary delight tastes better and social settings are made more accessible! 
A nice bottle of wine can liven up any gathering, but a bad glass can ruin even the most exquisite drink in the world.
Avoiding dealing with broken glass is the main advantage of choosing disposable stemless wine glasses. With these aspects in mind, scroll down to see our picks for the best disposable wine glasses.
Our Top Picks of Disposable Wine Glasses
Our disposable crystal-cut wine glasses are ideally suited for events where you might not want to use glassware or are looking to cater to huge gatherings, such as wedding receptions, bridal bashes, baby showers, birthday parties, anniversaries, holiday feasts, or other festivities.
 They are composed of strong, durable, break-free material and are built for disposable use. To learn more, keep reading!
1. Set of All Purpose Stemless Disposable Wine Glasses
The type of wine glass you use affects your level of joy, which is why these amazing glasses are made to help you enjoy your favorite wine like never before.
Their gleaming, crystal-clear design and high-quality material will keep the most excellent wine favors fresh and prevent oxidation. Moreover, it gives the disposable cup a gleam and lustrous shine, giving it the iconic natural impression that you know and love without putting your safety in danger.
When people are moving around, toasting, and clinking wine glasses, the stemless base provides stability and reduces the possibility of stem breakage.
Specs:
Height: 3 ¾"

Quantity: 4 packs containing 16 glasses

Shape: Round

Disposability: One-time use
2. A Set of Budget-Friendly Disposable Wine Goblets
To enhance your drinking experience and add classic elegance to dinner parties and exclusive events, you must select our disposable and fancy plastic wine goblets. These exquisite wine glasses have a sparkling, crystal surface, gorgeous curves, and a solid stem to support the serving of your delectable wines.
While the curved shape allows for smooth swirling and enhances the wine's flavor and aroma, the sparkling clear plastic will also beautifully reflect the color of the wine. These wine goblets carry up to 7 ounces.
Specs:
Height: Approx 6 ½"

Quantity: 8 packs containing 12 goblets

Shape: Round

Disposability: Reusable two to three times
3. A Set of Unbreakable Mini Wine Glasses
This beautiful set of mini glasses is the ideal addition to your exquisite table when you need a wine glass that will draw attention while providing the comfort of a disposable choice. In addition, these elegantly crafted glasses have a short stem that will lessen the chance of spills.
Our plastic wine glasses are a great affordable alternative to glass cups for everyday use and social gatherings.
These sleek and clear plastic wine glasses are durable, portable, and easy to grasp, preventing mishaps from happening when they slip out of your hands. Use our disposable plastic cups and spare yourself the time-consuming task of wiping the kitchen table glasses.
Specs:
Height: Approx 2.2"

Quantity: 24 packs containing 20 glasses

Shape: Round and Square

Disposability: One-time use
4. A Set of Black Gold Disposable Plastic Wine Glasses
With these lovely disposable stemless glasses, partying will take on a modern, stylish touch. You may use these gorgeous black colored glasses, which have great glittering gold rims, with any style of table setting, from the most luxurious to trendy and casual. They are elegant and essential. 
You need these plastic wine glasses if you want to drink wine without worrying about shattering glass. With our incredibly low rates, you can buy our superb disposable plastic wine glasses in bulk and save even more. The most excellent part is that these exquisite wine glasses are made to be thrown away.
Specs:
Height: Approx 3 ¾"

Quantity: 4 packs containing 16 glasses

Shape: Round

Disposability: One-time use
5. A Set of 11 oz. Crystal Cut Disposable Plastic Wine Goblets
For your wedding reception or any other significant event, you know you must choose traditional glassware over disposable wine glasses if you desire the beauty and elegance of crystal wine goblets. Or would you? You can now choose to do both at once.
You have all the convenience of disposable plastic choices that can be tossed away at the end of the night with a set of plastic wine glasses bulk to have. 
These are ideal for toasting, serving in a formal, traditional table setting, and emphasizing your desire for disposable design. These premium plastic wine goblets are the perfect weight and size for your hand, and no matter the task you set them, they are up to the mark. 
Specs:
Height: Approx 7 ¾"

Quantity: 12 packs containing 4 goblets

Shape: Round with textures on it

Disposability: Reusable
In the world of disposable wine glasses, there are several options to choose from. But because there are many choices available online, we decided to narrow it down by focusing on the products that our customers adore the most. So go and get your preferred ones now!
Why Choose Disposable Wine Glasses
The key benefit of using these glasses is that they are lightweight and difficult to break. The plastic sheet is heated to a high temperature, stretched, shaped, and then inflated to create a plastic wine glass. 
Washing disposable wine glasses won't take forever, making them the ideal choice for outdoor events.
Disposable wine glasses can be decorated as well. The matching of decorations is one of the party's most crucial elements and should be carefully planned down to the last minute. You may also adorn wine glasses to impress your guests and refresh them.
Beautiful disposable wine glasses are the perfect solution if you seek something quick and easy to use.