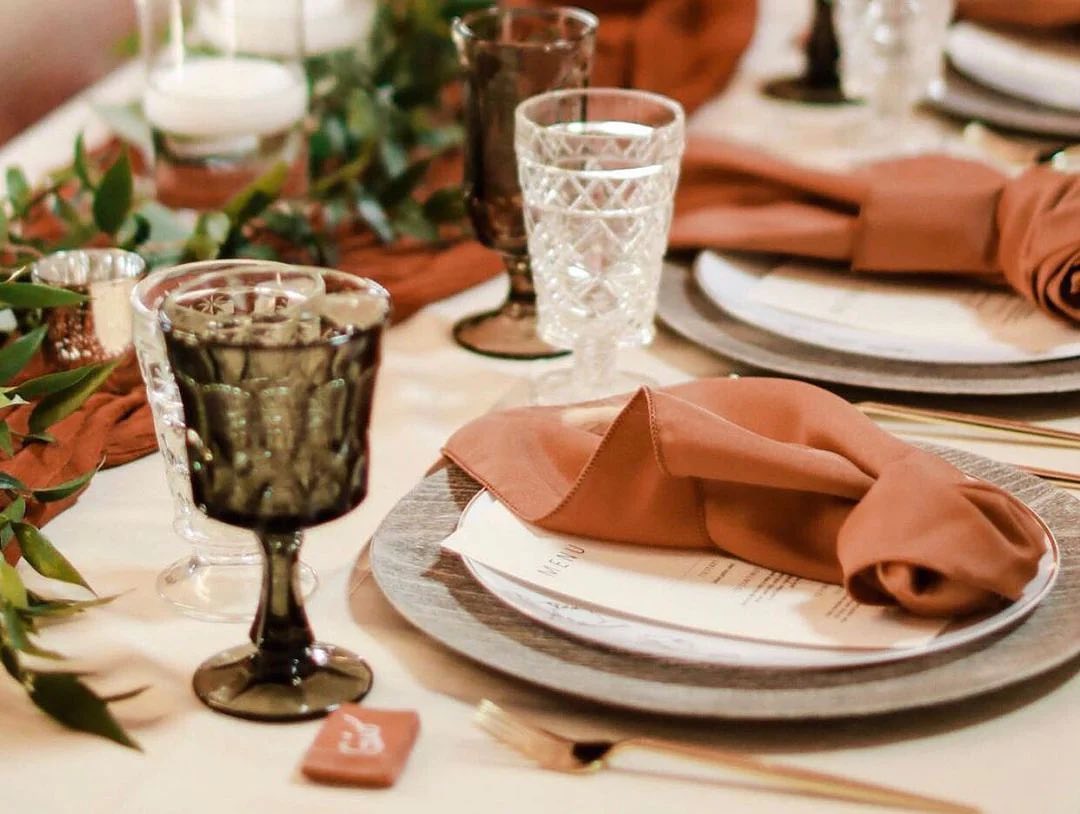 How to Set a Fall Party Table?
Fall is loved because of its changing colors. In addition, fall provides a sigh of relief to those who are fed up with the scorching heat of summer. 
Fall holidays are enjoyable because of the cool and refreshing breeze that blows, beautiful meals, delicious snacks, fancy costumes, and vibrant colors that accompany the celebrations. 
 One of the best seasons for sweets is fall. There are plenty of caramel apples, taffies, and sweets available, as well as pumpkin pie, pecan pie, apple pie, and pretty much any other sort of pie your heart desires.
Now that fall is here, it's time to wander outside and look at nature's grandeur and magnificence. Collect some flowers, dried leaves, pinecones, and branches and add color to your table. You can also include seasonal fruits, pumpkins, and candles in your table decorations.  
Secondly, a tablescape significantly spikes up your decorating game. When decorating, people frequently forget about the tabletop, which creates quite the eyesore in a beautifully designed area. Avoid this in your home by taking a little more time and consideration to set a lovely table for your visitors.
A lovely tablescape can transform an average meal into something extraordinary. This will be greatly appreciated by both your guests and your family. 
We bring some excellent and splendid tablescape ideas to inspire you to decorate your table this fall. 
#1: Layer up Your Table 
To give your tablescape a little depth, layers are the perfect solution. Tablecloths are a vital component of a lovely tablescape. If you are still using the same worn-out tablecloths you've been holding onto for 10 years, it's probably time to dispose of these. 
Spend a little money on good tablecloths because they will be the foundation for your tablescape, and your visitors will notice them immediately. 
While buying table supplies, keep your fall theme in mind and make sure that your runner, napkins, placemats, plastic serving flatware, and fancy plastic silverware match your tablecloth. Your tablescape will become extremely breathtaking as a result of this.
#2: Choose Bold Colors for Fall Table 
Many prefer to go more modest because they fear their tablescape will stick out too much. After all, fall shades aren't colors you see on a table very often. But making a tablescape stand out is the whole goal, right? 
Orange, red, yellow, brown, and green are the colors most associated with fall, inspired by the seasonal changing of leaves colors. So, get some stunning, vibrant oranges, reds, yellows, and greens to add a touch of fall to your table. 
#3: Add Metallic Decoration to Your Table 
You can incorporate metallic cutlery and decor to your fall table to keep it unique and distinct without distracting from the theme. Of course, fall is all about pumpkins, so don't be afraid to set out those silver pumpkins or perhaps a couple of gold and copper mugs to spruce up the tablescape.
Use metallic spray paint to decorate the pumpkins for a gorgeous yet simple and stylish fall tablescape. You can experiment with various shades and materials to produce a distinctive and classic design. 
#4: Keep Your Fall Theme in Mind 
While shopping, you can find yourself attracted to a lovely item that doesn't fit your theme. You should skip it. The secret to having a beautiful tablescape is to make sure you stick to just one theme. Otherwise, your table will appear to be a mix-match of different items.
#5: Fancy Tableware to Dress up Your Fall Table
The tableware is the next item your guests will notice after the linens. If you do not have a fancy dinnerware set, now is the time to spend a little money on seasonal or special dinnerware. Old, worn out, or chipped dinnerware will ruin the beauty of your tablescape. 
While buying your tableware for the fall party, consider the color of your table runner and placemats so that your dinnerware set goes well with your fall decor theme.  
We recommend buying disposable mini flatware and disposable plastic silverware for your table. It comes in a variety of designs. It looks gorgeous and saves you from the worry of washing a large pile of dishes. 
While setting the table for the fall party, keep forks on the right side of the plates, and the spoons will go to the left of the plates. 
#6: Fall Table Centerpieces 
While dishes and linens are also essential, the center of your dining table should look stunning because it is the place where you want your guests' eyes to be drawn. For this, you have to think of some ideas to turn the center of your table into something unique.  
For a beautiful centerpiece, fill an iron urn with pumpkins of various shapes and sizes, and also add some sunflowers and other flowers of your choice in it to balance out its heaviness. For a finishing touch, get a monarch butterfly from a nearby craft store and decorate it on the pumpkins.
For a perfect centerpiece, you can also keep a pitcher full of dried leaves and artificial flowers of all kinds. Floral centerpieces look fantastic, and they never go out of style.  
Moreover, an exciting and entertaining approach to dressing up any tabletop for the fall season is using fruit and vegetables as a centerpiece. Fruits and vegetables make stunning arrangements when mixed with specific flowers from your garden. For this kind of arrangement, you can decorate dahlias, sage, rosemary, jasmine, Lily, daisy, cabbage leaves, broccoli florets, figs, and grapes, all together in a basket or tray. 
Pomegranates make lovely additions to floral bouquets, especially when coupled with a few roses. Add some baby breath to create an attractive and elegant centerpiece.
In the end, just set your favorite disposable silverware on the table, and your table is all set for a fantastic fall party! Happy fall, Y'all.