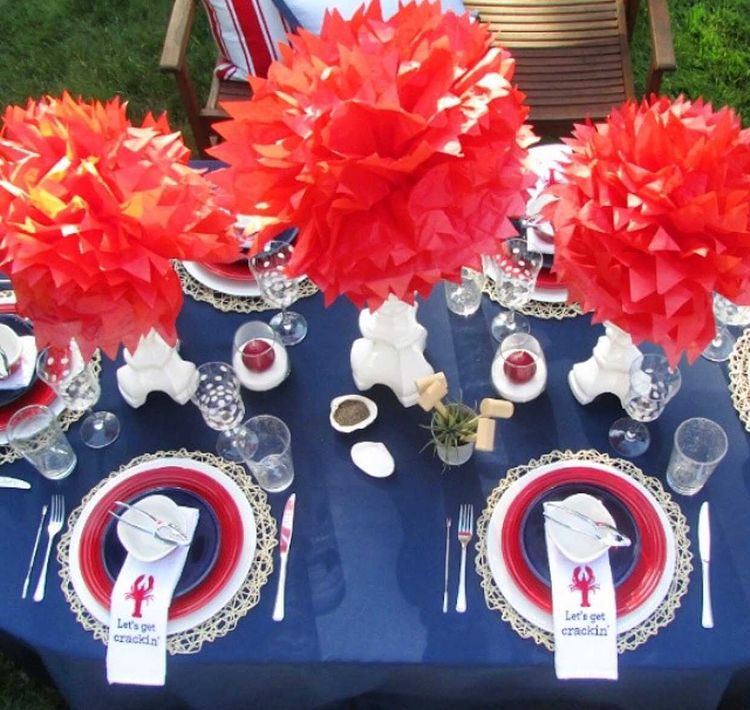 Assembling a Labor Day Party Table with Plasticware
The summer is finally ending, which means Labor Day is just around the corner. The summer, however, is always exciting, and it's more like a hub for multiple parties. The outdoor parties in summer are always fun because we have plenty of options. However, there are many fantastic ideas for assembling your Labor Day party table to celebrate Labor Day with some last summer vibes.
The fact is that thanks to the working class, we have a thriving economy, and we enjoy comfort, so we lack nothing. On Labor Day, we pay tribute to all hard-working people for their contribution to the functioning of the economy. We mean any work, whether it is working on a farm, factory, or office. Labor Day is celebrated every first Monday in September and is a late summer holiday.
Organize a celebration for all those bees that were valuable throughout the year. Then, give them a relaxing Labor Day party for their efforts, which will end the summer in style.
Labor Day is all about giving tribute and salutations to the ones who work hard for the nation to make it a better place to live in. The laborers are the building blocks because they make the country economically stronger. So, you should celebrate this day with patriotic highness.
We're here to provide you with some epic ideas about how you can set a patriotic Labor Day party.
Backyard Party!
Backyard brunches or barbecues are a summer tradition in most American homes. Suppose you are organizing a brunch for your backyard party this year. In that case, your menu must include burgers and hot dogs, french fries, national cakes, and iced coffee. Highlight your food by sticking mini American flags using skewers. Your guests will remember your party and again be happy to attend the Labor Day celebration because of the beautiful arrangements you made in their honor and your effort and gratitude!
All you need for this important holiday is an outdoor feast with friends and family on a sunny summer day. Cooking in the yard is an opportunity to take advantage of the last rays of the sun this season and enjoy delicious food with your loved ones. Make a buffet to keep the holiday spirit at a high level. Serve a variety of vegetables, fruits, barbecue, cheese, and baked potatoes and allow guests to create their meals. In addition to disposable plates, cups, and utensils, add napkins you made yourself. You will delight your guests, and you will surely get a big round of applause for such creative ideas and your efforts to impress them!
Feature Red and Blue
The patriotic emotions can be triggered by looking at the red and blue colors since they represent our national flag. You can decorate your party setting with some red or blue balloons with some wreaths on the wall. Also, having some colorful scented plants around the area would be a great idea.
Anything you can find that you think would represent the color of the national flag will do the work pretty well.
Setting Up the Table
Why not use colorful patriotic plasticware? Sounds impressive, right?
There are a lot of Labor Day party dinnerware items available at our store that you can use to make your table stand out. The colorful plastic plates will help you decorate your table according to your desire. You can think of any color scheme or a design, and our shop by color section will cover all your patriotic needs.
Charger Plates
For formal parties, charger plates are must to have items. The charger plate goes under the dinner plate to keep the spills from staining the tablecloth. Moreover, these are also known to maintain the temperature of the main dish, and the charger plate keeps the plate warmer for quite a long time. This is the reason why charger plates are always their informal parties.
You can choose to have sharp red charger plates for your Labor Day setting. It would give your table an attractive look.
Plates and Flatware
With blue disposable patriotic plates and mixed colors of disposable plastic flatware, you can make your setting look complete. There's a lot of color variety that you can follow. The plastic plates and flatware items are available in patriotic colors that allow you to enhance your Labor Day celebrations.
You can choose some patriotic plastic glasses with lovely color schemes to follow your entire theme in the drinkware category. All you have to do is play with various colors to depict patriotism and love towards the national flag to celebrate Labor Day more patriotic manner.
No celebration can end without serving sweets. Make sweet desserts and give them to your guests. Our various cake plates will help you present your delicious treats most beautifully. If you made a cake on the theme of Labor Day, then our disposable holiday plate will further enhance your creativity and give a sweet charm to your effort. Make an incredible flower arrangement using flowers from your garden and fill this holiday day with positive vibes!
Also known as the workers' holiday, which is a day off for the working class and an important national holiday that pays tribute to all citizens for their hard work. Give a spectacular Labor Day party to all your friends and family members who have worked hard. Give your yard a cheerful and colorful note because summer barbecues and backyard parties are a traditional way to celebrate Labor Day. Decorate it with colorful decorations in the patriotic spirit!
Make this Labor Day perfect for all your loved ones and give them the ideal party. Colorful and colorful decorations will bring that patriotic spark to your yard, and you will manage to make a sensational late summer party. Of course, fireworks are an unavoidable detail of every American patriotic party, and they will round off the evening by giving a magical detail and leave your guests breathless. We hope we have inspired you to make Labor Day memorable for your loved ones. Now all you have to do is take action!