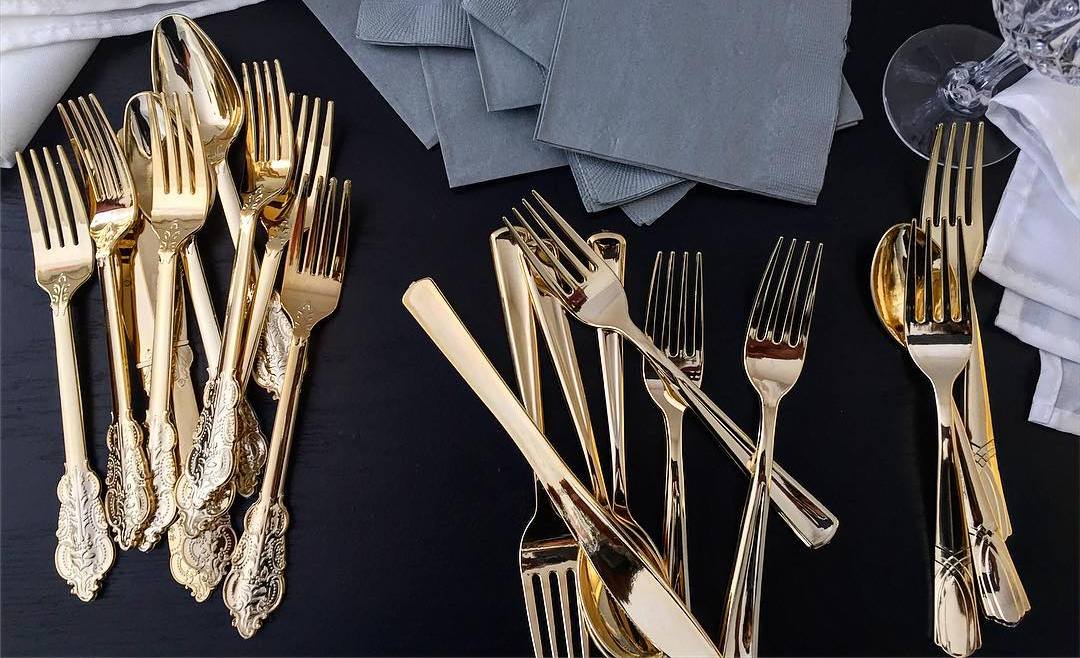 Modern Flatware to Add Some Elegance To Your Meals
A great outfit with an eye-catching necklace adds beauty to your personality. Likewise, a chic flatware set offers finish to your dining tabletop settings, whether you're throwing a formal rehearsal dinner or having a Sunday lunch with your loved ones.
Good food is the main element of any party, but stylish disposable flatware and contemporary cutlery may make all the difference in elevating the dining experience for your attendees. 
Trendy and modern cutlery comes in different styles and shapes, including basic to sleek, shiny to bronze, and colorful to monochrome. They end up making quite an attractive tabletop. 
Adding fancy plastic silverware to your kitchen items means enjoying more sumptuous meals and outdoing your guests at every gathering. 
It takes a good amount of cash to find a dinnerware set that is elegant enough to stare at and comfortable to use daily. This blog lists numerous flatware sets with distinctive features that would help you to choose one for your next party. 
We've selected the best modern dinnerware sets for all types of events, from everyday meals to special gatherings. 
Classic Gold Cutlery; Silverware Set
The most preferred metal color is gold. It is a hit at any party because of its unmatched shine and simple design. 
This set of flatware brings a touch of elegance to every dinner party, so whether you are throwing a grand meal or hosting a casual family dinner, we got you covered. This elegant disposable flatware we offer is a great way to upgrade your dining table. 
The set includes 60 knives, 60 forks, and 60 spoons. This stunning set of shining gold forks, knives, and gold spoons will impress your guests and give your table an elegant feel. 
Make sure you buy high-quality items that can withstand the requirements of using them when you shop for disposable flatware! 
This cutlery set has a sturdy and durable material, so it won't break while in use. It will also not bend, which happens with most disposable flatware.
Shiny Metallic Cutlery; Plastic Set
With its beautiful and stylish appearance, this plastic silverware will guarantee that your event will be memorable. This cutlery set offers the look of a jewel with its shine, distinctive design, and sparkling grayish color.
This classy disposable cutlery set is a great option to match the rest of the party decor, thanks to the attractive silver finishing.
It's the perfect method to amaze your guests without worrying about the cost. This 60-piece silverware set is trendy and handy enough for everyday use. 
The knives in this dinner set will cut through your chocolate dessert just as smoothly as the chicken fillet. The premium quality set that Smarty had a Party offers provides a basic, traditional design that will effortlessly complement the rest of the tableware.
You are free to reuse or dispose of these spoons, knives, and forks once you get done with the event. 
Perfect for creating an event that meets and exceeds your needs!
White With Gold and Blue Rim; Plasticware Set
If you ask me to describe this flatware set in one word, it would be - classy! This beautiful white dinnerware set of plates, adorned with exquisite gold and royal blue colored design, in an oval shape, will create a marvelous modern style dinner for your special events.
Whether you are hosting formal or informal occasions, this set is perfect for you. For events like birthdays, get-togethers, and bridal showers, where friends are together, this cutlery is a must.
The salad plates in this set have a stunning design that adorns your dining tables with grace. 
Do you want to serve delicious food in the best cutlery sets while keeping your budget minimal? Then, this set is for you. This set has twenty salad and twenty dinner plates, both made of plastic. The gold and blue border on the plates looks surprisingly adorable and makes your food look more appealing.
These plates, combined with the other modern flatware sets, give off cool vibes to your guests.
Brushed Black Flatware Set
Black always attracts! Whether your chosen set is curvy, circular, pointed, cylindrical, or rectangular, black cutlery always conveys a modern vibe. Likewise, the extraordinary black-colored tableware always looks luxurious and elegant and is easy to pair with your decor. 
We always want to look gorgeous whenever there is a party, so why not think the same for our dinnerware. But, of course, it can only happen if you choose the black one, adorned with a gold rim.
The trendy designs of black disposable plastic silverware can upgrade the buffet or table setting for everyday meals and feasts for weddings, bridal showers, and birthdays. 
Things To Look For When Choosing a Modern Flatware Set
There are a few things that you must consider while buying the best flatware sets for your kitchen. We are going to mention some of them.
Material Used
Evaluating the material used in the making should be the main factor when buying flatware sets. 
If you want to choose a set that can withstand cracking and fading, look for products made of stainless steel. The highest quality flatware is the one made of stainless steel. 
To create varying finishes, you can combine these sets with other materials like plastic and copper. 
Maintenance
The dishwasher is probably safe for a typical steel silverware set, but always check the product details to be sure. Materials like brass and copper demand delicate washing and care; beware while shopping those.
Although it's hard to maintain gold sets compared to the silver ones, they look fantastic.
How and When To Use
If we evaluate the minor details, you should know how much silverware you need before purchasing. Trendy, five-piece sets are available on our website, but these aren't the best if you anticipate hosting several guests for dinner.
Make sure you get a set that will meet your specific dinner demands because they can range in size, shape, and style.