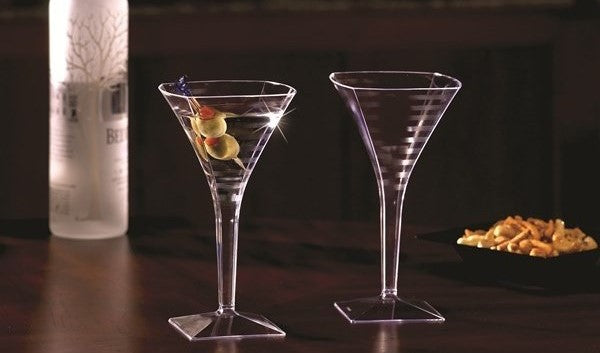 Cocktail Drinkware for Every Occasion
Never underestimate the beauty of drinkware! No table is complete without it, and we can safely say it's a deal-maker or a deal-breaker for your table.
No matter what event you are at, you await a glass of our favorite cocktail. And when you serve it in elegant drinkware, you fall in love with the drink.
You might've observed people serving cocktails in the wrong glasses. That's such an off. It is because they don't know what drink looks best in what type of glass. Or they don't put much time and effort into getting the right drinkware.
If you are going to host a party anytime soon, you must have the perfect drinkware for your cocktails. Otherwise, your tables won't look good at all.
We have a suggestion as to where you can get the best drinkware for all your occasions. It's a one-stop shop where a wide variety of glassware is waiting for you. Here are some inspirations to help you match the right drinkware for your event.
Disposable Party Cups for a Fun Birthday Bash
It's your birthday! You try to make everything go according to your plan, and you deserve to. You decorate your home elegantly and select a gorgeous dress to wear, but what about the table? You can't ignore it.
Adorn your birthday party table with elegant drinkware. It can be clear or colored; whatever floats your boat. Serve sparkling drinks in beautiful stemware, and your birthday tables will slay.
Decorate the glasses to make them look even prettier. For that, rub a lime on the rim of the glass and then coat it with sprinkles. You can also color powdered sugar blue and use it to cover the tip of the glass.
Highball Glasses for a Memorable Anniversary Celebration 
Make your anniversary celebration romantic and memorable by serving bubbly drinks in highball glasses. The irresistible charm of the highball glasses is sure to make your anniversary table beautiful.
Black Glassware for a Pinterest-Worthy Tablescape
Black is the most popular color among Gen Z. They love it and want to incorporate it into their clothes, gadgets, and even parties. From wearing black outfits to throwing all black-themed parties, they want to go all out with it.
Honestly, we can't blame them for this obsession. Black is cool, goes well with any color you put in contrast, and appears good in photos. What else do you need?
If you're thinking of throwing a black-themed or black and white retro-themed party, you got to have black drinkware. Make your table Pinterest-worthy with our elegant black glassware. For a classier look, get this black glassware with a gold rim.
Bless Your Sabbath with Kiddush Cups
Friday night is significant in the Jewish religion. Shabbath is celebrated by drinking a glass of wine and saying Kiddush over it. Kiddush means 'to consecrate' or 'to sanctify'! The eldest person in the house says Kiddush and then distributes the wine to everyone else in the house.
The significant element of this ceremony is the silver-colored glass they use to serve the drink. Get these aluminum-silver Kiddush cups for your Sabbath this time. They are perfect for a blissful Shabbath ceremony.
Garden Tea Party with Tea Cups
Garden tea parties have a vintage feel, and so do our tea cups. These white mini teacups are an ideal choice for a fancy garden party. Serve home-baked cookies with the tea, and you'll have a memorable afternoon.
You can give these cups a nostalgic feel by painting pink flowers on them. We are sure the pink flowers would remind everyone of their grandma.
Stemless Drinkware Glasses for Smoothie Bar Party
Smoothie stations are perfect for kids' parties. For a smoothie bar setup, you will need a blender, fruits, milk, sugar, ice, and a lot of glasses. Make fresh smoothies and serve them to the little ones at the party.
Use stemless glassware to serve the smoothies. Use our disposable plastic tumblers when giving smoothies to the kids. Put the lid on so you can avoid spilling. They would also make the smoothies' colors pop. Have a variety of fruits on hand so you can prepare everyone's favorite smoothies.
Disposable Drinkware to Serve Fruit Punch at Grad Party
Make a fruit punch for your graduation party, and serve it in some disposable glasses. Then, you can write a catchy text on the glasses - something related to your graduation. For example, you can write, "I Finished my Degree Before it Could Finish Me!". Or the basic ones like Congratulations or Hoorah.
Host an Epic Dessert Party with Octagon Cups
Use your drinkware for multiple purposes. Serve drinks in them and when you are bored, use them to serve desserts. Since miniature cups are trending, we think our octagon cups would be the right choice for desserts. You can't serve desserts in any other bowl. The serving cup has to look elegant.
Speaking of elegance, we can't think of a better choice other than an octagon cup. It's got everything you need to serve your dessert shooters. For example, make oreo cheesecake dessert in these cups.
Wine Glasses for a Fun Wine Glass Painting Party
It's time to take your paintbrushes out and start painting some wine glasses. Bachelorette parties often have a wine glass painting contest, and it's fun. So get some plain wine glasses and let everyone paint them.
You can decorate the glass in a lot of ways. For example, you can use paint flowers on them or write something with a paint marker. If you can't paint with acrylic paint, you can use spray paint to paint the glasses.
Make some fancy wine glasses and display them on a table throughout the event. In the end, everybody takes home the glass they painted. In that way, they would have a memory of the event that they could cherish forever.
Multi-Purpose Plastic Drinking Glasses for Every Occasion
If you can't find an appropriate glass for your event, you can visit Smarty Had A Party. You will find a wide variety of cocktail glasses. You will easily find the glassware of your choice there. Our glasses are multi-functional - meaning you can use them for any occasion.