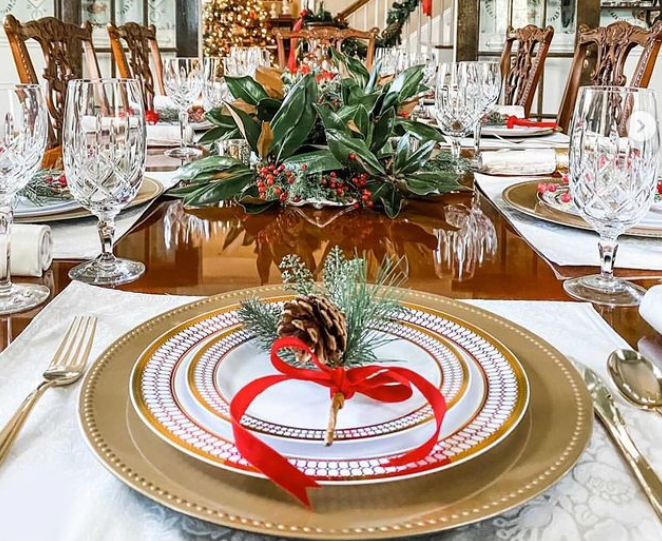 Elegant Christmas Table Decor for a Merrier Celebration
There are many ways to decorate your home for the Christmas and New Year holidays.
The most significant number of people turn to rustic, country, Nordic and traditional decor because it seems the warmest. On the other hand, sometimes, it is desirable to add a touch of glamor to the whole story. When it comes to glam decor, the focus is on sparkle, sensual colors, and shine at every turn. If you are ready to welcome this New Year in a slightly different environment, we will show you how to give your home a glamorous glow.
Christmas is the merriest event of the year that brings us an opportunity to spend quality time with our loved ones and many others. To make it even more special, everyone tries their best to create a fantastically dressed-up house, tablescape, and other decorations. But there are lots of things one has to take care of on this day, and table decor might sound stressful for you.
For a lovely event that brings you wonderful chaos, we have come up with some of the best ideas for your tablescape to elevate your table decor.
Colors & Styles
The main direction to aim for will be glam, but you can certainly present it in a modern, vintage, and even exquisite style. The first thing you need to choose is the color scheme, the most popular being pink and white, as well as gold, white and pink, but also green and pink with touches of red. You have already understood that pink is an indispensable part of glam Christmas decor. If intense pink is too much for you, look for this color in its pastel variant. You can combine it with gentle blue and white tones in this regard.
Elegant Homemade Ornament Trees
You can start decorating your home in glam style with your Christmas tree. Decorate it with beads, pearls, satin ribbons, balls, and lights in the selected color scheme. Shiny metallic touches are also welcome throughout the story as they emphasize the glam decor. In addition to the Christmas tree, you can decorate your dining table, the entrance to the house, or the porch in the same way. Create glam wreaths for doors and windows, shiny garlands that will brighten up the space around your fireplace, and much more. Sequins, crystals, and diamonds will contribute to the glam effect.
Regarding the tablescape, centerpieces should be treated equally important as other elements on the table. After all, centerpieces will be the center of the attention of your Christmas tablescape. In addition, ornament trees can be a fantastic centerpiece for your Christmas table decor.
The procedure to accomplish making these lovely ornamental trees is simple and easy. Arrange some Ornaments (it depends on you, how big you want to make), start with the bigger ornaments from the bottom, and keep going all the way up with more miniature ornaments. Arrange the decorations from bottom to top - so it looks cone-shaped.
Use the glue to stick the ornaments with one another, grab a vintage tap, and wrap up the Ornaments trees. Make sure you have made ornaments trees of different sizes so they complement one another when placed on your table.
Christmas Vintage Dinnerware Set
Elegant dinnerware sets and party supplies bring a sophisticated change to your tablescape. When you are planning to give finishing touches to your tablescape, replace your dinnerware sets with new ones so it also compliments the other decor.
To help you get the best dinnerware set for your table, we have got you covered with the best disposable plates for Christmas that will add the aesthetic to your Christmas tablescape.
Smarty offers elegant fancy party plates at a very affordable price tag. Regarding the quality of these plastic vintage plates, they're lightweight and durable enough to bear the infinitive drops on the floor.
Look around to get excellent china-like disposable plates at the best price bracket that you wouldn't have thought of. Moreover, they are disposable, so there would be no after-party mess once your guests leave. So enjoy the hassle-free experience with disposable Christmas plates.
Candy Card Holders 
A candy cardholder with a cute shape can fill that gap on your table. So grab some of your candy cane that didn't make it onto the Christmas tree and place it on the table with a card on it.
You can write anything on the card and unleash your creativity to write something that would make your guests feel special and welcomed. Next, look for creative ideas on the internet, and finally, you will come up with something you and your guests will love.
Fun Pom Pom Balls as a Type of Christmas Decor
Farewell to the old and New Year's Eve are just a step away.
By now, you have decorated your Christmas tree and home in the style you like best. But if you are looking for engaging DIY activities and a kind of decor that can make your home even more cheerful, we suggest you play with colorful Pom Pom balls. As if created to raise the mood in the space and create the broadest range of Christmas decorations. We have collected exciting proposals for you in one place with the help of which you can freshen up your living space during the holidays. 
Pom Pom Arangmetns and Garlands
Pom Pom balls are perfect for making colorful garlands that can decorate your home differently. You can play with colors and choose an Ombre effect that will fill the space around you with cheerfulness. In addition to balls, you can use decorative balls, bows, and bangs, as well as greenery to create striking decorations. Also, if you like more sensual displays, choose the white color of the Pom Pom balls, which looks elegant. Use them to decorate the space above your fireplace, around the door or window.
Pom Pom Balls as Christmas Tree Decorations
If you want your Christmas tree to be more colorful and exciting, decorate it with cheerful Pom Pom balls. You can easily create small and large decorations from the wool of different colors that will make your Christmas tree unique. You can also make a miniature Christmas tree from balls of various sizes, which will be perfect for your decoration in the middle of the dining table.
Merry Crhristmas Smarties!