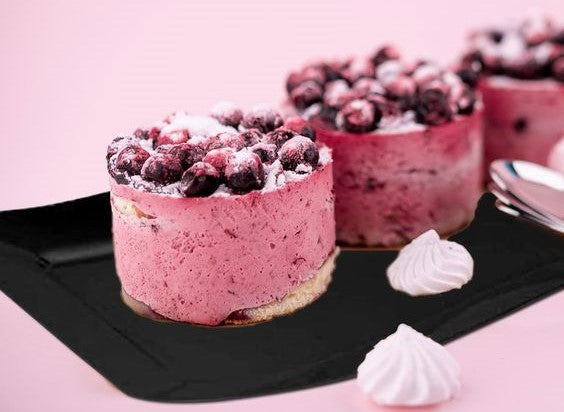 Mini Desserts: A Smart Trend
After a full-fledged main course, everyone craves some desserts. It will be excellent if you serve them sweet with the newest and the most adorable trend - the mini desserts! They look so adorable to munch on, and they also control your portion size. Irrespective of how rich and sweet the dessert is, a small bite won't have much of an effect on your health.
No matter what event is, prom, friends get together, or a date night, mini desserts never fail to make your tables stand out. It is also true that they are the heart of a perfect party table because they catch the attention of your guests right away.
With the ever-changing trends in food items, the need for doing something innovative with the desserts was more than ever. That is why we are here with an amazing recipe to make your mini desserts even more adorable.
Red Velvet Mini Cheese Cake Bombs
This red velvet mini cheesecake is ideal for a date night. Since Valentine's Day is here, make it for a perfectly romantic Valentine's dinner and enjoy the evening. 
You will need:
Cream cheese: 1.5 cups

Granulated sugar: 1 cup

Melted butter: 3 tablespoons

Crushed wafer cookies: 22

Unsweetened cocoa powder: ¼ cup

Eggs: 3

Vanilla extract: 2 teaspoons

Liquid red food color: 2 tablespoons

Whipping cream: ½ cup

Granulated sugar: 1 tablespoon
Directions:
Preheat the oven to 350°F. Line a muffin or cupcake tray with oil and butter paper in each of the cups. In a separate bowl, add crushed cookies and melted butter and mix them. Divide the mixture equally in all the molds and press it down with the back of a spoon.

In a big bowl, put cream cheese and beat it on high speed with an electric beater until it becomes smooth. Gradually add sugar and keep beating it, after which you will be beating cocoa in it gradually. Add vanilla and red food color and beat well.

Add the eggs one by one and keep on beating the mixture. When everything is well combined, divide the batter into baking cups evenly and toss the tray on the counter three to four times.

It's time to bake it for 20-25 minutes or until the centers are firm. Take the cheesecake cups out of the oven, let them cool down for 20 minutes, and put them in the refrigerator for an hour at least. Take them out of the refrigerator for garnishing.

In another bowl, take chilled whipping cream and granulated sugar and whip it until stiff peak forms. Layer it on top of the cupcakes. Garnish with shredded chocolate and serve.
To serve this beautiful dessert, use our fancy disposable mini ware that includes the most beautiful mini disposable plates. We have manufactured our adorable plastic mini partyware in the most elegant design and the perfect size. You will love our mini plastic party supplies as much as you would love the taste of this rich and creamy dessert.